posted by Christopher Howard — Jan 06, 2009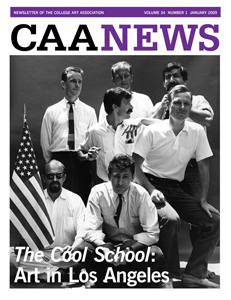 The first issue of CAA News for 2009 has just been posted to the CAA website. Click on the cover to download a PDF of the issue right away. Printed copies for individual and institutional members will be mailed soon, to begin arriving in mid-January.
The January issue includes statements and biographies of the six candidates for the CAA Board of Directors for 2009–13. Please read these texts, as well as view their short video statements online, before casting your vote.
Also featured are details on the upcoming Regional MFA Exhibition at the 97th Annual Conference in Los Angeles, which features the work of student artists from twelve graduate programs in southern California.
The deadline for submissions to, and advertisements for the March 2009 issue is January 10. Please see the newsletter submission guidelines for instructions or write to Christopher Howard, CAA managing editor.