posted by Christopher Howard — Jun 02, 2009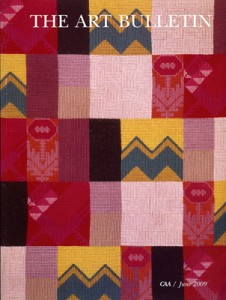 The June 2009 issue of The Art Bulletin, the leading publication of art-historical scholarship, has just been published. It will be mailed to those CAA members who elect to receive it, and to all institutional members.
On the cover is a detail of a pillowcase designed ca. 1916 by the Swiss artist Sophie Taeuber, which accompanies an essay by Bibiana Obler that considers the difference between Taeuber's and Hans Arp's public and private identities through a set of collaborative and closely related works and why they kept their most "advanced" work to themselves.
For her contribution, Stephanie Leitch investigates Hans Burgkmair's images of non-Western communities in the woodcut frieze The Peoples of Africa and India (1508), which neither played into iconographic presets nor invented new stereotypes. Two more essays round out the issue: Norma Broude explores the political dynamics of gender informing the intentions, subjects, production, and reception of Giambattista Tiepolo's frescoes for the palazzina of the Villa Valmarana, and Laura Morowitz examines the extraordinary popularity and religious undercurrents of the Hungarian artist Mihály Munkácsy's paintings Christ before Pilate and Christ on Golgotha in late-nineteenth-century America.
The June issue of The Art Bulletin also contains reviews of books on Chinese epigraphy, Giovanni Bellini, Lucas Cranach the Elder, and Marcel Duchamp. Please read the full table of contents for more details.