posted by Christopher Howard — Sep 02, 2009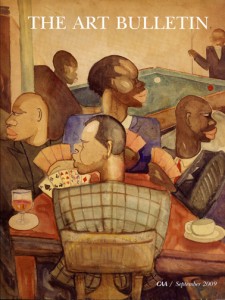 The September 2009 issue of The Art Bulletin, the leading publication of art-historical scholarship, has just been published. It will be mailed to those CAA members who elect to receive it, and to all institutional members.
Five articles make up the issue. Leading off is Rachel Kousser's "Destruction and Memory on the Athenian Acropolis," which argues that in the way it was commemorated, the Persians' sack of the Acropolis in 480 BCE took on paradigmatic significance as an example of "Oriental violence." Next is a text by Elena Boeck, who in "Simulating the Hippodrome: The Performance of Power in Kiev's St. Sophia" analyzes strategies of display, appropriation, and simulation of Byzantine imperial symbols by Prince Iaroslav "the Wise" in the paintings of the hippodrome in Kiev's St. Sophia.
In "Rubens and the Northern Past: The Michielsen Triptych and the Thresholds of Modernity," Lynn F. Jacobs interrogates the miraculous thresholds of this work by Peter Paul Rubens, which negotiate relations between the donors and God and between the meanings inherent in the life and theology of Christ. Her essay is followed by "Nature and the Ideal in Khnopff's Avec Verhaeren: Un Ange and Art, or the Caresses," in which Brendan Cole examines the work of Fernand Khnopff from an iconographic perspective to reveal how the central concerns for all Symbolist artists—of duality and the reconciliation of opposites—are encoded in his paintings.
Last, Phoebe Wolfskill's "Caricature and the New Negro in the Work of Archibald Motley Jr. and Palmer Hayden" evaluates the perplexing appearance of racial caricature in compositions by these two "New Negro" Renaissance painters and considers how pervasive stereotypes might inform self-perception. Hayden's Nous quatre à Paris from ca. 1930 is the cover image for this issue.
Also included are seven reviews of books on Romanesque Partheny, Castilian culture, Inigo Jones, Utamaro, science in art, and more. Please read the full table of contents for more details.