posted by CAA — Sep 08, 2009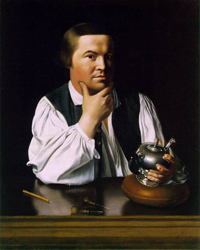 The deadline for the Wyeth Foundation for American Art Publication Grant, established in 2005 with funding from the Wyeth Foundation for American Art, has been extended to Friday, October 9, 2009.
The Wyeth grant supports book-length scholarly manuscripts in the history of American art, visual studies, and related subjects that have been accepted by a publisher on their merits but cannot be published in the most desirable form without a subsidy. For purposes of the program, "American art" is defined as art created in the United States, Canada, and Mexico prior to 1970.
For more information, please contact Alex Gershuny, CAA editorial associate, at 212-691-1051, ext. 254.
Image: John Singleton Copley, Paul Revere, 1768, oil on canvas, 35 1/8 x 28 1/2 in. Gift of Joseph W. Revere, William B. Revere and Edward H. R. Revere, 1930. 30.781 (artwork in the public domain)