posted by michaelh — Apr 07, 2017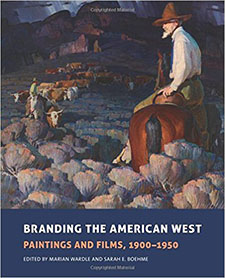 Matthew Hauske reviews Branding the American West: Paintings and Films, 1900–1950, edited by Marian Wardle and Sarah E. Boehme. This "lavishly illustrated exhibition catalogue" provides "a substantive conversation" about "the works and the legends of the Taos Society of Artists." The book's "spirit of scholarly collaboration and cross-pollination is perhaps its greatest strength." 
Read the full review at caa.reviews
.
Katharine Steidl reads Singular Images, Failed Copies: William Henry Fox Talbot and the Early Photograph by Vered Maimon. The author investigates the artist's "connection to early photography" and, "with the help of postmodern critical theory . . . questions established genealogies and canonical histories of photography." The volume is ultimately "highly recommended to Talbot scholars."
Read the full review at caa.reviews
.
Emma Chubb visits She Who Tells a Story: Women Photographers from Iran and the Arab World, organized by the Museum of Fine Arts, Boston. The "participating artists are all women" with ties to "the wide expanse of land between Morocco and Iran," and the exhibition "contributes an important chapter to this history, one that centers on the rich conceptual, formal, and political engagements of these photographers." Read the full review at caa.reviews.