posted by CAA — Nov 29, 2021
The November "Picks" from the Committee on Women in the Arts explore spaces between the human figure and its psychic figurations. Each artist featured in the exhibitions traces the vacillations between interior perceptions and the objective contours of an external world eroded by alienation and violence. Whether they draw from traditional genres or experiment with new media, these artists destabilize the grammar of recognizable forms to reveal the vulnerability of human subjectivity and test the possibilities for repair.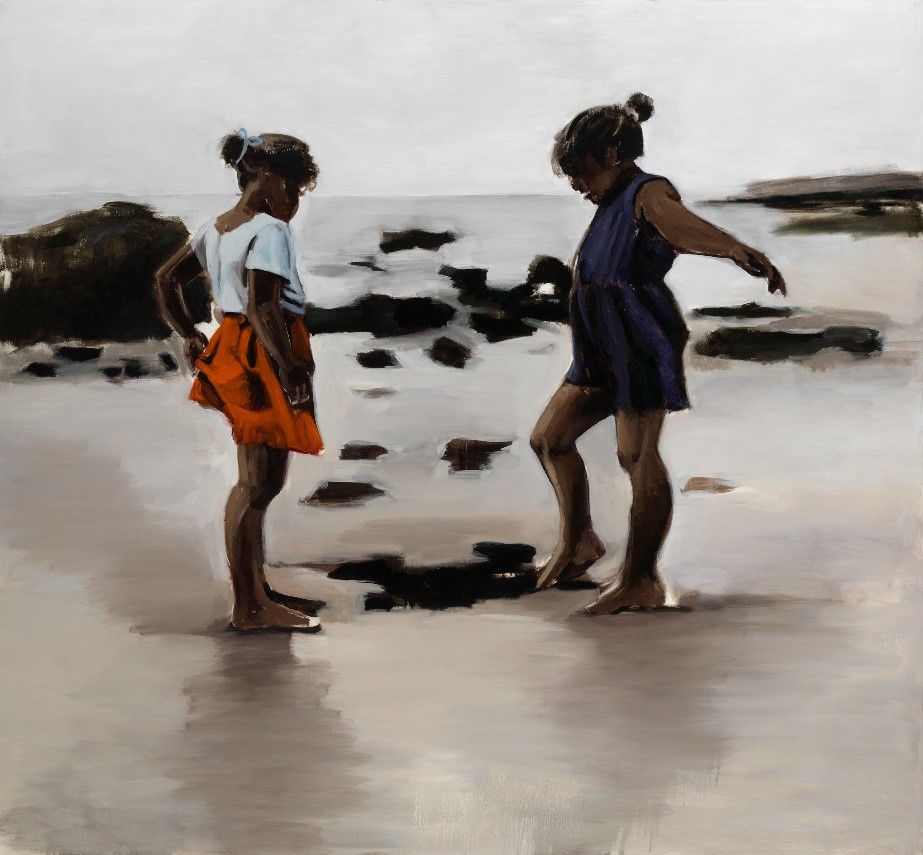 Lynette Yiadom-Boakye, Condor and the Mole, 2011, Arts Council Collection, Southbank Centre, London © Courtesy of Lynette Yiadom-Boakye.
---
Lynette Yiadom-Boakye: Fly in the League with the Night
October 16, 2021-February 13, 2022
Kunstammlung Nordheim Westfalen, Düsseldorf, Germany
Lynette Yiadom-Boakye paints portraits to evoke the psychic depths of Black subjects while gently keeping them from the demand for full exposure. The fields of rich colors and soft, slightly loose brush strokes in which Yiadom-Boakye holds her sitters allow her paintings to pulsate with an elegance that is tangible but difficult to pinpoint, though it seems to emerge from the value the artist attributes to seeing as a private act. One painting featured in this exhibition, Condor and Mole (2011), seems to illustrate the mysterious camaraderie indicated by the title of the exhibition and links it to the veils of privacy Yiadom-Boakye brings to the painted image . Condor and Mole portrays two Black girls on a beach punctuated with dark rocks; the tide pulls their shadows into tan and blue-grey sheens that continue into the horizon line. The girls are turned to each other as they look down into a dark crevice in the sand. Viewers do not see what they are looking at, and Yiadom-Boakye portrays the playful attunement of their collaboration, expressed through the correspondence of their body language, without providing full access to their shared vision.
Ana Torfs, Dark Spaces Where Things Cannot Be Put
January 10, 2021-February 27, 2022
Museo Universitario Arte Contemporáneo
México City, México
Ana Torfs is an artist based in Belgium and Dark Spaces Where Things Cannot Be Put is her first solo exhibition in the Americas. Working with an idiosyncratic array of materials and sources, Tors makes her subject the contingency of visual perception and the unstable connections among images, words, and knowledge. How do words determine what becomes visible to us? For Tors, this is an aesthetic, historical, ethical question that takes her work into contexts of great consequence. The installation The Parrot and the Nightingale, a Phantasmagoria (2014) exemplifies her interest in language, translation, and power. In it, Tors draws from Christopher Columbus' travel diaries to provoke reflections on linguistic alienation, curiosity, order, and repression. In dialogue with 81 black-and-white images of tropical nature, Tors presents a female interpreter translating an English version of Columbus' diary into American Sign Language and then three male interpreters bring the text back to a spoken English fractured with error. The "original" diary and its exploratory record recedes further from vision and the connection to the photographs becomes even more unstable, but Tors suggests that the damage imperial encounters remain. The female translator in The Parrot and the Nightingale, a Phantasmagoria points to the stealth feminism running through Tors' artwork and her attention to the long histories of depriving women access to the voice of authority. The installation Echo's Bones/Were Turned to Stone (2020), a carpet overlaid with a recording of a woman speaking in an endless chain of associations, suggests that this gendered displacement into irrationality forces women to carry the deaths embedded in and covered over by sensible, rational language.
November 25, 2021-July 3, 2022
Tate Britain, London
The winner of the 2017 Turner Prize, Lubaina Himid is well-known for her impact on the Black British art movement and her innovative depictions of everyday life in the Black diaspora. This Tate exhibition features Himid's recent work as well as selected highlights from her influential oeuvre, focusing in particular on her interest and training in the theatre. With vivid colors that appear within slightly unsettling arrangements of geometric forms, Himid stages mise-en-scènes that reflect on diasporic imagining, building, and making. These qualities are evident in Six Tailors (2019), a painting in which Himid has arranged six men of African descent around a table covered in bright turquoise blue. The fabric, scissors, and spools thread with which they work materialize the colored and textured worlds they are in the process of making, which sharply contrasts the painting behind them that depicts the sky and sea as flat gray horizontal lines. Himid's work as a painter is figured into this meditation on making and registers the losses that compose it.
Pipilotti Rist: Big Heartedness, Be My Neighbor
September 12, 2021-June 6, 2022
Geffen Contemporary, Museum of Contemporary Art, Los Angeles
The first West Coast survey of Pipilotti Rist's work reveals how much her Pop-friendliness fits with Los Angeles. The playful eroticism, love of sparkle and shine, and hyper femininity that are the Swiss artist's stylistic signatures all resonate with the city's central place in the fantasy of making dreams come true. Of course, a dark cruelty lurks within this fantasy, and it therefore makes sense that despite the generosity alluded to in the exhibition's title, Big Heartedness, Be My Neighbor also reveals the artist's affinity with figures such as Lynn Hershman Leeson and David Lynch. Surveying more than thirty years of her work, this exhibition highlights Rist's talent for stretching video to its extremes with scale, color, and sound. For her, video is a threshold into a rich and elastic imaginary that lets interiors and exteriors flow into each other and announces the desire for big-hearted connections.
October 1, 2021-July 10, 2022
Brooklyn Museum of Art, Elizabeth Sackler Center for Feminist Art
Baseera Khan recently received the UOVO Prize for an emerging Brooklyn artist, and with an aesthetics of distortion pushed to theatrical extremes, they make their body a site for realizing spaces of disjuncture between Muslim and American identities. All of Khan's artworks collage together a struggle with the archive of commodified objects, images, and materials through which Muslim Americans are perceived. Khan's I Arrive in a Place with a High Level of Psychic Distress (Blue) (2021) encapsulates this struggle and crystallizes the meaning of the kaleidoscopic layers that are a predominant feature of their work. In this photograph, brown hands and legs adorned with silver chains, bracelets, and rings emerge from behind the broken fragments of painted floor tiles. It is a beautiful and violent fight to "arrive in a place," but also a challenge to the conditions of raced and gendered visibility that materialize on the terrain of the image.
Yoko Ono: Mend Piece for London
August 25, 2021-January 2, 2022
Whitechapel Gallery, London
Yoko Ono's Mend Piece for London consists of two plain white tables upon which she has placed broken cups and saucers as well as instruments of repair: scissors, glue, twine, and tape. In her instructions she states, "Mend carefully/ think of mending the world/ at the same time." A gentle reassertion of her central place in the Fluxus tradition and its continued pertinence, Ono also draws from the Japanese tradition of Kintsugi, in which broken pottery is repaired with lacquer mixed with precious metals and silver. Mend Piece for London also exemplifies Ono's irrepressible commitment to reaching people with her aesthetics of repair and inspiring them to create and hold an image of a peaceful world in their minds so as to thoughtfully cohere all its broken pieces.
Jennifer Packer: The Eye is Not Satisfied with Seeing
October 30, 2021-April 17, 2022
Whitney Museum of Art, New York
The Eye is Not Satisfied with Seeing features 30 artworks Jennifer Packer has produced over the last decade. Emerging from a historical period in which visual media testifies to the state-sanctioned murder of Black people, Packer explores the psychic states and experiences that exceed visual evidence with a lyrical and melancholic vision. Layered with swaths of bright color, discordant fragments, blank spaces, and the weeping lines of vertical drips, Packer's paintings and drawings are both heavy and light, private and revelatory, understandable and illegible. It seems that for Packer, traditional genres are tools for containing chaotic feelings, giving them form, but also evoking what has yet to be expressed. The still life Say Her Name (2017) is Packer's response to the 2015 murder of Sandra Bland. The flowers, leaves, and stems of this painted funerary bouquet, loosely suspended before an unstable background of yellow and black, becomes a scrim that evokes the intimacy of identification and the reality of death's irrevocable distance.