posted by CAA — May 09, 2022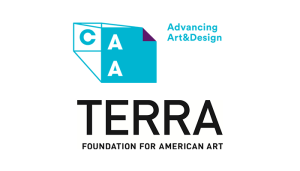 We're delighted to announce that twenty-four scholars have been awarded Terra Foundation for American Art Research Travel Grants in 2022.
These grants provide support to doctoral, postdoctoral, and senior scholars from both the US and outside the US for research topics dedicated to the art and visual culture of the United States prior to 1980.
The Terra Foundation prioritizes projects that interrogate and broaden definitions of American art and lends support for projects engaged in transforming or complicating how the story of American art is told. To expand histories of American art, we encourage projects that reflect a commitment to inclusive and equitable research and museum practice; generate new scholarship and interpretive frameworks; employ critical methodologies and innovative models; and/or engage diverse partners and audiences.
INTERNATIONAL RESEARCH TRAVEL GRANTS FOR US-BASED SCHOLARS
Doctoral Scholars
Manon Gaudet, Yale University, "Beyond Landscape: Property and the Contested Ground of North American Visual Culture, 1900-1945"
Michaela Haffner, Yale University, "The Visual Culture of Naturopathic Cures & the Fashioning of White Wellness"
Annie Ochmanek, Columbia University, "Conceptualism and the Connexionist World: The Art of Eduardo Costa, Hannah Weiner, Christine Kozlov, and Stanley Brouwn"
Constanza Robles, Boston University, "Visualizing Alliances through Art and Architecture: Pan Americanism, Hispanismo and Latin Americanism in World Fairs, 1901-1929"
Lea Stephenson, University of Delaware, "'Wonderful Things': Egyptomania, Empire, and the Senses, 1870-1922"
Postdoctoral & Senior Scholars
Maria Elena Buszek, University of Colorado, Denver, "Art of Noise: Feminist Art and Popular Music
John J. Curley, Wake Forest University, "Critical Distance: Black American Artists in Europe 1957-1968"
Emily Voelker & Erin Hyde Nolan, UNC Greensboro and Maine College of Art, "Reading Native American Portraits in Ottoman: Global Economies of Nineteenth-century Survey Photograph"
INTERNATIONAL RESEARCH TRAVEL GRANTS TO THE UNITED STATES
Doctoral Scholars
Marion Belouard, University of Limoges, "Painting nature, exchanging knowledge. John James Audubon (1785-1851), a rare bird in Atlantic history?"
Cora Chalaby, University College London, "Control Systems: Helen Frankenthaler, Joan Mitchell, Alma Thomas, and Howardena Pindell's Orderly Abstractions"
Clara Johanna Lauffer, Central Institute for Art History, Munich, "Rewriting the 'pictures generation': the production of white masculinity in appropriation art"
Mylène Palluel, Université Paris 1 Panthéon-Sorbonne, "The 'Longue durée' paradigm in 1960s American art and social sciences. Case studies in Minimal Art, Conceptual Art and Land Art"
Mona Schubert, University of Cologne, "Photographic Media at documenta in the 1970s and the US-American Art Scene"
Clara Royer, Université Paris 1 Panthéon-Sorbonne, "Slow-Scan: the (geo)political turn of media arts (1960-1990)"
Yana Shtilman, Université de Paris, "Public image, private lives: Creating the image of the "New Negro" woman in the Harlem Renaissance (1920-1943)"
Achang Su, China Academy of Art, "The Identity Issues and Abstract Transformation in the works of Modern Chinese-American Artist George Chann from 1950s to 1960s"
Postdoctoral & Senior Scholars
Alice Butler, Courtauld Institute of Art, "The Perversions of Textile in Feminist Art"
Anne-Claire Faucquez, Université Paris 8, "The narrativization of colonial slavery in American museums: arts and representations" (collaborating with Androula Michael)
Roula Matar, École nationale supérieure d'architecture de Versailles, "James Johnson Sweeney's Contribution to a Critical and Didactical Approach to Exhibition Installation"
Androula Michael, Université de Picardie Jules Verne – UFR des arts, "The narrativization of colonial slavery in American museums: arts and representations" (collaborating with Anne-Claire Faucquez)
Yvonne Schweizer, Eberhard Karls Universität Tübingen, "Linking Mediatization and Mediation. Art Institutions as Media Producers since 1970"
Harry Weeks, Newcastle University, "The Artist's Second Shift"
Andrew Witt, Humboldt-Universität zu Berlin, "Exile Modernism: Photography c. 1940"
LEARN MORE ABOUT THE TERRA FOUNDATION RESEARCH TRAVEL GRANTS