posted by CAA — Sep 19, 2022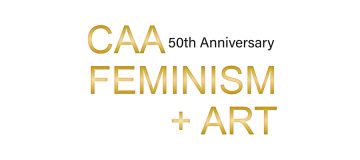 CAA has engaged in a yearlong 50th anniversary celebration of feminism and art, culminating in a program and reception at Boston University's Joan and Edgar Booth Theatre at 4 p.m. ET on Friday, September 23, 2022. This program will reflect on the incredible history of feminist pioneers at the organization while looking toward a more inclusive, equitable future. Along with the Women's Caucus for Art and The Feminist Art Project, CAA is committed to ensuring our crucial work continues during this moment of precarity for women's rights.
To expand national and global reach, CAA is partnering with ArtTable, along with Women & Their Work (Austin, TX) and Pen + Brush (NYC) who will serve as satellite locations for the 90-minute Boston program. We hope to introduce a new generation to the intersection of art and feminism at CAA and beyond.
To RSVP for the Boston program and reception, please contact development@collegeart.org.
To RSVP for the livestream of the Boston program, please visit caafeminism50.eventbrite.co.uk.
If you are unable to attend but would like to contribute to the 50th Anniversary of Feminism Honorary Fund to ensure this vital work continues at CAA, please visit collegeart.org/donate.

HOSTS
Meme Omogbai, CAA Executive Director & CEO
Jennifer Rissler, CAA President
CAA Board of Directors
HONORARY COMMITTEE
Lynne D. Allen
Laura Anderson Barbata
Charlene Villaseñor Black
Judith K. Brodsky
Scherezade García-Vázquez
Joanna Gardner-Hugget
Laura Hall
Ann Sutherland Harris
Margo Hobbs
Donna Jackson
Denali Kemper
Leslie King-Hammond
Laura Morrison
Denise Mullen
Ferris Olin
N. Elizabeth Schlatter
Lowery Stokes Sims
Anne Swartz
Connie Tell
Freida High Wasikhongo Tesfagiorgis
Susan Unterberg
PARTNERS
ArtTable
The Feminist Art Project
Pen + Brush
Women & Their Work
Women's Caucus for Art