posted by CAA — Mar 07, 2023
CAA is pleased to announce the first ever recipient of the first Michael Aurbach Fellowship for Excellence in Visual Art: Lauren Sandler.  
Lauren Sandler is a ceramic artist and educator whose work deconstructs mythologies and investigates narratives of power and perspective. Sandler exhibits nationally, and gives talks, workshops, and publishes work concerning contemporary and historic issues in ceramics. She holds an MFA in Ceramics from Penn State University, and undergraduate degrees in Anthropology and Ceramics from Ithaca College and SUNY New Paltz. She served on the Board of the National Council on Education for the Ceramic Arts as Director at Large from 2019–22 and is currently Associate Professor and Program Head of Ceramics at Tyler School of Art and Architecture at Temple University. 
HONORABLE MENTIONS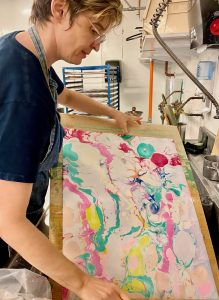 Ellen Wetmore, University of Massachusetts Lowell  
Ellen Wetmore is a Professor of Art and Chair of the Department of Art and Design at the University of Massachusetts, Lowell. She is a graduate of the University of Michigan (BFA, BA in Art History) and Tufts University/School of the Museum of Fine Arts (MFA), and joined UMass Lowell in 2007. She is a participant of CAA, UFVA, Cultivamos Cultura, and past member of the Boston Sculptors Gallery. Her awards include a 2017 Berkshire Taconic ART Fellowship and a 2017 Massachusetts Cultural Council Fellowship. Her social concerns include neuro-atypical disabilities, race and teaching, money and art. Wetmore's current artistic practice reinterprets history, art history, and investigates visual thinking. Wetmore's projects have been featured at the Boston Cyberarts Art on the Marquee, the Indianapolis Art Center, the Sandwell Arts Trust, Ciné Lumière, London, CologneOff, Germany, the InShadow Festival, Lisbon, and Videoholica in Bulgaria. She is a 2012 School of the Museum of Fine Arts Traveling Fellow and a summer 2015 visiting artist at the American Academy of Rome. Her most recent solo exhibition was a drawing study of the collection at the Fitchburg Art Museum. Her current science collaborations explore printed, fabric-based video displays, text and memory in fat cells, and the characterization of high fire ceramic glazes in a Cambodian wood fired kiln. Her first graphic novel, Dante's Inferno, is a fictional account of race and the academic hiring process. 
Allison Wiese, University of San Diego  
Allison Wiese is an interdisciplinary artist who makes sculptures, installations, sound works, performances, and architectural interventions. Her work is often created for public spaces at the boundaries of or outside institutions, and has been exhibited at, among other venues, Machine Project, Los Angeles, the Museum of Contemporary Art, San Diego and Socrates Sculpture Park, New York. She is the recipient of a Louis Comfort Tiffany Award and has received grants from Art Matters, Creative Capital, the Cultural Arts Council of Houston, and the City of San Diego's Commission for Arts and Culture. A fellow of MacDowell and an alumna of the Skowhegan School of Painting and Sculpture, Wiese was a Core Fellow of the Museum of Fine Arts, Houston, received her MFA from the University of California, San Diego, and a BA from Brown University. Wiese is an Associate Professor at the University of San Diego.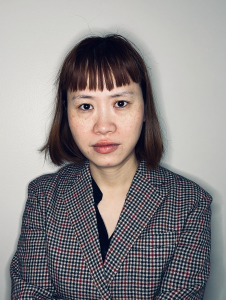 Ziui Vance, Temple University 
Ziui explores the semiotics of bodies, their chaotic signals, and spatiality. She makes the paintings, objects, and installations inside the disputed realm between affection and dominance, rules and reality. Characterized by a play-like process, Ziui describes a variety of body configurations with an intricate intensity that reflected on gender, ethnicity, and perceptions: an infinite tapestry of imagery associated with her exoneration from the polar complexities of being Chinese in the United States. 
ABOUT THE FELLOWSHIP 
The Michael Aurbach Fellowship for Excellence in Visual Art recognizes and honors CAA members who have obtained an MFA or equivalent in studio art and are currently teaching studio classes full-time or part-time. The purpose is to support these artist members as they fulfill their goals as visual arts professionals.  On an annual basis, CAA will grant a $7,500 award and registration to the CAA Annual Conference to a qualified artist member teaching at an American or international university or community college. A jury of artists will adjudicate the fellowship and a proposal will not be required; the recipient will be selected solely based on their work. Learn more.