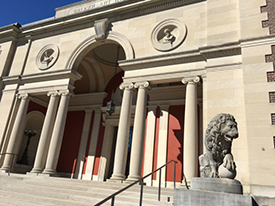 In late September, Hunter O'Hanian and I had the pleasure of spending a weekend at Bowdoin College in Brunswick, Maine, to attend two CAA events hosted by Anne Goodyear, codirector of the Bowdoin College Museum of Art and a former CAA president. We arrived at the picturesque New England campus on a beautiful fall day. The college's art museum, one of the oldest in the country, anchors the western edge of the quad, its neoclassical façade presiding gracefully over green lawns and majestic trees where students played Frisbee, read, or walked across campus. It was a perfect weekend to welcome CAA members to campus.
The first group arrived that Saturday afternoon to attend a CAA member reception, the first of several Hunter has planned around the country to provide an opportunity for him to meet with members in a relaxed setting and talk about CAA. The event began with a tour of the Bowdoin College Museum of Art given by Anne and her husband, the museum's codirector, Frank Goodyear. Immediately following, we all walked a block away to Anne and Frank's house to enjoy some wine and cheese on their back patio. The fifteen or so participants hailed from several schools and museums in addition to Bowdoin—Colby College, Bates College, the Portland Museum of Art, and the Farnsworth Art Museum—and included art historians, artists, librarians, and independent scholars.
Members spoke in turn about their most memorable CAA experiences: attending a first conference, interviewing and getting a job, meeting old friends, or networking with scholars in their fields. Hunter then shared thoughts about his goals for CAA based on what he has learned from members since he became executive director in July. He observed the importance of connectivity—how to keep CAA members in touch with issues in the field, but especially how to keep them in touch with each other. And he described many of the changes members will experience at the next Annual Conference, including a focus on personal experience, captured by a new theme for the meetings, myCAA.
On Sunday morning, several of the same CAA members returned, joined by others from around the state, for a half-day workshop about copyright and fair use. Peter Jaszi, a co–lead investigator on CAA's Fair Use Initiative, came from Washington, DC, to Bowdoin to lead the program, which focused on how visual-arts professionals can use CAA's Code of Best Practices in Fair Use for the Visual Arts in their work. Following an introduction to copyright and fair use, the workshop began with a look at how museum professionals can use the Code when employing copyrighted materials in their work.
Participants had been asked to bring real-life questions with them. Thus, a museum director wanted to know whether his museum could allow photography in the galleries of works still protected by copyright. A curator described a challenge she had in getting an image for a catalogue from a museum in central China. When she received no reply from the museum, she resorted to scanning the image from another book. Is that fair use? Other questions involved loan forms, credit lines, and online projects.
As the day continued, the program moved on to address questions from professionals in other areas: librarians and archivists, professors and teachers, artists and independent scholars. Can a faculty member use images in class that she got from a flash drive she had received from a foreign museum? What kind of credit information is necessary for a blog about films? Is Shepard Fairey's image of Obama a good case study for students learning about fair use? How should the institutional repository on a college campus view the copyright protection of yearbook photographs? By the end of the afternoon, a remarkable range of questions had been discussed, and the forty participants came away with a much greater understanding of fair use and how to rely on it in their work.
On Monday, Hunter, Peter, and I were in Cambridge, Massachusetts, to join Kyle Courtney, a copyright specialist in Harvard's Office for Scholarly Communication, for a fair-use town hall on the campus of Harvard University. As in Maine, Peter began the program with an introduction to fair use, and I followed with a description of CAA's Fair Use Initiative. Kyle spoke about a program he directs at Harvard that trains librarians to be "first responders" to users' questions about fair use. Although relatively new, the program has proven to be an effective way to support and teach visual-arts professionals about fair use. It is now being replicated on other university campuses. The event was then opened to questions from the sixty-five members of the audience, which Peter and Kyle discussed in depth.
Many of the topics were similar to those that had been addressed at the Bowdoin workshop, but a new subject emerged as well: advocacy. Does a professor who has had a manuscript accepted have any recourse when her publisher requires signed author agreements stating that all images had been cleared for publication and all fees paid? The answer is yes; she can ask her publisher to read CAA's Code and explain that many, if not all, of her uses of images comply with the doctrine of fair use. While the effort may not succeed (though CAA has several success stories on file), over time it will familiarize publishers with the principles outlined in the Code. Changes have already taken place, in large part due to this kind of challenge from users. Yale University Press now accepts fair-use defenses from its authors who are publishing monographs; the Robert Rauschenberg Foundation embraced a fair use policy for that artist's work; and CAA not only encourages its authors to consider whether or not their uses are fair, but it also indemnifies authors against lawsuits about works used under fair use.
The program concluded with a reminder that CAA is happy to answer questions about fair use; please don't hesitate to contact us at nyoffice@collegeart.org.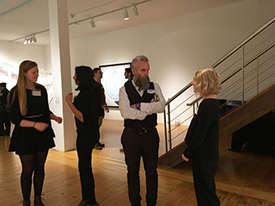 Later on Monday, Hunter and I joined another group of CAA members at the Massachusetts College of Art and Design for a wine-and-cheese reception at the school's President's Gallery and Bakalar and Paine Galleries. Attendees included a wide range of members, from professors who have belonged to the association for thirty years to new members just graduating from MFA programs. Lisa Tung, the gallery's director and curator, kicked off the event with a tour of two exhibitions currently on view, Encircling the World: Contemporary Art, Science, and the Sublime and Women's Rights Are Human Rights: International Posters on Gender-Based Inequality, Violence, and Discrimination. Hunter, who is a former vice president for development at MassArt, then invited participants to speak about how CAA is valuable to them. He emphasized the importance of hearing from members so that CAA can support them as fully as possible in this rapidly changing world.
CAA's road trip continued in early October with another member's reception in Portland, Oregon. Later this month we will convene a fair-use workshop in Seattle, Washington. More events are planned for early next year in Georgia and Virginia. Stay tuned!
The Bowdoin College fair-use event was organized by the Bowdoin College Museum of Art and CAA, with funds provided by the Andrew W. Mellon Foundation. The Harvard University fair-use event was organized by Harvard's Office for Scholarly Communication, thanks to the generous support of the Arcadia Fund, and by CAA, with funds provided by the Mellon Foundation.