posted by Allison Walters — Apr 26, 2021

This program, which provides financial support for the publication of book-length scholarly manuscripts in the history of American art, is made possible by a generous grant from the Terra Foundation for American Art.
The nine Terra Foundation grantees for 2021 are:
Julie Ault, ed., Hidden in Plain Sight: Selected Writings on Asian American Art by Karen Higa, Dancing Foxes Press  
Melissa Dabakis and Paul Kaplan, eds., Republics and Empires: Italian and American Art in Transnational Perspective, 1840-1970, Manchester University Press 
Alice Dusapin, Wolfgang Stoerchle: Success in Failure, octopus/Christophe Daviet-Thery 
Richard Hertz, Jack Goldstein and the CalArts Mafia, Les presses du réel, translation from English to French 
Amy Von Lintel and Bonnie Roos, Expanding Abstract Expressionism: Women Artists and the Middle American West, Texas A&M University Press 
Margaretta Markle Lovell, Painting the Inhabited Landscape: Fitz H. Lane and The Global Reach of Antebellum New England, The Pennsylvania State University Press 
Friederike Schaefer, Claiming Space(s). Locating Suzanne Harris' Dance Practice and Ephemeral Installations within New York City in the 1970s, De Gruyter
The International Author Conference Subventions confer two non-US authors of top-ranked books travel funds and complimentary registration to attend CAA's 2022 Annual Conference in Chicago, February 16-19; they also received one-year CAA memberships.
The two author awardees for 2021 are:
Alice Dusapin
Friederike Schaefer
LEARN MORE ABOUT THE TERRA PUBLICATION GRANT
posted by CAA — Apr 19, 2021
CAA is pleased to announce the recipient of the 2020 Professional Development Fellowships. The recipient of the $10,000 fellowship in visual art is Ana Maria Farina, SUNY New Paltz. A fellowship in art history was not awarded this year.
The honorable mention in visual art is awarded to Sabrina Pastard, Columbia College Chicago. All fellows and honorable mentions receive a complimentary one-year CAA membership and registration for the 2022 Annual Conference in Chicago.
2020 PROFESSIONAL DEVELOPMENT FELLOWSHIP IN VISUAL ARTS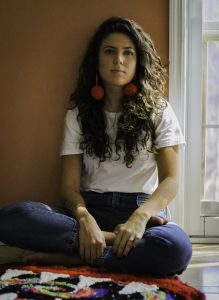 Ana Maria Farina, SUNY New Paltz
Ana Maria Farina paints using a gun––a tufting gun––along with needles, hooks, and knots. Repurposing a phallic signifier of violence, she conjures vibrant objects of comfort that inhabit a mystical pictorial space between abstraction and representation.
Ana Maria was born and raised in Brazil and is now based in the Hudson Valley, New York. She received her masters degree in Art and Art Education from Columbia University in 2016, and in 2018 she was awarded a fellowship to the New York Foundation for the Arts Immigrant Artist Mentoring Program. In 2019, she received a scholarship to attend the MFA program at SUNY New Paltz, where she also served as the Visiting Artist Director and Instructor of Record. Ana's work has been featured in many spaces throughout New York and she has upcoming exhibitions at the Wassaic Project, the Garrison Art Center, the Dorsky Museum, among others.
HONORABLE MENTION IN VISUAL ART
Sabrina Pastard, Columbia College Chicago
Sabrina Pastard is a visual artist who works with the poetics in the meta of the mundane. Often balancing her visuals on the borderline of familiarity and the abject, safety and crisis. Her multidisciplinary practice ranges in medium from ready-made sculptures and abstract prints to conceptual writings and poetry. Each new work invites an intellectual intimacy from the viewer as it inquires to the status of our assumed lives and societal taboos. Pastard was raised in St. Louis, MO and received her B.A. in studio art from George Fox University. She currently resides in Chicago and will complete her MFA at Columbia College Chicago in May 2021.
ABOUT THE PROFESSIONAL DEVELOPMENT FELLOWSHIP
CAA's Professional Development Fellowship program supports promising artists and art historians who are enrolled in MFA and PhD programs nationwide. Awards are intended to help them with various aspects of their work, whether for job-search expenses or purchasing materials for the studio. CAA believes a grant of this kind, without contingencies, can best facilitate the transition between graduate studies and professional careers. The program is open to all eligible graduate students in the visual arts and art history. Applications for the 2021 fellowship cycle will be due December 15, 2021. Learn more. 
posted by Allison Walters — Mar 12, 2021
February and March Picks from the Committee on Women in the Arts celebrate a selection of events, exhibitions, and calls for work and participation featuring feminist and womxn artists and address issues about social justice and ethics in intersectional and transnational perspectives.
Laura Anderson Barbata: Transcommunality
January 16–October 2, 2021
Newcomb Art Museum of Tulane University, New Orleans, LA
Laura Anderson Barbata's (b. 1958) socially engaged, activist, and environmentally sustainable practice is on view in a dynamic exhibition curated by Laura Blereau at the Newcomb Art Museum.  Transcommunality enriches bold concepts of global collaboration and cultural exchange, civil and indigenous rights, and human connection and belonging across geographical borders.  Anderson Barbata was born in Mexico City, Mexico, and works between Mexico and the United States.  This exhibition unites five projects and series across the Americas, showcasing a wide swath of media and community-based approaches such as street theater, arts education, printmaking and book making, textiles, wearable sculpture, photographs, and stilt dancing.  Among the works on display are paper making techniques and workshops utilizing Ye'Kuana Amazon wood printing blocks for body printing and printmaking in Venezuela (Amazonian moriche palm fiber); fabric costumes worn by stilt dancers and carnival performers, including Moko Jumbies in Trinidad and Tobago and the Brooklyn Jumbies of New York, West Africa, and the Caribbean, as well as the significant artisan culture of los Zancudos de Zaachila from Oaxaca, Mexico.  Transcommunality also documents Anderson Barbata's extraordinary intervention and efforts to repatriate the body of Julia Pastrana, a nineteenth-century Mexican woman grotesquely exploited for her physical disabilities.  As Anderson Barbata avers, reciprocity fundamentally underscores her artistic work and approach.
Mildred Thompson: Throughlines, Assemblages and Works on Paper from the 1960s to the 1990s
February 18–March 27, 2021
Galerie LeLong & Co., New York
A selected survey of Mildred Thompson's (1936–2003) mature practice into the 1990s, Throughlines explores the African American artist's dynamic experimentation in found and manipulated wood, free-standing assemblages and sculptures, and dynamic utilisation of abstraction in works on paper and prints.
February 6–March 9, 2021
Leslie–Lohman Museum of Art, New York
The first comprehensive retrospective on Chicana artist Laura Aguilar (1959–2018), Show and Tell presents more than 70 photographs and videos spanning three decades.  The development of Aguilar's performative, feminist, and queer  genres encompass candid portrayals of LGBTQ+ and Latinx communities; nude self-portraits serve as powerful investigations on the complicated colonial histories of racial and sexual injustice and personal expressions on vulnerability and beauty.
January 21–May 8, 2021
Ulrich Museum of Art, Wichita, Kansas
This exhibition explores Renée Stout's (b. 1958) print portfolio from 2012 titled Ghosts, currently in the collection of the Ulrich Museum of Art, and in dialogue with six Yoruba objects from present-day Nigeria in the Wichita State University's Lowell D. Homes Museum of Anthropology.  Stout's seminal artistic research into the histories of African American heritage and the African diaspora are demonstrated in Ghosts, haunting monotypes that touch upon syncretic belief systems and visual narratives of Haitian Voudou and American Voodoo and Hoodoo, especially as these religions are expressed in marginalized Black communities.
February 25–April 17, 2021
Nara Roesler, New York
The inaugural solo exhibition in the US of Brazilian multidisciplinary artist Amelia Toledo (1926–2017), the artist is best known for her constructive investigations that traverse the material boundaries of the natural world and landscape, and offer new definitions of ecological concretism through the technical and physical examination of shells, stones, and wood.  Toledo's later Penetrables, on view, explore inhabitable space through hanging color fields as raw canvas and organic pigments.  Although associated in her career with many of the foremost postwar neo-concrete Brazilian artists, including Mira Schendel, Tomie Ohtake, Hélio Oiticica, and Lygia Pape, Toledo maintained a separate identity.  On her hands-on and observational approach to her practice, Toledo offered: "It's not even just a question of difference processes; each material constructs itself, proposes itself in the form of certain consequences."
Les Femmes Folles Presents: Feminists Connect
Launching March 2021
This curated online exhibition includes work by 40 international artists, artist statement and bios received in response to a call inviting participants to reflect on the theme Feminist Connect and the possibilities for the arts and feminist enquiry. Driven by feminist ethics of care, the curators of this online art exhibit, Sally Brown and Leslie C. Sotomayor, became actively invested in selecting artworks that engage through lived experiences and embodiments into conversations on larger social issues such as love, grief or invisibility. The curatorial process was dialogic and centered on co-creation of knowledge with care.
The Vagina Museum's 'Cliterature' book club – Feminism, Interrupted
Thursday 22nd April 2021, 7:00 PM – 8:30 PM UK Time
Zoom
Cliterature, the Vagina Museum's book club, welcomes everyone to engage in readings and discussions of fiction, non-fiction, essays and poetry. The April event focuses on a non-fiction book Feminism, Interrupted: Disrupting Power by Lola Olufemi, which calls to reclaim feminism from its neoliberal appropriations as a radical tool for fighting back against structural violence and injustices, including, among others, reproductive justice, transmisogyny and gendered Islamophobia.
February 1st – June 6th 2021 
Zachęta – National Gallery of Art, Poland
Rhizopolis, a set design and an artistic installation, is not a phantasy. It welcomes us to a world of hypothetical future after an ecological catastrophe that is inevitable in the Antropocene. Imagining an underground city underneath a forest inhabited by refugees from the surface of Earth, Rajkowska calls into question our faith in continuous progress and civilizational development and expansion. In the context of the pandemic, Rhizopolis offers an opportunity to revisit survival scenarios and techniques and invites us to consider radical dependence and interconnectedness in which nature makes our lives possible.
posted by Allison Walters — Feb 26, 2021
The CAA Conversations Podcast continues the vibrant discussions initiated at our Annual Conference. Listen in as educators explore arts and pedagogy, tackling everything from the day-to-day grind to the big, universal questions of the field.
CAA podcasts are on iTunes. Click here to subscribe.
Lorne M. Buchman, President of ArtCenter College of Design and host of Change Lab podcast, speaks with Beyond the Studio co-hosts Nicole Mueller and Amanda Adams about the shifts happening in higher education, how art and design colleges are responding to the financial challenges of the pandemic, rethinking the model in order to increase sustainability, access, and affordability, what organizations can learn from adopting a mindset similar to that of individual artists, and key questions we should all be asking within the arts at large.
About Beyond the Studio: Beyond the Studio is a podcast that focuses on the behind the scenes work of visual artists— how they're supporting and sustaining themselves and their creative work. Co-hosted by artists Nicole Mueller (San Francisco, CA) and Amanda Adams (Baltimore, MD), Beyond the Studio features candid conversations with contemporary artists, makers, and art world professionals about their business practices, time management, financial planning, and how they're navigating the unique challenges of making a living, creatively. Artists are inherently resourceful, resilient, and ambitious, with a unique and diverse set of skills. Beyond the Studio wants to know how they're connecting the dots in their own life, and demystify the process. It's founded on the belief that by sharing these stories openly and honestly, artists will feel more empowered and become better equipped to live out their own creative life's work. The podcast can be found on Apple Podcasts, Spotify, Stitcher, and on their website www.beyondthe.studio
About Lorne M. Buchman: Lorne M. Buchman is the fifth president of ArtCenter College of Design in Pasadena, California, an international leader in art and design education. During Buchman's presidency, the College increased the undergraduate and graduate degree programs and realized record enrollments. Buchman previously served as president of both Saybrook University and California College of the Arts (CCA). Buchman holds a PhD from Stanford University and a BA from the University of Toronto. He founded Buchman Associates, a consulting firm focused on facility development projects for nonprofit organizations. A trained theater director and scholar, Buchman is the author of Still in Movement: Shakespeare on Screen and has taught and served as an administrative leader at the University of California, Berkeley.
About ArtCenter: Founded in 1930 and located in Pasadena, California, ArtCenter College of Design is a global leader in art and design education. ArtCenter offers 11 undergraduate and seven graduate degrees in a wide variety of industrial design disciplines as well as visual and applied arts. In addition to its top-ranked academic programs, the College also serves members of the Greater Los Angeles region through a highly regarded series of year-round continuing education programs for all ages and levels of experience. Renowned for both its ties to industry and its social impact initiatives, ArtCenter is the first design school to receive the United Nations' Non-Governmental Organization (NGO) status. Throughout the College's long and storied history, ArtCenter alumni have had a profound impact on popular culture, the way we live and important issues in our society.
Beyond the Studio
beyondthe.studio
posted by Allison Walters — Feb 17, 2021
CAA offers Annual Conference grants supporting international members, students, emerging scholars, practitioners, and artists. This year, we offered support grants to attend the 109th Annual Conference, February 10-13, 2021, virtually.
ANNUAL CONFERENCE CAA MEMBER SUPPORT GRANTS
CAA has awarded a limited number of grants to international members, students, emerging scholars, practitioners, and artists who are CAA members participating in the conference to support their ability to take part in the Annual Conference.
2021 Annual Conference Support Grantees: 
Kristina Davis
Silas E. Fischer
Maria Garth
Keith D. Lee
Mai Yamaguchi
Xiaojing Yan
SUPPORT GRANTS FOR ANNUAL CONFERENCE REGISTRATION 
CAA has awarded a limited number of grants to cover Annual Conference Registration for CAA 2021 to members in need. Annual Conference registration grants are supported by funds raised by the Presidents Council of CAA and the "Pay it Forward" initiative.
2021 Annual Conference Registration Support CAA Student Member Grantees:
Nicole Cochrane
Sophia Maxine Farmer
Alexa McCarthy
Andrea Morgan
Lauren Rosenblum
Sheri Michelle Schrader
Christine Suzanne Slobogin
Mariya Tsaneva
2021 Annual Conference Registration Support CAA Member Grantees:
Chava Krivchenia
Claudia Marion Stemberger
Daniela Naomi Molnar
Dell Marie Hamilton
Hong Zeng
Jasmine Graf
Roma Madan Soni
Silvia Massa
Tania Gutierrez-Monroy
ROYAL TALENS NORTH AMERICA – CAA CONFERENCE REGISTRATION GRANTS
For more than 100 years, Royal Talens has been stimulating creative expression by developing high-quality brands and products that inspire artists throughout the world. We seek to initiate and support efforts to increase cultural equity and inclusion in the arts community. We would like to announce the newly created Royal Talens CAA Cultural Equity Grant to provide support for studio art educators of color residing in the US or Canada to attend the national conference in 2021.
2021 Royal Talens North America –  CAA Annual Conference Registration Grantees:
Massa Lemu, Assistant Prof at Virginia Commonwealth University
Lizzy Martinez, Instructor at University of Missouri St. Louis
Kirk Maynard, Adjunct Instructor at Drew University, Madison NJ
posted by Allison Walters — Feb 10, 2021
Honorees this year include Samella Lewis, Deborah Willis, Kenneth Frampton, and many other scholars, artists, and teachers, including special commendation for service to art historical scholarship to Gillian Malpass.
CAA Annual Conference, February 1
0
-1
3
, 202
1
We are pleased to announce the recipients and finalists of the 2021 CAA Awards for Distinction. Among the winners this year is Samella Lewis, recipient of the 2021 Distinguished Artist Award for Lifetime Achievement. She was the first African American to earn a PhD in art history at Ohio State University. Mentored by Elizabeth Catlett and Charles White, Lewis embodied the visual culture of the civil rights movement through her prints. In addition to her studio practice, Lewis advocated African American art by writing for and creating exhibition venues. Her book, African American Art and Artists, originally published in 1978, was updated in subsequent editions and remains an important examination of more than two centuries of Black art and artists in the United States. For decades Lewis was a committed educator and scholar. In addition to her Fulbright, Lewis has been honored with a Charles White Lifetime Award (1993), with a UNICEF Award for the Visual Arts (1995), by being named a Getty Distinguished Scholar (1997), and by being interviewed by the HistoryMakers Archives (2003).  
---
and
Deborah Willis and Kenneth Frampton are the recipients of the 2021 Distinguished Lifetime Achievement Award for Writing on Art.  
Deborah Willis has opened the field of African American photography. When the invention of photography coincided with the promise of abolition, a new arc of aspiration was combined. Its new pictures, thought to be the work of light itself, began to transmit images so that, as Frederick Douglass said, "Men of all conditions may see themselves as others see them." From the first, photographs and photographic studios proliferated inside the Black community. It is the true extent of this practice that has been revealed by the lifework of Deborah Willis. In effect she has acted as its archaeologist, sifting through the layers from the time of Louis Daguerre to the surface of our present, retrieving the images and researching their histories. 
Kenneth Frampton, trained as an architect, is a prolific architectural historian and critic who has managed to face the behemoth of globalized capital with an enduring version of humane modernity. Frampton has been writing about architecture for over half a century. A model of the architect-scholar, Frampton not only opens new cosmopolitan perspectives on the work of widely influential architects from Le Corbusier and Louis Kahn to Zaha Hadid and Álvaro Siza Vieira with his scholarship but also gives due attention to transitional spaces and movements.  
---
Gillian Malpass is the recipient of a CAA Commendation for Service to Art Historical Scholarship. As publisher of art and architectural history at Yale University Press, London, Gillian Malpass assembled a matchless list of titles over three decades that set the press apart from all others. She fostered projects that were gorgeously designed, accessibly written, and beautifully illustrated, including numerous now-classic books by both emerging and senior scholars. She worked on monographs, exhibition catalogs, reference, and biography, from books examining previously unexplored fields to bestsellers. Authors of many of the most important books published in art history over the past thirty years attest in their prefaces to the ways in which Malpass's encouragement, expertise, and eye shaped their work. 
The Awards for Distinction will be presented during Convocation at the CAA Annual Conference on Wednesday, February 10 at 6:00 PM. This event is free and open to the public. A free and open registration is required.
---
The full list of 202
1
CAA Awards for Distinction Recipients:
Sampada Aranke, "Blackouts and Other Visual Escapes," Art Journal, vol. 79, no. 4 (Winter 2020): 62–75 
---
Katherine A. Bussard and Kristen Gresh, eds., "Life" Magazine and the Power of Photography, Princeton University Art Museum, 2020 
and
Louis Marchesano, ed., Käthe Kollwitz: Prints, Process, Politics, Getty Research Institute, 2020 
---
Alfred H. Barr Jr. Award for Smaller Museums, Libraries, Collections, and Exhibitions  
Adriano Pedrosa, José Esparza Chong Cuy, Julieta González, and Tomás Toledo, Lina Bo Bardi: Habitat, Museu de Arte de São Paulo Assis Chateaubriand (MASP) / DelMonico Books, 2020 
---
Nicole R. Fleetwood, Marking Time: Art in the Age of Mass Incarceration, Harvard University Press, 2020 
---
Charles Rufus Morey Book Award 
Charles L. Davis, II, Building Character: The Racial Politics of Modern Architectural Style, University of Pittsburgh Press, 2019 
and
Nicole R. Fleetwood, Marking Time: Art in the Age of Mass Incarceration, Harvard University Press, 2020 
---
Adam Jasienski, "Converting Portraits: Repainting as Art Making in the Early Modern Hispanic World," The Art Bulletin, vol. 102, no. 1 (March 2020): 7–30 
Honorable Mention:
Jessie Park, "Made by Migrants: Southeast Asian Ivories for Local and Global Markets, ca. 1590–1640," The Art Bulletin, vol. 102, no. 4 (December 2020): 66–89 
---
Artist Award for a Distinguished Body of Work  
Maren Hassinger 
---
CAA/AIC Award for Distinction in Scholarship and Conservation 
Nancy Odegaard 
---
Distinguished Artist Award for Lifetime Achievement  
Samella Lewis 
---
and
Distinguished Lifetime Achievement Award for Writing on Art  
Deborah Willis and Kenneth Frampton 
---
Distinguished Feminist Award—Artist  
Simone Leigh
---
Distinguished Feminist Award—Scholar  
Katy Deepwell
---
Distinguished Teaching of Art Award  
Dona Nelson
---
Distinguished Teaching of Art History Award  
Kaori Kitao 
---
Margo Machida 
---
CAA Commendation for Service to Art Historical Scholarship
Gillian Malpass 
Learn about the juries that select the recipients of the CAA Awards for Distinction. 
posted by Allison Walters — Feb 03, 2021
CAA continues to stand in support of its members and our larger arts community to create, analyze, teach, and promote art within our higher educational institutions. In its role of responding to members' concerns, particularly in relation to employment and various professional practices, CAA's Professional Practices Committee (PPC) has drafted this short guide to existing CAA Standards and Guidelines to provide members with helpful vocabulary or needed disciplinary acknowledgment of standards that they may use as they are faced with institutional and economic challenges in the current environment. The below is not meant as an exhaustive list (and the PPC encourages all members to consult all of the approved Standards and Guidelines as well as the policies of the American Association of University Professors), but rather as a means of highlighting some key areas in which CAA members have come together to promote professional practices of use to us all. All of CAA's standards are free and accessible to anyone via its website.
Hiring Contracts and Terms of Employment:
Faculty/Staff/Curator Roles:
Proposed Changes to the Structure/Content of an Academic Unit:
Teaching Load:
Job-Seeking Resources:
Status of Terminal Degrees:
posted by Allison Walters — Feb 03, 2021
In the past year we have experienced unprecedented changes in the social, economic, and interpersonal landscape: transformations in higher education; financial uncertainty; home-work imbalance; quarantine during a global pandemic; a divisive political climate; the US election cycle; and the Black Lives Matter and #SayHerName protests following the violent killings of Ahmaud Arbery, Breonna Taylor, George Floyd, and so many more. We have seen changes for us as teachers, scholars, makers, writers, and advocates for higher education and the place of academic arts discourse and development in this new world. We have seen great inequities in and serious changes to higher education that have affected faculty, staff, students, and the long-term support of art, art history, and design—as well as changes to our pedagogy, our community, and the very structure of who is cared for and how. We have suffered enormous losses and continue to mourn. These losses have had an immense impact on all of us, including underserved BIPOC communities, adjunct faculty, and arts communities unaffiliated with institutions. Significantly, this time has affected our greatest assets: connecting to, sharing with, and knowing our community.
How CAA offers service and support to our members has also changed as we work to become more inclusive, more diverse, and more equitable in the community at large. However, because so much of 2020 was spent "coping with" and "adjusting to," we haven't had the time to pause and reflect. We wonder what the future will look like, and as an organization, how to offer structure and support as we learn and grow together. As part of these changes we have been faced with the hard choice of what to do in the face of adversity. This community of artists, historians, and designers has risen to the moment, adapted, and supported one another. CAA has advocated for you by adapting in its greatest shift ever: to a fully online Annual Conference. Although this has sometimes felt like a pressure point, perhaps it is just a growing pain—and we will continue to show up for community more strongly and profoundly than ever before.
To ensure lasting change, we are committed to the following:
Expanding on the Annual Conference's virtual format, becoming ever more accessible and globally inclusive
Expanding advocacy for underserved and BIPOC communities
Developing and offering free and open professional resources via collegeart.org
Increasing access to participation of our global community throughout the year
Including diverse voices and supporting new outreach and inclusionary initiatives, especially for populations and communities that we have not engaged before: geographically, culturally, and in socioeconomic diversity
Helping reshape the landscape of professional support via a strategic digital overhaul
Listening to member concerns and responding with thoughtful urgency, bringing ease to transitions
CAA will continue to regularly address the changing workforce conditions in academic and cultural institutions, including for students and for the trajectory of adjunct faculty; enhance equity, diversity, accessibility, and inclusion initiatives in higher education, including promoting best practices in the reduction of systemic barriers, in faculty and staff hiring, in the support and recruitment of first-generation students from diverse and underrepresented groups, and in the implementation of sound consultative processes involving the affected communities; and increase public awareness and institutional recognition regarding the value and importance of humanities scholarship and visual arts and design education within the academy and beyond it.
CAA, its board, and its staff continue to stand in support of its members and our larger arts community to create, analyze, teach, and promote art within our higher educational and cultural institutions.
Written in solidarity and as affirmation of CAA's commitment to the diversity of practices and practitioners we serve.
Related resources:
Guidelines from the Professional Practices Committee
Art Journal Winter 2020 Video Abstract, "Now's the Time," a message from Jordana Moore Saggese
Art Journal Winter 2020, Blackness Issue (free online until March 31, 2021)
posted by Allison Walters — Jan 13, 2021
Video Abstract – Now's the Time from Taylor & Francis on Vimeo.
Usually when I sit down to write the introduction to a forthcoming issue of Art Journal, I am pleasantly surprised to find intrinsicconnections between the work we do as artists, historians, and critics. In past issues we have learned to look differently, to take matters personally, and to think in the present tense. And somehow we have done all this against an evolving (and often terrifying) backdrop of political, economic, social, environmental, and health crises. As I write this essay in early October, the pressure of reality—including the upcoming US presidential election—has made it difficult for many of us to orient ourselves to our research and creative practices. But, at the same time, the urgency of this work has never seemed more real.
In 2015 Toni Morrison wrote an essay for The Nation that, in part, framed her own feelings of helplessness in times of political and social turmoil. These days I find myself turning to these words again and again:
This is precisely the time when artists go to work. There is no time for despair, no place for self-pity, no need for silence, no room for fear. We speak, we write, we do language. That is how civilizations heal.

I know the world is bruised and bleeding, and though it is important not to ignore its pain, it is also critical to refuse to succumb to its malevolence. Like failure, chaos contains information that can lead to knowledge—even wisdom. Like art.
And so we must keep writing, making, and teaching. We must try to cultivate wisdom instead of succumbing to despair.
With Morrison's mandate in mind I introduce this special edition of Art Journal: an issue centered on Blackness. The ideas represented here have been carefully brought into an intentional conversation around the experiences, expressions, and theorizations of Blackness. We have artist projects by two Black women—Allison Janae Hamilton and Chanell Stone—and all the book and exhibition reviews center on works by and about Black artists (thanks to the tireless effort of our reviews editor, Mechtild Widrich). The feature essays reorient our attention to artists—Mark Bradford, Samuel Levi Jones, Glenn Ligon, Howardena Pindell, Jack Whitten—who explore the histories, sensations, and consequences of Blackness in their work.
As argued so compellingly by Leigh Raiford in her essay, "Our work is to recognize how white supremacy functions as a way of seeing that any person of any race or positionally can work to undo." I hope that in editing the first issue of Art Journal to focus exclusively on Blackness, I have provided a counterweight to the ideology of white supremacy that has infected our political landscape in the United States and (in so many ways) the history of art itself. As we mourn the murders of Ahmaud Arbery, Breonna Taylor, and George Floyd and the deaths of thousands from COVID-19, let us also work toward the new future and find meaning in the chaos.
– Jordana Moore Saggese
The entire issue of Art Journal Winter 2020 is free to read through March 31, 2021.
posted by Allison Walters — Jan 08, 2021
 The following article was written in response to a call for submissions by CAA's International Committee. It is by Ilaria Jessie Obata, an art historian and curator currently completing an MA in Curating Art and Cultures at the University of Amsterdam.
Victor Sonna's first solo exhibition, 1525, which opened at the Van Abbemuseum in Eindhoven in July 2020, tells a multilayered story of personal introspection and shared colonial legacies. This collaboration between the artist and the museum is among the most recent exhibitions that fall under the mission scope of Musea Bekennen Kleur (Museums Confess Color), a contemporary platform established in Amsterdam in March 2020, in which "museums take accountability and responsibility through ongoing conversations about achieving diverse and inclusive institutional settings" (Musea Bekennen Kleur, https://museabekennenkleur.nl/).
The Van Abbemuseum, a participant in this project, is also one of the first museums in the Netherlands to embark upon a steady process of decolonizing its exhibitions and collections. This institutional decision was further marked by the Van Abbemuseum's 2007 exhibition, Be(com)ing Dutch, in which participating artists Anette Kraus and Petra Bauer criticized racialized images of Zwarte Piet (Black Pete), which perpetuate the use of black face for the Sinterklass holiday (Saint Nicholas). The museum encountered severe backlash from the far-right party in the Netherlands for its criticism of the Dutch holiday, which further exposed this contested discussion within the country as whole. This response exemplified the need to continue the process of decolonizing cultural and educational platforms that perpetuate racial stereotyping. Therefore, Sonna's solo exhibition builds upon the museum's desire for institutional accountability regarding the Netherland's recent past and its involvement with the trans-Atlantic slave trade. Sonna and the Van Abbemuseum decided to organize an exhibition with a dynamic narrative that would prompt discussion about contemporary colonial legacies. Working together, Sonna, Van Abbe director Charles Esche, curator Steven ten Thije, and guest curator Hannah Vollam, designed and curated an exhibition that presented Sonna's research from multiple perspectives.
Born in 1977, Victor Sonna is a visual artist who moved to the Netherlands at age nineteen from Yaoundé, Cameroon. Having studied at the Design Academy in Eindhoven and then at the AKV | St. Joost in Den Bosch, Sonna is based in Eindhoven and works in various mediums. His Van Abbemuseum exhibition includes three installations of tapestries, prints, and audio-visual material. The exhibition narrative started with his purchase of a pair of chains that once belonged to an enslaved person in New Orleans. The number 152 was engraved on these chains and thus remains the focal point for the exhibition title, 1525 (Fig. 1). Sonna's installations regularly refer to the commoditization of human life under slavery, or rather "…the treatment of persons as property or, in some kindred definitions, as objects… when the individual is stripped of his previous social identity and becomes a non-person, indeed an object and an actual or potential commodity" (Igor Kopytoff, "The Cultural Biography of Things: Commoditization as Process," in The Social Life of Things: Commodities in Cultural Perspective, p. 65). Sonna's purchase led to his own research on the socio-historical impact of colonial exploitation, which constructed and perpetuated the commodification of human life for Western imperial profit.
His audio-visual works, which contextualize and document the slave trade in Ghana, are shown in six separate film installations in the exhibition. Sonna visually captured the external and internal space of Fort Elmina, a former slave trading post that was seized and consolidated by the Dutch in 1637. He documents remembrances of the trans-Atlantic slave trade, which have remained imprinted upon the walls of the fort and linger within the smell of the dungeons. The fort "plays a central role within the exhibition since the title,1525, also corresponds to the year marking the departure of the first slave ships from the West African coast to the Caribbean islands"(Harmen van Dijk, TrouwNL, 18 July 2020, translated from Dutch by the author). Sonna used this historical research to better understand the dehumanizing effects of the trans-Atlantic slave trade that turned enslaved African individuals into commodities, and led to a specific form of merchandising the colonial: distinguishing people as objects and as lesser than human.
The accompanying installations showcase Sonna's training as a visual artist as he meshes together the mediums of sculpture, metalwork and tapestry through the jaw-dropping 82-foot-high steam beam tower, from which his framed tapestries hang within the inner spire of the museum. This massive installation, titled the Tower of Babel (Fig. 2), contains the 152 tapestries that require multi-angled viewings because both sides of the frames are packed with layers of overlapping materials, from glued cane sugar to metallic nails and coins. Sonna gathered 152 European Gobelins tapestries, made between the eighteenth and twentieth century, which comprise his series Bleach and Dust, Sugar and Rubber and Maps. However, Sonna wanted to deconstruct the singular perception of these tapestries as representing "the history and prosperity of Europe" (Harmen van Dijk, TrouwNL, 18 July 2020, translated from Dutch by the author), by exposing the forms of exploitative slave labor used to extract materials such as sugar and rubber, which are imbedded and glued onto the surface of the tapestry. On Sonna's website he states that this series approaches the "layering and displaying of connected histories that have been etched, trapped and layered in the earth" (Victor Sonna, http://victorsonna.com/site/news.php ).
Sonna presses different sculptural materials into the tapestries, creating multiple reliefs on their surfaces (Figs. 3,4,5). He "traps" metallic objects: coins, metal chains, and nails along with Kente cloth from Ghana that has been rolled up and sewn into the tapestries, and granulated cane sugar glued around the edges. He purposefully imbeds these materials into the textural DNA of the tapestry and locks each object inside it. The reliefs pushing out of the tapestry juxtapose the Gobelins framed surface with the visual effects of these contrasting materials, making us look again. The materiality of such commodities is weighed down by the history of their production, one fueled by the violence and death that characterizes the slave trade and its plantations. The artist's desire to etch and trap together seemingly disparate materials creates a correlation between a shared European history of colonial exploitation and the creation of racial difference.
Lastly, a striking section of this exhibition required two visitors to stand in front of one another, separated by a series of fifty-two silkscreen frames titled the Wall of Reconciliation (Fig. 6). The term "reconciliation" connotes Sonna's desire to ensure that the printed image reconciled two opposing views. Every silkscreen required a dark backdrop in order to see the printed image; it is only visible if two visitors are standing on opposites sides of the same screen. Thus, the two viewers on opposite sides see the same explicit images of violence that are part of a series of drawings depicting slavery in Suriname, a Dutch colony that gained independence only in 1975. In Figure 7, the image depicts a young boy holding a rake, signifying the effects of enforced labor during the formative years of a child's life and how it can mold a perception of the self that is intrinsically tied to an object of labor. Henceforth, each of these installations emphasized Sonna's desire to deconstruct a biased and unilateral frame of reference. 
1525, which has received acclaimed reviews in the Dutch press, is on display at the Van Abbemuseum until May 2021. Writers have collectively applauded the museum's commitment to showcasing this stirring and historically fueled narrative. The Van Abbemuseum will continue to produce related public programming that is both accessible and reflective of its mission to highlight the legacies of Western colonialism in a Northern European context.