Melissa Hilliard Potter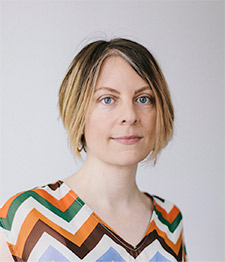 Statement
My name is Melissa Hilliard Potter. I'm a Chicago-based educator and artist. I have taught and exhibited steadily, domestically and abroad, for more than two decades, and currently serve as an Associate Professor (with tenure) in the Art and Art History Department of Columbia College Chicago. I'm in my ninth year at Columbia — one of the nation's largest, most diverse private arts and media colleges — and served as Acting Program Director for four of them. Earlier, I taught painting and printmaking as an Adjunct Professor at Hudson County Community College and at Rutgers University, both in New Jersey.
I've earned three Fulbright Fellowships — a rare achievement — for study and teaching abroad. During the last, I established Serbia's first hand-papermaking studio at the University of Belgrade, and developed its hand-papermaking curriculum. I have also taught in Mexico, Venezuela, Georgia, and Bosnia and Herzegovina, among other overseas locales.
Throughout, I have also worked as an artist, focusing on image production and the transmission of ideas through images. As an artist, my work has benefitted from such influences as other women artists, feminists, Quaker activists, and 20th century resistance movements. Trained in lithography, etchings, woodcuts and silkscreening, I am also fluent in hand-papermaking, bookbinding, letterpress printing, print-on-demand publishing, the production of multiples, broadsides and posters, and film production. For further details, see www.melpotter.com.
I maintain a steady series of exhibitions and curatorial projects, regularly present papers at professional conferences, contribute articles to publications, write and edit a blog I founded, and have produced a couple of short films, one of which is animated.
CAA Activities
I have been involved with CAA for just over a decade, beginning in 2006, when I worked for the Association (until 2008) as a Career Development Associate. As a CDA, I structured professional development programming, with support from the Emily Hall Tremaine Foundation, nationally and with museums, educational institutions, and other non-profit organizations. I also helped coordinate on-site professional development programs and career fairs for CAA's annual conferences. In addition, I:
Served on the Lifetime Achievement Award committee of the Women's Caucus for Art, which conducted its ceremonies in affiliation with CAA's annual conferences.
Served on CAA's Services to Artists Committee, from 2010 to 2013, which created the Meta-Mentors program, for ARTspace and the Board Nominating Committee;
Chaired or co-chaired panels, and presented papers at nearly every CAA annual conference since 2008, including those in Dallas-Ft. Worth, Los Angeles, Washington, D.C., Chicago and New York.
Regarding the CAA's Strategic Plan 2015–2020, its goals are appropriate, worthwhile and achievable. My own view is that CAA's biggest challenge is adapting to constant change. Communication platforms, community engagement strategies, and educational opportunities relentlessly evolve. As a board member, I hope to help CAA better understand the next generation of artists: How they define artistic careers. Pursue them. And cope with part-time, hybrid models also in flux.
Many strategies can help CAA include more artists, independent contractors, adjuncts, and others in the contingent labor force. As leaders, we need the wisdom to select the best. CAA's advocacy projects, professional standards, and job listings — all critical to artists — need better visibility. My key areas of engagement would be to develop new platforms for interaction, new regionally responsive projects, new ways to build our membership, and new ways to engage a new generation.
I am thoroughly comfortable in a diverse, multicultural environment — expecting nothing less — and well acquainted with organizational leadership duties. I have advised students and faculty members, collaborated with alumni, worked with budgets and schedules, recruited students, promoted Columbia College at academic conferences, supervised studio facilities, curated exhibits, served on committees, and raised or helped to raise some $500,000 in grants and awards for myself and others.
If elected to CAA's Board of Directors, I will serve to the best of my ability your needs — in particular, your access to information, professional opportunities, and the benefits of our networked environment.