N. Elizabeth Schlatter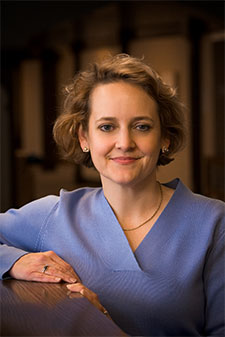 Statement
Two objectives of the CAA 2015–20 Strategic Plan are especially critical to the organization's capacity to support, collaborate with, and advocate for diverse practitioners in art, art history, design, and visual studies.
First is reevaluating the Annual Conference. I would like to explore ideas for how the conference can be more nimble and engaging, more supportive and encouraging to all generations of members, and more thoughtfully cater to the professional development activities that occur during the conference, while maintaining the conference as a fiscally viable activity.
Second is reassessing the professional committees' responsibilities within CAA's governance structure. These committees provide a fantastic opportunity for members to become active participants in the organization and influence its strategic direction. Working together, CAA can reinvigorate these committed volunteers by clarifying their roles with respect to the organization's leadership, service to members, and advocacy in various fields across the visual arts.  As a former committee chair, I would like to further develop the role board liaisons play in assisting and supporting committee chairs.
My current collaboration with CAA to create a new online resource for academic museum professionals (RAAMP) is another way I envision broadening the organization's service to the visual arts community and improving the organization's outreach.  Scheduled to launch in late 2016, RAAMP will act as a repository and forum that collects, stores, and shares resources to promote scholarship, advocacy, and discussion about the role of academic art museums and their contribution to the missions of their parent institutions. Along with Celka Straughn, Andrew W. Mellon director of academic programs at the University of Kansas's Spencer Museum of Art, we've assisted CAA in receiving a grant of over $130,000 from the Mellon Foundation to develop RAAMP, and secured a selection of representatives from associations of museum professionals and academic museums across the country who act as advisors and stakeholders in these initial stages of the project. We are also overseeing RAAMP's development, particularly in terms of its conceptual growth and focus on pedagogy and advocacy, as well as its future promotion and assessment.  
As a potential board member, I would bring the knowledge and insight of a seasoned conference participant and a former chair and now current member of CAA's Museum Committee, as well as my expertise as a curator of contemporary art, an academic museum administrator, and an educator and published author. It would be a privilege to serve CAA and its members in this new capacity. Thank you for your consideration.
Biography
N. Elizabeth Schlatter is deputy director and curator of exhibitions at the University of Richmond Museums, Virginia, where she has curated over twenty exhibitions, including recent group exhibitions such as Anti-Grand: Contemporary Perspectives on Landscape, Flow, Just Flow: Variations on a Theme, Art=Text=Art: Works by Contemporary Artists, and Form & Story: Narration in Recent Painting. She teaches classes for the university's art and art history department, and assists the museum's director in managing operations and leading strategic initiatives within the university, including recently cochairing a yearlong interdisciplinary festival focused on the themes of landscape and land use, co-organized with the department of art and art history.
Previous positions include exhibitions project director for the Smithsonian Institution Traveling Exhibition Service (SITES) in Washington, DC, and development assistant at the Contemporary Arts Museum Houston, Texas. Her publications include exhibition catalogues, articles and books on museum careers, including Museum Careers: A Practical Guide for Novices and Students (Left Coast Press, 2008, currently being revised), and essays and art reviews for magazines and publications. She has a BA in art history from Southwestern University, Texas, and an MA in art history from George Washington University, Washington DC. Schlatter is a member of several professional organizations, including ArtTable, American Alliance of Museums, Association of Art Museum Curators, and Association of Academic Museums and Galleries.
A member of CAA since 1995, she is the coprincipal investigator of RAAMP (Resources for Academic Art Museum Professionals), an online resource currently in development and funded by the Mellon Foundation. An active member of the Museum Committee, she served as chair from 2013 to 2015. She has chaired and cochaired conference sessions as well as delivered papers, often on topics related to curating and issues specific to university museums.
Endorsement
It is with pleasure that I offer this endorsement for N. Elizabeth Schlatter, deputy director and curator of exhibitions at the University of Richmond Museums, Virginia, who is running for a seat on CAA's board. As a productive curator and administrator at an academic museum, in addition to teaching in the art and art history department at the University of Richmond, Elizabeth offers important interdisciplinary talents. Through her position, and given her emphasis on contemporary art, Elizabeth is ideally equipped to support the needs of CAA's scholars, artists, and museum professionals at a critical moment in CAA's history. Her recent leadership role in working with CAA to secure a major grant from the Andrew W. Mellon Foundation to support the development of Resources For Academic Art Museum Professionals (RAAMP), which will lead to a shared online resource for curators and educators at academic art museums (and beyond), to be launched in late 2016, demonstrates her ability to work effectively with CAA's members, committees, leadership, and outside stakeholders to secure critical resources to build important tools for CAA members and others. Her work on professional matters, such as forging a career within the museum field (see her 2008 book, Museum Careers: A Practical Guide for Novices and Students), reflects her sensitivity to the professional challenges faced by arts professionals today. She is well positioned to advocate for emerging and more seasoned professionals on career matters. As a former chair of CAA's museum Committee, Elizabeth has gained a great deal of experience with CAA as an organization, which she can put to good use on the part of CAA's membership. Her attentiveness to the organization's current strategic plan reflects her commitment to working with CAA to enable it to continue evolving to meet member needs.
N. Elizabeth Schlatter is an extremely talented and accomplished academic museum leader who has already made important contributions to CAA on behalf of its members. If elected to the board, she promises to continue her strong record of accomplishment, benefitting CAA as an organization and its membership as a whole.
— Anne Collins Goodyear, Codirector, Bowdoin College Museum of Art, CAA Board Member, 2006–15 (President, 2012–14)
Video
You need to upgrade your Flash Player to version 9 or newer.