Andrew Schulz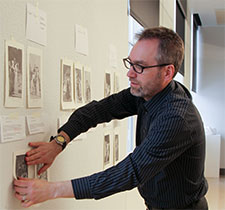 Statement
CAA has a long and distinguished record of fulfilling its mission as "the preeminent international leadership organization in the visual arts."  Through the Annual Conference, the publication of flagship journals in art history and contemporary art, various career services, an ever-growing roster of affiliate societies, and many other initiatives, CAA provides significant value to its diverse membership—as it has to me from the time I first joined as a student member in the early 1990s.
In recent years, CAA has responded appropriately to shifting circumstances in our disciplines, as evidenced by the new membership structure, the important work done on our behalf regarding copyright and the fair use of images, and the digital platforms for the The Art Bulletin and Art Journal. In May 2014, the board ratified a strategic plan for 2015–20, which includes the seeds of important initiatives that are being germinated by a set of task forces.
While CAA has made important strides in meeting the shifting needs of its members as individuals, it has been less effective in advocating for the centrality of our disciplines and professions—and, more fundamentally, of art and culture—to higher education and to the broader culture. My candidacy for the Board of Directors is fueled by a desire to see CAA substantially increase its efforts and effectiveness in this regard. 
Currently there is a task force examining CAA's advocacy efforts, and I look forward to seeing its findings once they are released. One action that should be considered is the formation of an advocacy committee to give shape and structure to these efforts. It will also be important to designate a CAA staff member to serve as a liaison on advocacy issues. And we need to work much more closely with other organizations that share our commitment to the centrality of the arts in education and in public life, such as the National Art Education Association, American Alliance of Museums, and Alliance for Arts in Research Universities, to name a few. The fact that the Annual Conference will be held this year in Washington, DC, represents an excellent opportunity to rededicate ourselves to this effort.
In addition, I believe that CAA needs to take on the responsibility of helping to train future administrative leaders in our fields. In this regard, I would like to see CAA establish a leadership institute similar to those created by our sister institutions in the arts, such as the Association for Theatre in Higher Education. Equipping current and future department heads and chairs with the tools they need for success will increase the odds that some of them will go on to occupy important roles in higher academic administration as deans, provosts, and presidents. We need to infiltrate these ranks in order to play a vital role in shaping the future of higher education at this critical moment of rapid and unprecedented change.
Biography
I am an award-winning teacher and scholar committed to advocating for the centrality of the arts and humanities in the twenty-first-century university and broader culture.
My scholarship focuses on the art and architecture of Spain in the eighteenth and nineteenth centuries. I have published extensively on Francisco Goya, as well as on cultural institutions that shaped the Spanish Enlightenment, including the Madrid Academy of Fine Arts, the Spanish royal porcelain factory, and the Museo del Prado. I am author of Goya's Caprichos: Aesthetics, Perception, and the Body (Cambridge University Press, 2005), which was awarded the 2007 Eleanor Tufts Prize for Hispanic Art Historical Studies. I have received fellowships and residencies from the Center for Advanced Study of Visual Art, the Getty Research Institute, and the National Endowment for the Humanities, among others. I am currently completing a monograph titled Al-Andalus in the Age of Enlightenment: Islamic Art and Culture in the Spanish Imagination.
As associate dean for research in the College of Arts and Architecture at Pennsylvania State University, I oversee an office that acts as a catalyst for faculty and students in attaining their research ambitions, and I work to position research and creative activity in arts and design disciplines as fundamental to the university's research enterprise. I have launched several new initiatives, including the Arts and Design Research Incubator and the Borland Project Space. I also oversee strategic planning and information technology for the college.
Previously, I was head of the department of the history of art and architecture at the University of Oregon, and I began my career at Seattle University, where I was director of honors programs and director of the Kinsey Art Gallery, among many other activities.
I am an active participant in the Alliance for Arts in Research Universities (a2ru.org), serving as a member of the research committee and chair of the strategic planning committee.
Endorsement
I enthusiastically endorse Professor Andrew Schulz as a prospective board member of the College Art Association. He is a thoughtful and intelligent scholar of Spanish art during the Enlightenment, who advocates in his administrative roles for continued recognition of the visual arts as a vital component of college and university curricula. Andrew has been involved in CAA since the mid 1990s, when he first joined as a student member. Like many of us, he values the role that CAA plays in launching the careers of young scholars and artists, but believes the organization needs to do more to maintain its relevance to mid-career and senior visual arts professionals. Drawing on his own experiences as an academic who straddles art history and research administration, Andrew has exciting new ideas about ways that CAA can better serve a multi-generational and diverse membership as we together face dramatic changes within our connected professions. In his position as associate dean of research at Pennsylvania State University, he has provided leadership to a complete arts community comprised of professionals working in art and architectural history, the visual arts, and design disciplines, as well as in an art museum. I have no doubt that Andrew will put this leadership experience to use in his service of the same constituencies within CAA. He will be an invaluable asset to the board as it moves forward with newly developed membership structures, advocacy agendas, conference expectations, and international ambitions that will drive the association over the next five years.
— Jennifer Milam, Professor of Art History, University of Sydney; 2013–17 Future Fellow, Australian Research Council; Inaugural President of the Australian and New Zealand Society of Eighteenth-Century Studies; and Founding Director of the Sydney Intellectual History Network
Video
You need to upgrade your Flash Player to version 9 or newer.