For both cost-saving and environmental reasons, we're going green this year! We will not be producing a printed program. The online schedule for the 2020 Annual Conference provides you with the greatest flexibility in planning your experience at the conference. Use this tool to search by keyword, presenter, or subject area. Make your own custom schedule and generate printouts!
The best way to learn about the schedule is to click through the various pages. We've also created this overview of its functions for CAA 2020.
Accessing and printing your custom schedule
---
Signing In
The online schedule can be viewed and searched without signing in, although you will not be able to create your own customized schedule.
If you created a customized schedule during CAA 2019 on your computer or in the conference phone app, you can sign into the 2020 schedule using the same email and password.
IMPORTANT note: this is not necessarily the email and password you use to sign into the CAA member account or submissions portal. We recommend you try your sign in and if need be, create a new one.
You may also reset your password by following the prompts on the webpage.
Once you create this new sign on, you can set up, save, and download your personalized schedule from your web browser.
The home page before sign-in: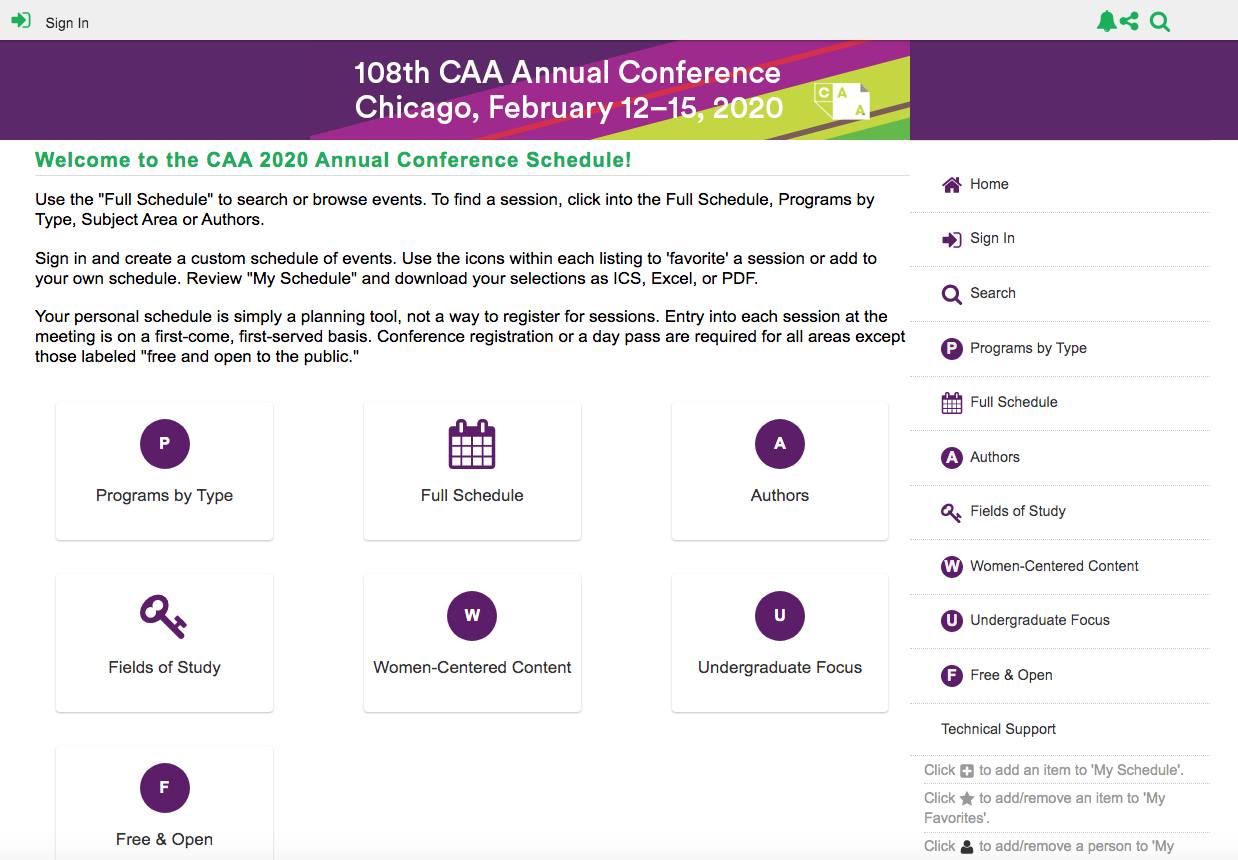 The home page after sign-in: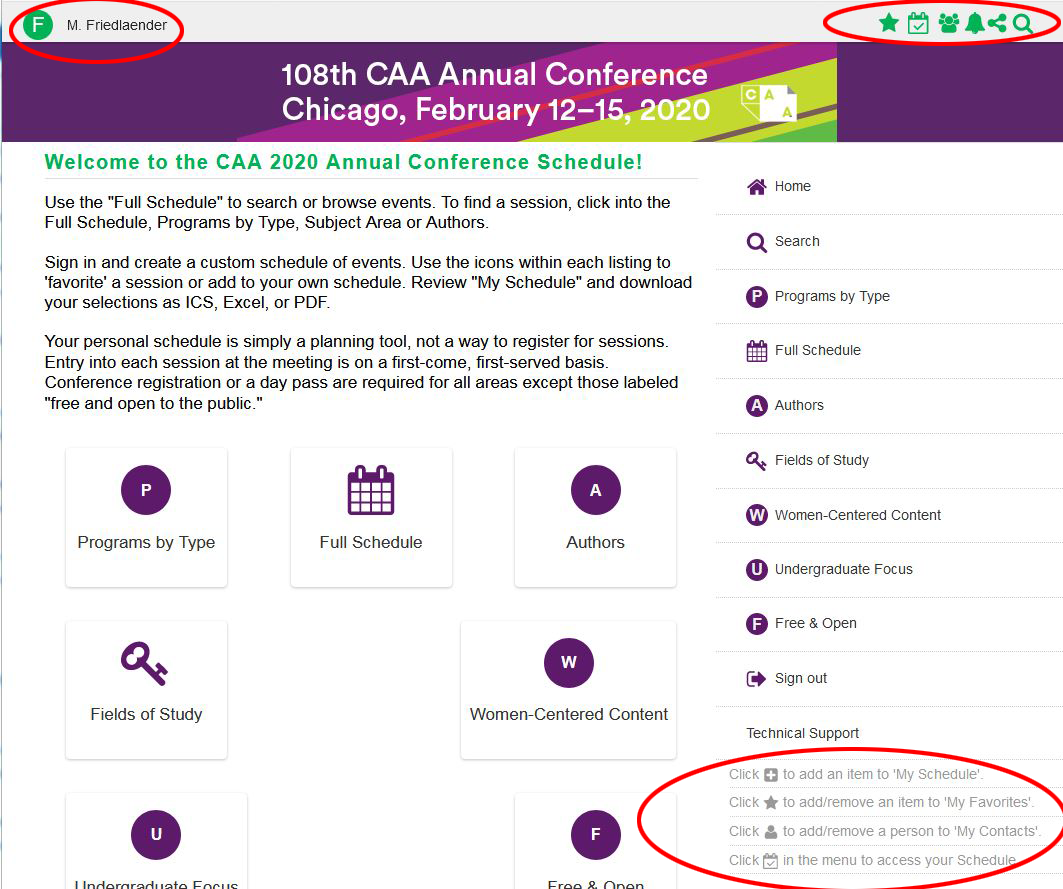 https://caa.confex.com/caa/2020/meetingapp.cgi/Home/0
You can tell you are signed in by looking at the banner above the purple – your name in green on the left, customization icons in green on the right, legend for those icons on the lower right. The customization icons can be seen next to every entry in the schedule – see next page
Viewing the Full Schedule
https://caa.confex.com/caa/2020/meetingapp.cgi/Day/2020-02-12
As you peruse the schedule, if you are signed in, you can "favorite" items, which adds them to a list, and then review those and choose which ones to will add to your personal schedule.
Favorites will appear in the order they were added, and may be used as a "first pass" when browsing sessions and events you can later add to your personalized schedule. Events added to "My Schedule" may be output in several ways and will appear in the CAA smartphone app.
Building Your Custom Schedule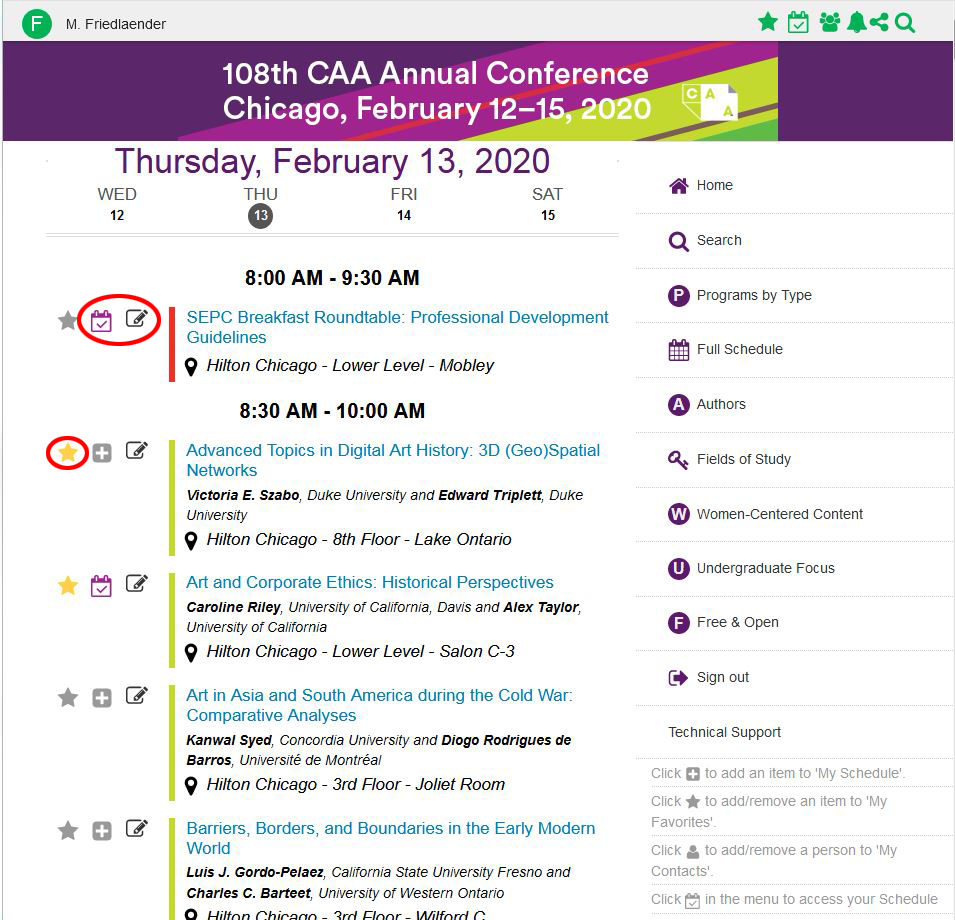 Once you are signed in, you can build your own custom schedule. Adjacent to each event or session listed in the schedule is a small calendar icon with a checkmark (

). Click on this icon to save the event to your personal schedule. To view your custom schedule, click on the green calendar icon (

) in the upper right corner of the screen.
When you add the CAA 2020 app to your smartphone, use the same sign on, which will sync your schedule and favorites from the online schedule to the mobile app.
Accessing and printing your custom schedule
There are four ways to access your schedule once it is finalized.
See Icons under "My Schedule"
Left to right on the webpage: Download as ICS – these can be imported into your outlook or other calendar. Download as Excel or PDF download. Save the schedule while signed in and then download the phone app (when it is available) and sign in and view your schedule.
CAA recommends testing these functions and downloading in ICS as close to the conference as possible, as schedules may shift. The most accurate information will be present in the conference phone app and in the onsite digital signs at the Hilton Chicago. PDFs of full day schedules will be available on our site in the weeks before the conference.
---
Frequently Asked Questions:
What if there are schedule changes?
The online and phone app will be the most up to date during the conference.
What if I don't have a smartphone?
That's fine! You can create your customized schedule and edit it until right before you head to the conference, export a PDF or EXCEL version to print.
I would prefer to print the whole Wednesday schedule.
Ok! Come back in January when CAA will have PDFs of each day's schedule available for download. We still recommend you select and print only your own schedule to save resources, there will also be digital signage on each floor at the Hilton Chicago showing that day's schedule. The online schedule and phone app will always display the most up to date information.
I see "Similar" at the bottom of a session with links to other sessions, how is that created?
Entries with similar keywords in title and text will automatically show in this space.
I'm part of an Affiliated Society. How can I find our session?
If a session was created by an Affiliated Society or a CAA Committee, the name will appear under the session title in the full schedule or on the session page. To search for Affiliated Society sessions and meetings, enter the name inside quotation marks; "My Affiliated Society"
I see a typo in Session or Paper title, how can I fix it?
Any session, presentation, or event title edits should be sent to programs@collegeart.org
My name or affiliation is appearing incorrectly in my session or event.
If your name or affiliation needs to be changed – email membership@collegeart.org.
My Presenter/Discussant/Chair just informed me they cannot attend. May I bring in someone else?
You may email mfriedlaender@collegeart.org, about this, it should not be a problem but the replacement must be a CAA member (unless this is part of SAC, SEPC, TFAP programs or a mid-day panel). Thank you for your patience.
I need to cancel our session.
We are sorry to hear that you must cancel, please email mfriedlaender@collegeart.org. We hope to see you in 2021.
I need to reschedule our session.
The schedule has over 300 sessions and is set at this time. If you would like to request a change you may email mfriedlaender@collegeart.org but most changes are not possible. Thank you for your understanding.
I need to talk to someone about our reception.
Please email pskiff@collegeart.org
I need to talk to someone about our affiliated society business meeting.
Please email cbuckley@collegeart.org
I have another question about the conference.
Please see our Resources Page.