2016 Distinguished Scholar Session
Richard J. Powell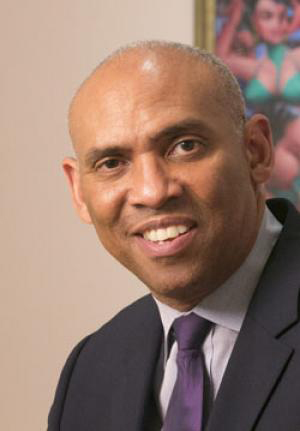 Richard J. Powell, John Spencer Bassett Professor of Art and Art History at Duke University in Durham, North Carolina, where he has taught since 1989, has been named CAA's 2016 Distinguished Scholar. A specialist in American art, African American art, and theories of race and representation, Powell will be honored in February during a special session at CAA's upcoming Annual Conference in Washington, DC.
Powell was chair of the school's Department of Art, Art History, and Visual Studies from 1996 to 2001. He currently is dean of the humanities for the Trinity College of Arts and Sciences at Duke. In 2013, the Smithsonian Institution's Archives of American Art bestowed the Lawrence A. Fleischman Award for Scholarly Excellence upon Powell for his contributions to the field of American art history.
Powell earned a PhD in art history at Yale University in 1988, after receiving an MA in Afro-American studies in 1982 from the same school. He was awarded Yale's Wilbur Cross Medal for Distinguished Alumni in 2009; three years later he received the James A. Porter Award for Excellence in African American Art Scholarship from Howard University, where he earned an MFA in printmaking in 1977. Other notable grants, fellowships, and residencies came from the Voyager Foundation, the National Humanities Center, the National Endowment for the Humanities, and the W. E. B. Du Bois Institute for Afro-American Research at Harvard University.
Powell led CAA's flagship journal, The Art Bulletin, as editor-in-chief from 2008 to 2010. Among his many editorial accomplishments were substantial multiauthor interventions on decentering modernism, organized around an essay by Partha Mitter; on Pablo Picasso during wartime, for which a play by Ariel Dorfman served as anchor; and on Diego Velázquez's Las Meninas in light of postcolonial and materialist discourses. In the latter, for example, lead author Byron Ellsworth Hamann explored the presence in the painting of materials from the Americas, including silver, clay, and the red dye cochineal.
Powell's books include Cutting a Figure: Fashioning Black Portraiture (2008); Black Art: A Cultural History (2002); Jacob Lawrence (1992); and Homecoming: The Art and Life of William H. Johnson (1991), which drew from his dissertation on this twentieth-century American artist. He was the primary or sole author of numerous exhibition catalogues, such as Circle Dance: The Art of John T. Scott (2005); Beauford Delaney: The Color Yellow (2002); To Conserve a Legacy: American Art from Historically Black Colleges and Universities (1999); and James Lesesne Wells: Sixty Years in Art (1986).
As a curator, Powell has organized and cocurated such exhibitions as Conjuring Bearden at Duke's Nasher Museum of Art (2006); Back to Black: Art, Cinema, and the Racial Imaginary at the Whitechapel Art Gallery in London (2005); Rhapsodies in Black: The Art of the Harlem Renaissance for the Hayward Gallery in London and the Corcoran Gallery of Art in Washington, DC (1997); and The Blues Aesthetic: Black Culture and Modernism for Washington Project for the Arts (1989). His first curated show, Impressions/Expressions: Black American Graphics, appeared at the Studio Museum in Harlem in New York and toured nationally.
The 2016 Distinguished Scholar Session will took place on Thursday, February 4, 2016, 2:30–5:00 PM, at the Washington Marriott Wardman Park Hotel. Powell was joined by three colleagues: Kobena Mercer, professor of history of art and African American studies at Yale University; Gwen Everett, associate professor of art history at Howard University and associate dean of the school's Division of Fine Arts; Kellie Jones, associate professor of art history at Columbia University and director of undergraduate studies in the Department of Art History and Archaeology; and Suzanne Preston Blier, Allen Whitehill Clowes Professor of Fine Arts and of African and African American Studies at Harvard University.