posted by Christopher Howard — Jun 29, 2009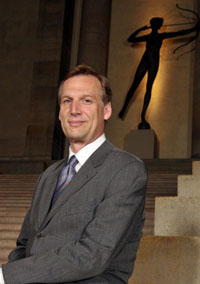 Timothy Rub has been named George D. Widener Director and Chief Executive Officer of the Philadelphia Museum of Art. Rub, who has been director and chief executive officer of the Cleveland Museum of Art in Ohio since 2006, begins work at the Pennsylvania museum in September. The fifty-seven-year-old succeeds Anne d'Harnoncourt, who died on June 1, 2008.
In Cleveland, Rub guided the museum's comprehensive capital project and fundraising campaign, oversaw the reinstallation of its extensive holdings of European and American art in its renovated 1916 building and new East Wing, and brought to completion the first phase of its seven-year renovation and expansion project designed by the renowned architect Rafael Viñoly. He also initiated a strategic-planning process, managed the development of a touring exhibitions program that sent shows generated from the museum's collection to Beijing, Tokyo, Seoul, Munich, and a number of venues in Canada and the United States.
A specialist in architecture and modern art, Rub also directed the Cincinnati Art Museum from 2000 to 2006, led the Hood Museum of Art at Dartmouth College in Hanover, New Hampshire, from 1991 to 1999, and was a Ford Foundation Fellow and then curator at the Cooper-Hewitt, National Design Museum, in New York from 1983 to 1987.
At the Hood Museum of Art, his exhibitions and catalogues include The Age of the Marvelous; Goddess and Polis: The Panathenaic Festival in Ancient Athens, and Jose Clemente Orozco in the United States, 1928–1934; in Cincinnati, he produced Petra: Lost City of Stone.
Rub received a bachelor's degree in art history, cum laude with highest honors, from Middlebury College in Middlebury, Vermont; a master's degree in art history from the Institute of Fine Arts at New York University; and a master's degree in public and private management from Yale University.
Photo: Timothy Rub, the George D. Widener Director and Chief Executive Officer of the Philadelphia Museum of Art (photograph by Kelly & Massa and provided by the Philadelphia Museum of Art)