posted by CAA — January 19, 2022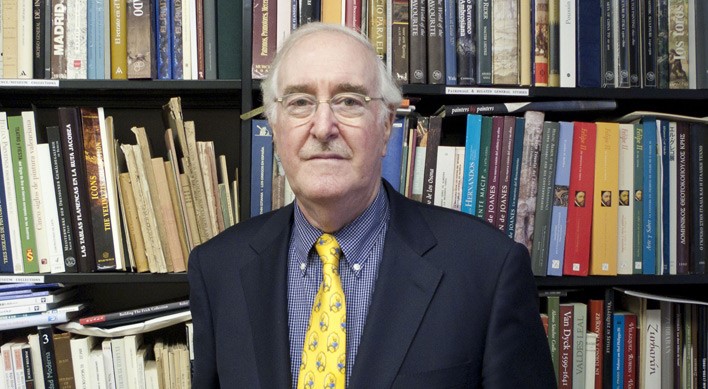 Image source: Institute of Fine Arts, New York University
---
CAA mourns the loss of Jonathan Brown, an art historian and curator who has had an immense impact on the study of art in the Hispanic world. With over fifty-one years of teaching, eight at Princeton and forty-three at the Institute of Fine Arts (IFA), Brown's influence was far-reaching. As he put it, "Without modesty, I believe I have made a mark in my field—Hispanic art—and in the wider world of art history."
As a student at the beginning of his career, Brown studied Spanish literature at Dartmouth College and studied abroad in Madrid, where he discovered and cultivated his lifelong interest in Velázquez and Spanish Baroque art. After finishing his doctorate at Princeton in 1964, he joined the Princeton Department of Art and Archeology from 1965–73 and then ultimately decided to pursue scholarship and teaching, publishing his first book in 1973 based on his dissertation, Images and Ideas in Seventeenth-Century Spanish Painting. He said that he was told "that it fell like a bombshell in the ranks of Spanish art historians. Implicitly, the book created a bridge between the iconographical approach of Panofsky and a contextual reading . . . " This was just the start of a long career that included exhibitions at major museums, scholarly publications, awards, and other accomplishments. In his tenure, his work shaped the study of Spanish Baroque art and defined the practice of Velázquez, producing texts and surveys that have become standard references for the field. In the last decades of his life, as the Carroll and Milton Petrie Professor Emeritus of Fine Arts at the IFA, he expanded his practice to include Hispanic and colonial art in the Americas.
In 2011, Brown served as the Distinguished Scholar for CAA's Annual Conference. This honor invites preeminent scholars in the field to participate in a session at the conference along colleagues and former students. The session can therefore be viewed as the equivalent of a living Festschrift: an occasion for applauding, examining, and extending a distinguished career in art history and an opportunity for encouraging dialogue between and among several generations of scholars. In recognizing the significance of this moment, he said that he had "received many awards for my contributions to the field, of which the most important is the Distinguished Scholar by the College Art Association . . ."
Read more about the remarkable career of Jonathan Brown here.