posted by CAA — March 21, 2022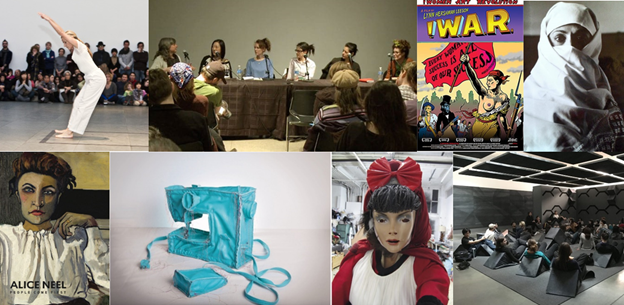 Each week this Women's History Month, we highlight the rich scholarship and programs produced at CAA that celebrate women in the fields of visual arts and the humanities. This week, we are sharing a bibliography of articles from our open-access journal Art Journal Open that feature women artists.
This Women's History Month is also especially significant this year, which is the 50th anniversary of feminism at CAA. To learn more about this history, visit this page. CAA is also collecting archival materials to better understand and document the history of its Committee of Women in the Arts, including the committee's many collaborations with other affiliate committees and groups, such as the Women's Caucus for Art, The Feminist Art Project, the Queer Caucus, and many more. Visit this page for more information.
Andrew, Nell. "DadaDance: Sophie Taueber's Visceral Abstraction." Art Journal Open (July 3, 2014).

Sophie Taueber-Arp, Free Vertical-Horizontal Rhythms (Rythmes verticaux-horizontaux libres), 1919, gouache, 11 15⁄16 x 8 9⁄16 in. (30.3 x 21.8 cm). Stiftung Hans Arp und Sophie Taeuber Arp e.V., inv. 003.205 (artwork in the public domain; photograph provided by Stiftung Hans Arp und Sophie Taeuber Arp)

Barakeh, Zeina. "Projections for the Third Half [Cloud Storm]." Art Journal Open (August 6, 2020).

Zeina Barakeh, Projections From The Third Half [Cloud Storm], 2020, animation, 3 min. (artwork © Zeina Barakeh)

Barber, Tiffany E. "Narcissister, a Truly Kinky Artist." Art Journal Open (March 11, 2020).

Narcissister, Red Riding Hood, 2014, mixed media (photograph provided by the artist)

Berrigan, Caitlin and Sasha Engelmann. "Fault Lines and Fractures: A Conversation about Imaginary Explosions." Art Journal Open (December 17, 2020).

Caitlin Berrigan, excerpt from Imaginary Explosions, 2018

Bryan-Wilson, Julia and Mary Beth Heffernan. "Facing Social Practice: Mary Beth Heffernan in conversation with Julia Bryan-Wilson." Art Journal Open (June 30, 2020).

Stanford Express Care nurse Anna Chico, who was among the first providers to use PPE Portraits for COVID-19 care, March 2020 (photograph by Cati Brown-Johnson)

Burns, A.K. and Melissa Ragain. "Scripting A Smeary Spot." Art Journal Open (December 8, 2017).

The late Jack Doroshow performs as Mother Flawless, a clairvoyant psyche. In this scene she recites an excerpt from Joanna Russ' sci-fi novel We Who Are About To. . . , A.K. Burns, video still from A Smeary Spot, 2015, four-channel video installation, HD color, six-channel sound, TRT 53:13 (artwork © A.K. Burns; image provided by the artist, Callicoon Fine Arts, NY, and Michel Rein Gallery, Paris/Brussels)

Cancelmo, Amy. "Roots and Ramble Kija Lucas and Amy Cancelmo in Conversation." Art Journal Open (August 30, 2016).

Kija Lucas, Bristol 30, 2013, archival pigment print, 20 x 24 in. (50.8 x 60.9 cm), from In Search of Home, (artwork © Kija Lucas)

Carland, Tammy Rae and Ann Cvetkovich. "Sharing an Archive of Feelings: A Conversation." Art Journal Open (October 24, 2013).

Tammy Rae Carland, Galz Living Room, MWMF, from Outpost, 2004, color photograph, 20 x 24 in. (50.8 x 61cm) (artwork © Tammy Rae Carland)

Costello, Kate. "P&P ." Art Journal Open (November 3, 2016).

Still from Kate Costello, P&P, 2016, video, 1 min., 26 sec. (artwork © Kate Costello)

Craycroft, Anna. "To Listen." Art Journal Open (October 25, 2017).

Sophomore Seminar with Meg Cranston and Marlena Donohue, April 5, 2017: Meg Cranston and Marlena Donohue's class met with Anna Craycroft to discuss Tuning the Room in relation to Umberto Eco's essay "The Open Work." (artwork © Anna Craycroft)

Craycroft, Anna. "To Record, to Interpret, to Comment." Art Journal Open (March 1, 2017).

Anna Craycroft, The Earth Is a Magnet, 2016, installation view, part of The Artist's Museum, Institute of Contemporary Art Boston, November 16, 2016–March 26, 2017 (artwork © Anna Craycroft; photograph by Charles Mayer)

DaPonte, Amy A. "Candida Höfer's Turken in Deutschland as 'Counter-publicity'." Art Journal Open (January 6, 2017).

Candida Höfer, Untitled from Türken in Deutschland 1979, 1979, color slide projection, 80 slides, approx. 7 min., dimensions variable (artwork © Candida Höfer, Köln/VG Bild-Kunst, Bonn 2016)

Fuenmayor, Jesús. "Barricades of Silence: Nikita Gale in Conversation with Jesús Fuenmayor." Art Journal Open (August 20, 2020).

Nikita Gale, INTERCEPTOR, 2019, installation view, Fall Apart: Nikita Gale & Pat O'Neill, Martos Gallery, New York, January 11–February 24, 2019 (artwork © Nikita Gale; photograph by Charles Benton/Martos Gallery, provided by the artist)

Goodeve, Thyrza Nichols. "The Cat is My Medium: Notes on Writing and Art of Carloee Schneemann." Art Journal Open (July 29, 2015).

Carolee Schneemann, Kitch's Last Meal, 1973–76, Super 8mm film, double projection, vertical, sound on cassette, ca. 5 hrs., two installation views (artwork © Carolee Schneemann; photographs provided by the artist)

Goulish, Matthew. "A Clear Day and No Memories: Neurology, Philosophy, and Analogy in Kerry Tribe's HM." Art Journal Open (February 5, 2014).

Eadward Muybridge, Pi-Wi-Ack, Valley of the Yosemite (Shower of Stars), "Vernal Fall," 400 Feet Fall, No. 29, 1872, wet-plate collodion photograph (photograph in the public domain)

Graham, Amanda Jane. "Space Travels: Trisha Brown's Locus." Art Journal Open (July 22, 2016).

Trisha Brown, Locus Solo, 2011, performed by Diane Madden in "Performance 11: OnLine/Trisha Brown Dance Company" in conjunction with the exhibition On Line: Drawing through the Twentieth Century, Museum of Modern Art, New York, January 2011 (photographs © Yi-Chun Wu; photographs provided by Museum of Modern Art/Licensed by SCALA/Art Resource, NY)

Jenkinson, Monique. "Diva Maw." Art Journal Open (October 29, 2020).

Monique Jenkinson (Fauxnique), Diva Maw, 2020, digital video, 5:35 min.; soundtrack by Marc Kate, Untitled ("Diva Maw" Soundtrack), 2020, audio file (video © Monique Jenkinson; soundtrack © Marc Kate)

Kauffman, Vanessa. "Outside of Time: Patricia Fernández Carcedo in Conversation with Vanessa Kauffman." Art Journal Open (August 12, 2016).

Visitors in Patricia Fernández Carcedo's studio during Headlands' Fall 2015 Open House (artwork © Patricia Fernández Carcedo; photograph by Rebecca Puretz, provided by Headlands Center for the Arts)

Laser, Liz Magic and Christopher Y. Lew. "InterAct: a reenacted interview." Art Journal Open (May 4, 2011)

Liz Magic Laser, Flight, 2010, performance, MoMA PS1, Long Island City, April 10, 2010 (artwork © Liz Magic Laser; photograph by Mia Tramz, provided by Derek Eller Gallery). The performance was developed in collaboration with actors Lindsey Andersen, Nic Grelli, Elizabeth Hodur, Michael Wiener, Max Woertendyke, and Lia Woertendyke

Lee, Young Jean. "Women in Downtown Theater." Art Journal Open (August 26, 2012).
Leeson, Lynn Hershman. "Excerpts from the Graphic Novel !Women Art Revolution—A Secret History." Art Journal Open (May 29, 2011)
Mann, Elana. "One day I will make a mace, but for now I have a mouth." Art Journal Open (September 30, 2021).

Elana Mann, Unidentified Bright Object #61, 2021, clay, wood, and glass, 14 ½ x 3 ½ x 3 ¾ in. (36.8 x 8.9 x 9.5 cm) (artwork © Elana Mann; photographs by Brica Wilcox)

Masley-Charlet, Caitlin. "Caitlin Masley-Charlet in Conversation with Elisabeth Smolarz." Art Journal Open (June 5, 2018).

Elisabeth Smolarz, ENCYCLOPEDIA OF THINGS, ongoing 2014–2017. Archival inkjet prints, dimensions variable. Courtesy of the artist.

Masley-Charlet, Caitlin. "Caitlin Masley-Charlet and Diana Shpungin in Conversation." Art Journal Open (July 8, 2016).

Diana Shpungin, detail of A Break in One and Several Places, 2015, graphite pencil, horsehair broom, glazed porcelain and stoneware, 24 x 43 x 14 in. (60.9 x 109.2 x 35.5 cm) (artwork © Diana Shpungin)

McKee, C.C. "'a salting of sorts': Salt, Sea, and Affective Form in the work of Deborah Jack." Art Journal Open (July 30, 2019).

Deborah Jack, SHORE, 2004, nylon screens, video projection, rock salt, reflecting pool, dimensions variable, installation view, Big Orbit Gallery, Buffalo, New York (artwork © Deborah Jack; photograph provided by the artist)

McClure, Michael Jay. "If it Need Be Termed Surrender: Trisha Donnelly's Subjunctive Case." Art Journal Open (July 29, 2013).

Trisha Donnelly, Untitled, 2008, plaster, horsehair, paint, pillow, belts, lamp, two parts, ea. 36 x 60 x 22¾ in. (91.4 x 152.4 x 57.8 cm), installation view, The Quick and the Dead, Walker Art Center, 2009 (artwork © Trisha Donnelly; photograph provided by Casey Kaplan, New York)

Ohsawa, Asuka. "Squares, Triangles, and Cats." Art Journal Open (December 31, 2020).
Porges, Maria. "Shortest Stories." Art Journal Open (December 20, 2018).
Rosa, María Laura. "Questions of Identity: Photographic Series by Alicia D'Amico, 1983–86." Art Journal Open (July 2, 2019).

Alicia D'Amico photograph of Liliana, a performance by Liliana Mizrahi, 1983, scanned copy of original negative, reproduction from original 35mm negative contact (photograph © Archivo Alicia D'Amico, Buenos Aires)

Santos, Dorothy R. " Domain Errors." Art Journal Open (July 24, 2020).
Schiff, Karen L. "Imprinting Agnes Martin." Art Journal Open (December 19, 2014).

Karen L. Schiff, Agnes Martin, El País, 21 December 2004, II, 2005, graphite and stylus on vellum, 17 x 12 inches (artwork © Karen L. Schiff)

Sifuentes, Aram Han. "Official Unofficial Voting Station: Voting for All Who Legally Can't." Art Journal Open (October 1, 2020).

Protest Banner Lending Library, Let Us Vote! and Official Unofficial Voting Station, 2020, textile banners (photograph by Thaib A. Wahab)

Szymanek, Angelique. "Haptic Encounters: Margarita Cabera's Space in Between." Art Journal Open (October 15, 2020).

Margarita Cabrera, Sewing Machine (Blue-Green), 2016, vinyl, thread, copper wire, and appliance parts (artwork © 2020 Margarita Cabrera/Licensed by VAGA at Artists Rights Society [ARS], NY; photograph provided by the artist)

Vlassopoulou, Penelope. "No water, Athens, Greece, 2015: Twenty-four hours with nothing to eat or drink, only smelling the jasmine." Art Journal Open (October 26, 2016).

 Excerpt from Pandelis Prevelakis, I Kefali tis Medousas [The Head of Medusa] (Athens: Friends' Editions, 1963), trans. the artist and Markus Nystrom

Watt, Marie. "In Conversation with Marie Watt: A New Coyote Tale." Art Journal Open (October 19, 2017).

Marie Watt, Blanket Stories: Transportation Object, Generous Ones, Trek, 2014, cast bronze, 18 x 4 x 6 ft. (5.49 x 1.22 x 1.83 m). Permanent installation, Tacoma Art Museum, Tacoma, Washington (artwork © Marie Watt; photograph by Benjamin Benschneider/OTTO)

Wilson, Siona. "Portraits (and) Matter." Art Journal Open (January 13, 2022).
Yoshitake, Mika. "Humans have been Human for so long: Shana Lutker and Mika Yoshitake in Conversation." Art Journal Open (August 2, 2016).

Shana Lutker, A handsome confused puppet, 2015, mirrored glass box, fluorescent lights, wood, marble, casters, 49 x 30 x 19 in. (124.4 x 76.2 x 48.2 cm) (artwork © Shana Lutker; photograph by Cathy Carver)

Yurshansky, Jenny. "Hide and Seek." Art Journal Open (March 25, 2021).

Jenny Yurshansky, Hide and Seek (folded view), 2021, interactive sculpture, inkjet print, 3 3/4 x 3 3/4 x 3 in. (9.5 x 9.5 x 7.6 cm) (photograph provided by the artist) Folk tradition meets revisionist storytelling in Jenny Yurshansky's printable sculpture