posted by CAA — September 09, 2020
Dear CAA Members,
We write to update you on planning for the CAA 2021 Annual Conference. The Annual Conference Committee has read and reviewed over 800 session proposals and identified those to be included in the robust program, which includes 350 sessions.
CAA will hold its 109th Annual Conference as a virtual program on February 10–13, 2021, with 30 percent of conference content concerning the topic of climate crisis. Scholars and practitioners will address the environment not only through the content of artworks but also by speaking to how we can and should change our professional practices in light of this crisis.
The program for CAA 2021 reflects the vast scholarship and practice of CAA members and includes an impressive number of sessions focused on global and environmental issues with significant (though not exclusive) emphasis on the contemporary. Intersectional content is strongly represented, including sessions concerning race and gender and race and ecology. The practical consequences of COVID-19 are also evident, particularly as related to exhibitions, research, and teaching. This focus reflects the impact of the pandemic on the field, the uncertain future for institutions and individuals, and the sudden greater reliance on technology to solve problems in an ever-changing environment.
Providing content in a virtual format for 2021 preserves and enhances access to the program and allows conference attendance to be expanded beyond its usual boundaries. Individuals will have extended opportunities to hear session content on their own schedules between adjunct positions, family care, and other obligations. Both those who have never attended the CAA Annual Conference and those who haven't recently will discover new ways to join the community and hear scholarship and practice.
Session presenters will upload their prerecorded presentations, which conference registrants may access online shortly before and through the conference dates. Live Q&A will be scheduled for each session between February 10 and 13, providing the collegial, interactive, and accountable engagement created by attending sessions as a community. Questions about session presentations may be submitted to session chairs after viewing a session in advance of the scheduled live Q&A. Uploaded content will be accessible to registrants for a limited time after the conference dates. We will provide detailed information for presenters and attendees closer to the conference.
We are currently creating the schedule and will be addressing other program components in the early fall. The full program will be posted when the Annual Conference website opens in November. Registration will also open at that time.
Thank you for your patience and flexibility over the next couple of months as the planning continues. We have been creating a list to address your frequently asked questions; please email additional questions to programs@collegeart.org. We look forward to coming together virtually to share scholarship and practice in community.
Best wishes,
posted by CAA — September 01, 2020
Affiliated Society News shares the new and exciting things CAA's affiliated organizations are working on including activities, awards, publications, conferences, and exhibitions.
Interested in becoming an Affiliated Society? Learn more here.
The Association for Textual Scholarship in Art History (ATSAH)
Announces two major changes: a new website: https://www.atsha.com/ and the formation of a new journal through Brill, A Journal of Contestations in the Arts https://brill.com/view/journals/para/para-overview.xml?lang=en.
Publications:
Liana De Girolami Cheney, Lavinia Fontana's Mythological Paintings: Art, Beauty, and Wisdom.  London: Cambridge Scholar Press, 2020.
Liana De Girolami Cheney, "Botticelli's Minerva and the Centaur: Artistic and Metaphysical Conceits,"  Journal of Culture and Religious Studies Vol. 8, No. 4 (April 2020): 187–216.
BSA (Bibliographical Society of America)
October 15: Applications due for the BSA's Call for Program Proposals. The BSA sponsors lectures, workshops, conference sessions, and receptions which are bibliographical in nature. Only virtual events considered at this time. See

https://bibsocamer.org/programs/bsa-programs/

.

September 8, applications due BSA's 2021 New Scholars Program. Those who have not previously published, lectured, or taught on bibliographical subjects are encouraged to apply. New approaches and diverse perspectives welcome. International applicants and joint applications accepted. See 

https://bibsocamer.org/awards/new-scholars-program/

. 
November 1, applications due: BSA Fellowships. To foster the study of books and other textual artifacts in traditional and emerging formats. See 

https://bibsocamer.org/awards/fellowships/

.
November 2, applications due: William L. Mitchell Prize for research on British serials. Supports bibliographical scholarship on 18th-century periodicals in any language within the British Isles, its colonies, former colonies, and occupied territories. See 

https://bibsocamer.org/awards/william-l-mitchell-prize/

.
Ongoing: Community Subtitling Project: The BSA provides free public programming, accessible through the 

BSA's YouTube channel.

  We offer free one year memberships to all who submit complete translations of edited English transcripts of individual videos. A guide to editing English subtitles and to adding foreign language translations can be viewed 

here

.  La guía también está disponible en español, aquí.
September 2020 (vol 114:3), The Papers of the Bibliographical Society of America:
Articles
J. Christopher Warner, "Recovered Books: On the Contents and Fate of John Fowler's Stock Left with Christopher Plantin"
Tara L. Lyons, "New Evidence for Ben Jonson's Epigrammes (ca. 1612) in Bodleian Library Records"
Bibliographical Note
Minoru Mihara, "Recycled and Reincarnated Relics of Ancient Poetry: Editorial Practice in Percy's Reliques"
Book Reviews
Proot, Goran, McKitterick, David, Nuovo, Angela, and Gehl, Paul F., eds. Lux Librorum: Essays on Books and History for Chris Coppens
Reviewed by Sandro Jung
Eggert, Paul. The Work and the Reader in Literary Studies: Scholarly Editing and Book History
Reviewed by Anna Muenchrath
Barker, Nicolas. At First, All Went Well … & Other Brief Lives
Reviewed by Daniel J. Slive
Eckhardt, Joshua. Religion Around John Donne
Reviewed by Georgina Wilson
SHERA
SHERA Publication Grant—Deadline: October 15, 2020
The Society of Historians of Eastern European, Eurasian, and Russian Art and Architecture (SHERA) is pleased to announce the SHERA Publication Grant. The $3000 grant supports the realization of publications of the highest scholarly and intellectual quality in the field of Russian, Eastern European, and Eurasian art and architecture. The grant is intended to offset the substantial production expenses associated with the publication of an art-historical monograph, edited volume, or exhibition catalogue. Book projects must have been accepted by a publisher in order to be considered. Funds may be directed toward production costs and does not fund research, writing, or editorial labor. Applicants do not need to be SHERA members to apply, but the recipient must join in order to accept the award. For more information about applying, see http://www.shera-art.org/grants/publication-grant.php.
SHERA Emerging Scholar Prize–Deadline: Oct. 15, 2020.
The SHERA Board is pleased to invite applications for the 2020 Emerging Scholar Prize. The Emerging Scholar Prize aims to recognize and encourage original and innovative scholarship in the field of East European, Eurasian, and Russian art and architectural history. Applicants must have published an English-language article in a scholarly print or online journal, or museum print or online publication within the twelve-month period preceding the application deadline. Additionally, applicants are required to have received their PhD within the last 5 years and be a member of SHERA in good standing at the time that the application is submitted. The winner will be awarded $500 and republication (where copyright allows) or citation of the article on H-SHERA. For more information about applying, see http://www.shera-art.org/grants/emerging-scholar-prize.php.
American Society of Appraisers (ASA)
The American Society of Appraisers (ASA) wishes to spotlight its Personal Property sessions and experts for the upcoming 2020 ASA International Conference to be held virtually online October 12-13. Click here to learn more.
ALAA (Association for Latin American Art)
As part of our initiative to uplift scholarship on Afro-Latin American art history, ALAA (Association for Latin American Art) is happy to share with you a compilation of
Afro-Latin American and Afro-Latinx art historical resources
for research and teaching. This document contains an array of art historical resources related to the African diaspora in Latin America, from the colonial to contemporary periods, as well as links to anti-racist pedagogical resources, digital resources, and upcoming events and opportunities. While not exhaustive, we made an effort to include as many works as possible to showcase the growing body of scholarship in this field. Whenever possible, we linked each entry to its respective PDF if available online; for other entries that are not open access or fully digitized, we included a link to Google Books for partial preview.
Please note that this is a living document; if there is a resource that you would like to see included or corrected, please follow the link above and there is a hyperlink where you can submit suggestions/changes.
Society of Architectural Historians
The Society of Architectural Historians is accepting proposals for SAH 2021 Virtual Programs to be presented after the SAH 74th Annual International Conference in Montréal on dates/times between May 3–28, 2021. These programs will complement the regular conference programming and should differ from the paper sessions in both topic and organization. Submissions that address the current conditions of research, teaching, and scholarship are encouraged. Submit a proposal by September 14, 2020.
SAH is accepting applications for Membership Grants for Emerging Professionals. These awards are intended for emerging scholars, regardless of age or employment status, who are new to the field of architectural history or its related disciplines. The award consists of a one-year digital SAH Individual membership. Emerging scholars who are adjuncts or unemployed are encouraged to apply. Apply by September 15, 2020.
The SAH Nominating Committee seeks nominations and self-nominations for two officer positions of Treasurer and Secretary. As two of five officers with full voting rights on the Executive Committee and the Board, these positions are among the most important in SAH; the other officers on the Executive Committee are the President, First Vice President and Second Vice President. In close collaboration with the SAH Board and staff, the Executive Committee governs the Society, proposes policies and programs, and provides service to the membership. Serving in these capacities offers an opportunity to shape the Society's and the profession's future. Submit a nomination by September 30, 2020.
SAH will present the webinar "Disability Studies and Architectural History" on October 29, 2020. Presenters and participants will consider key concepts in research and pedagogical methods for integrating histories of disability and efforts to pursue disability justice in architecture. The discussion highlights the importance of disability activism as it relates to design. Registration is free and open to the public.
Association of Print Scholars
The Association of Print Scholars is happy to announce that Clare Rogan, Curator of Prints and Drawings at the Detroit Institute of Arts, has been elected as the APS Director-at-Large for a three-year term. Additionally, we would like to congratulate the APS Director-at-Large Jan Howard and APS member Tatiana Reinoza, PhD on their appointments to the National Advisory Committee of Artura, a project of Brandywine Workshop and Archives. Howard is the Chief Curator and Houghton P. Metcalf Jr. Curator of Prints, Drawings and Photographs at RISD Museum. Reinoza is the Assistant Professor of Art History and Latinx Studies at University of Notre Dame.
We are still accepting individual paper proposals for our 2021 CAA panel "The Graphic Conscience," chaired by Dr. Ksenia Nouril, The Jensen Bryan Curator at The Print Center in Philadelphia. The session invites papers addressing transhistorical and transnational case studies of print as a tool for raising public consciousness.
APS is currently accepting submissions until January 31, 2021 for two awards. The first is the 2021 Schulman and Bullard Article Prize, which carries a $2,000 prize and is generously sponsored by Susan Schulman and Carolyn Bullard, both private print dealers. The second is the APS Collaboration Grant, which funds public programs and projects that foster collaboration between members of the print community and/or encourage dialogue between the print community and the general public. Further application information for the two awards can be found on the APS website. 
Finally, we are currently seeking a Project Assistant 
to support the development of two Getty Paper Project funded workshops for early career curators of prints and drawings scheduled for June 2021 and May 2022. The 
Project Assistant will work remotely
 u
nder the supervision of the President of the Association of Print Scholars and Workshop Coordinators
 and applications are due by September 30, 2020. F
urther information on requirements and eligibility can be found 
here
. 
SECAC
SECAC 2020
VCUarts is honored to host the SECAC 2020 conference as a fully virtual event beginning on November 30 and concluding on December 11, 2020. We are planning for more than 80 online sessions, round tables, and town halls at the 2020 conference. Additionally, we have exciting virtual programming for conference participants, including a keynote lecture by Valerie Cassel Oliver, Curator of Modern and Contemporary Art at the Virginia Museum of Fine Arts and a virtual Juried Members' Exhibition in collaboration with the Anderson at VCUarts. We are also excited to announce reduced registration rates for members and non-members. For more information, please visit https://secacart.org/page/Richmond. Questions regarding the conference should be directed to 2020 Conference Director Carly Phinizy, secac2020@vcu.edu.
SECAC at CAA
The SECAC affiliate session at CAA in 2021 will be chaired by William Perthes of the Barnes Foundation and Adrian Banning from Drexel University. They will oversee a selection of speakers on the subject of, "Arts and Humanities Multidisciplinary Education Collaborations."
SECAC Equity, Diversity, and Inclusion
SECAC stands in solidarity with our Black colleagues, students, and communities to affirm Black Lives Matter. SECAC must resist the legacies of racism and white supremacy in our organization and disciplines. Together, we can imagine and create a better world, united in the pursuit of justice, equity, and transformation. We invite you to share your confidential feedback by email to SECAC's Equity, Diversity, and Inclusion committee at SECACaction@gmail.com, and join in the SECAC Town Hall on Racial Justice during the 2020 virtual conference. 
To recognize the exceptional work of those who are historically underrepresented in SECAC, higher education, and arts institutions, applications for the Equity, Diversity, and Inclusion (EDI) awards, which cover the cost of conference registration plus two years of SECAC membership for five selected awardees, are due September 30. For details on the award, contact SECACaction@gmail.com or visit the SECAC Awards page. 
CATALOGUE RAISONNÉ SCHOLARS ASSOCIATION (CRSA)
https://www.catalogueraisonne.org/
The CRSA has recently added a profile interview article on the Betye Saar Catalogue Raisonné Project (https://www.catalogueraisonne.org/profiles) as well as a new installment of personal responses from the art research and publication community on how they are managing during the pandemic (https://www.catalogueraisonne.org/ellipsis).
Historians of Netherlandish Art
The open-access, peer-reviewed, semi-annual Journal of Historians of Netherlandish Art (jhna.org) encourages submissions on Netherlandish, German, and Franco-Flemish art and architecture (c. 1350-1750) and its global reach, including topics of interest surrounding colonialism, the slave trade, and the markets that supported them.
Renaissance Society of America
2021 RSA Research Fellowships
The Renaissance Society of America's Research Fellowships competition is underway and submissions are due by 15 September 2020. We are awarding fellowships of $2,000 to scholars working in the field of Renaissance studies (1300–1700). The application site and details about the application process, eligibility, residential fellowship, non-residential fellowships, and publication subventions can be found here. Please email the RSA with questions.
posted by CAA — July 30, 2020
RAAMP (Resources for Academic Art Museum Professionals) has a new home! Moving forward, you can find all the resources you know and love here on our website at: collegeart.org/raamp
A project of CAA with support from the Andrew W. Mellon Foundation and the Samuel H. Kress Foundation, RAAMP aims to strengthen the educational mission of academic museums and their parent organizations by providing a publicly accessible repository of resources, online forums, and relevant news and information. RAAMP's coffee gatherings and video practica cover a wide variety of topics including advocacy, engagement, curricula building, cross-disciplinary collaboration, technology, development, and censorship.
To receive updates and invitations to upcoming RAAMP programming, sign up for the RAAMP mailing list.
For any questions regarding the RAAMP program, please contact Cali Buckley, grants and special programs manager, at: cbuckley@collegeart.org
posted by CAA — July 16, 2020
Dear CAA Members,
As you will hear Meme Omogbai, CAA executive director, say time and time again, "Mission first. People always." So we start this letter with the wish that you are safe, healthy, and finding some time for self-care this summer.
We are writing to share where we are in planning the 109th CAA Annual Conference. We had hoped to celebrate the vast scholarship and practice of CAA members at a fully in-person conference in New York this February 10–13, 2021. The COVID-19 pandemic and the uncertainty of the months ahead—as well as increasing economic pressures on institutions and individuals, leading to diminished funds for professional development and travel—have caused us to rethink our plans.
We are now moving to a conference format that will include session content online. There are many factors in determining the costs and benefits to going online; these are currently being worked on by CAA staff and will continue to be addressed as we move forward. But making this decision now allows staff and the Annual Conference Committee time to plan for an iteration of the conference that will ensure the core benefits of the event are maintained: opportunities to share new research, listen to esteemed artists, designers, and scholars, and connect with peers. We are also looking at ways to present the in-person activities, dependent upon the state of the pandemic in early 2021. Thank you for your patience and flexibility over the next couple of months as the planning continues. We are creating a list to address your frequently asked questions; please email questions to programs@collegeart.org or to us personally.
SEE FAQS FOR 2021 ANNUAL CONFERENCE
Our decision was informed by a robust response (almost 1,200 replies!) to a survey sent to members in May regarding their ideas about CAA hosting an online conference. Exceptionally useful feedback was provided in terms of what types of activities would be appealing to attend online, the value of in-person gatherings, and what price points seem reasonable. We are building on what you shared with us.
The Annual Conference Committee is currently reviewing the 800-plus proposal submissions and is on schedule to select those that will be included in the conference program. Our committees and staff are working hard to create a diverse and inclusive program and one that is broadly accessible.
While this time is filled with uncharted unknowns and anxieties, this is also an opportunity for us to build the organization that we want CAA to be. If you have the ability to give, we ask for your generosity. If you are able to give financially, wonderful—we need that help. Donations are not the only way to participate in our organization, however. We want your energy and your ideas. If you have connections and resources to share, we welcome them. If you know people who could benefit from our community, please spread the word. We are an organization of members. Join us.
CAA is an incredible coalition of individuals and institutions. If we have learned anything from the pandemic, it is that virtual platforms can allow us to communicate broadly and across borders. Difficult conversations can take place and together we can move forward and create an organization that advocates, shares, and brings others along with us.
Sincerely yours,
posted by CAA — June 15, 2020
We're delighted to introduce readers to Nicole Archer, the current Editor-in-Chief of Art Journal Open (AJO), CAA's online forum for the visual arts that presents artists' projects, conversations and interviews, scholarly essays, and other forms of content from across the cultural field. Founded in 2012 as an open-access affiliate of Art Journal, Art Journal Open has been independently edited since 2014. It remains open access and is always free to explore.
Nicole Archer researches contemporary art and design, with an emphasis in textile and garment histories. She is an Assistant Professor in the Department of Art and Design at Montclair State University, where she extends this research through a teaching practice that encourages students to explore politics and aesthetics via close examinations of style, embodiment, and desire.
Amidst the end of the academic year, we corresponded with her over email to learn more about her research, her thoughts on the impact of COVID-19, and her aspirations for Art Journal Open.
---
Where are you from originally?
I was born in Brooklyn and raised mainly in South Florida, but I spent most of my adult life in San Francisco. In 2018, I returned to New York City.
What pathways led you to the work you do now?
My path has been shaped by a long line of committed feminist art historians, theorists, and activists who have inspired me to pursue work that is wildly curious, ethically responsible, and politically committed to issues of social justice. This, coupled with the fact that I started my college career in the mid-1990s, when the field of Visual Studies was demanding that Art History be held accountable for the role it played in supporting certain cultural hegemonies. It was a time when we were recognizing the benefit that many art historical methods could bring to critical cultural studies (and vice versa).
When did you first become a CAA member?
I have been a CAA member since 2011, but I was an avid reader of Art Journal and The Art Bulletin long before that (thanks to my library access).
What are you working on or thinking about currently?
I am currently finishing a book manuscript that considers how textiles (our key mediums of comfort and security) have been strategically manipulated over the last two decades to aid in the systematic reshaping of what constitutes "legitimate" versus "illegitimate" forms of state violence. The book tells interwoven, materially grounded stories regarding global arts and design practice, on the one hand, and military, police, and governmental action, on the other, to theorize how feelings of insecurity are produced, aesthetically.
My path has been shaped by a long line of committed feminist art historians, theorists, and activists who have inspired me to pursue work that is wildly curious, ethically responsible, and politically committed to issues of social justice.
What are your thoughts on the impact of COVID-19 on the work you do? On the field?
I think the current pandemic makes two things particularly clear. First, it highlights the important role that art and design can play in helping a society understand (and bear) emergent and acutely difficult circumstances. From movie marathons, artist talks, and book readings that we have enjoyed during our nights spent 'sheltering in place,' to the protest banners, photographs, and balcony performances that have led our communities towards acts of collective care and solidarity with one another.
Second, COVID-19 puts the varied inequities that underwrite the field in high relief. It makes the economic precarity of so many cultural workers glaringly obvious, and it forces us to recognize how undervalued cultural work actually is. We need to ask why we have allowed the arts to become so defunded and privatized (despite the social value it clearly delivers). Calls for austerity are circulating, and we know this means further cuts to already underfunded public arts initiatives. We need to resist this and seize this moment as an opportunity to insist on our value. We need to stop undercutting ourselves and our peers, and refuse to accept the exploitation of adjunct professors and graduate student teachers. We must do this as we push against the increasingly prohibitive costs of arts education.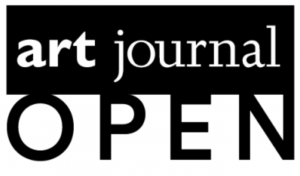 What led you to be interested in working on Art Journal Open?
It is our shared responsibility, as arts and design professionals, to constantly "check" our field of practice—to find time to celebrate what we are doing well, and to redress and learn from our shortcomings. I believe this responsibility is a cornerstone of AJO's editorial mission. Working on AJO is a unique opportunity to hold myself, and others, accountable on this front.
What is your vision for Art Journal Open during your tenure?
I hope to build on the solid foundation laid by the journal's previous editors, and to further emphasize the open dimension of the publication's identity—to treat "Open" as a verb, a call to action. We hope to accomplish this by leveraging the journal's digital format, to open space for more multi-media Creative Projects, and to take advantage of our lack-of-paywall to help draw new readers to AJO and new voices to CAA.
What would you say is your top arts-related recommendation (book, website, resource) at the moment?
I know I am late to this, but I recently found an online radio station called NTS and it is giving me life! I miss trusting my night to a DJ, hearing a new song out of nowhere, and dancing with strangers. I am also tired of soundscapes controlled by algorithms. People should give it a listen in their studios and kitchens, and at their computers and writing desks.
View this post on Instagram
A favorite artwork?
Last year, I had the opportunity to see Sonya Clark's Monumental Cloth, The Flag We Should Know at the Fabric Workshop and Museum in Philadelphia, and I have not been able to stop thinking about it since. Clark's work epitomizes the important role art can play in ensuring that political discourse maintains its complexity in the face of a mediascape set on transforming these conversations into flat lines in the sand.
At the center of the exhibit was a monumental replica (15'x30') of a white dish towel waived by Confederate troops in April 1865, before General E. Lee negotiated the terms of the Confederacy's surrender. Displayed in a manner akin to the Star Spangled Banner (a centerpiece of the Smithsonian National Museum of American History's collection), Monumental Cloth presented the Confederate Truce Flag as testament to a decisive moment in US history. It demanded that we ask why we do not know this flag, as a means to discuss anti-Blackness and the persistence of white supremacy in the United States. It provided a poignant, aesthetic counterstrategy to other manners of "memorializing" the Confederacy. The exhibit offered spaces of contemplation alongside opportunities for direct action—by setting-up looms that visitors could use to weave additional Truce Flag replicas, in opposition to the endless flow of commercially produced items made to bear the image of the Confederate Battle Flag.
What are you looking forward to?
Honestly, I am looking forward to the end of the Trump presidency, and to the possibility that the moment we are in could force real political and cultural change; that conversations around universal basic income and healthcare will gain traction, and that widespread recognition of the systemic racism inherent in the criminal justice system will open the door to both abolishing the prison system and defunding and demilitarizing the police that tyrannize communities of color in the US.
NICOLE ARCHER BIOGRAPHY
Nicole Archer researches contemporary art and design, with an emphasis in textile and garment histories. She is an Assistant Professor in the Department of Art and Design at Montclair State University, where she extends this research through a teaching practice that encourages students to explore politics and aesthetics via close examinations of style, embodiment, and desire.
Her work has been published in various journals, edited collections, and arts publications, including: Criticism: A Quarterly Journal for Literature and the Arts; Textile: The Journal of Cloth and Culture; Trap Door: Trans Cultural Production and the Politics of Visibility (published by the New Museum + MIT Press); Where are the Tiny Revolts? (published by the CCA Wattis Institute for Contemporary Arts + Sternberg Press); Women and Performance: A Journal of Feminist Theory.
---
posted by CAA — June 08, 2020
The CAA Conversations Podcast continues the vibrant discussions initiated at our Annual Conference. Listen in as educators explore arts and pedagogy, tackling everything from the day-to-day grind to the big, universal questions of the field.
CAA podcasts are on iTunes. Click here to subscribe.
This week, our guests discuss "My 'Aha' Moment: Recognizing Racism in Art and Art Education."
Joni Boyd Acuff, PhD is an Associate Professor at The Ohio State University, whose work centers the intersections of race and gender in arts education research, pedagogy, and practice.
Amelia Kraehe, who more often goes by Amy, is currently an Associate Professor with tenure at the University of Arizona. Her research, teaching and community engagement focus on how the arts and arts education can challenge as well as reinforce systems of inequality. She co-edited The Palgrave Handbook on Race and the Arts in Education (2018) and is working on a new book with Joni Acuff, titled Race and Art Education.
posted by CAA — October 28, 2019
We are delighted to welcome Dr. Kellie Jones, professor in Art History and Archaeology and the Institute for Research in African American Studies (IRAAS) at Columbia University, as the Distinguished Scholar for the 108th CAA Annual Conference in Chicago, February 12-15, 2020.
Dr. Jones, whose research interests include African American and African Diaspora artists, Latinx and Latin American Artists, and issues in contemporary art and museum theory, is the recipient of awards from the Hutchins Center for African and African American Research, Harvard University, Creative Capital, and Warhol Foundation, among others. In 2016, she was named a MacArthur Foundation Fellow. In 2018, Dr. Jones was the inaugural recipient of the Excellence in Diversity Award from CAA.
CAA media and content manager Joelle Te Paske spoke with Dr. Jones earlier this fall to learn about what she's working on and looking forward to in upcoming exhibitions and scholarship. Read the interview below.
This interview has been edited for length and clarity.
Hi, Professor Jones. Thank you for taking the time for this interview. It's an honor to speak with you and we're excited that you'll be with us in Chicago.
I'm looking forward to it.
Great. So to begin—to locate ourselves in time and place—how are you? How was your summer?
It's always fun, and it always ends too quickly. I think that's just normal. [Laughs]
Yes, I guess that's where we should be at this point [laughs]. Were you working on a particular project this summer?
Yes. I was working on a project for Center for Advanced Study in the Visual Arts (CASVA). Huey Copeland of Northwestern University and Steven Nelson of UCLA are spearheading a Black Modernisms seminar with a group of scholars. I just finished an essay on the Harlem Renaissance that is still to be titled. I haven't written extensively on that period so I'm really looking forward to hearing back from them. It involves race and gender and I'm very excited about it.
What else is exciting in your work right now?
Candida Alvarez: Here, A Visual Reader (Green Lantern Press 2019), the first major monograph on the Chicago-based painter, is about to hit shops. I'm excited by this project to which I contributed the essay, "When Painting Stepped Out to Lunch." I have book that I'm finishing on global conceptual art networks that is tentatively titled Art is an Excuse, on how conceptual art allowed for different types of global connections. One great example is Senga Nengudi and her relationship to Japan which is something I've written about earlier but I wanted to more forthrightly connect to Japanese conceptualism. So how does Senga Nengudi fit into that dialogue, or what is her dialogue? I'm thinking about conceptual art as a motor for global art connection, different from what people call globalization—more like artist dialogues, not neoliberal globalization.
A macro view.
The book is more about relationships. We always think about artists in their particular nationalist space. What did Japanese conceptualism look like? What did Latin American conceptualism look like? How were they different? But we really don't talk about the kind of dialogue that people have with each other. That's really the whole premise of the project.
That's terrific. I read that for undergrad at Amherst College you made an interdisciplinary major. I was going to ask: Has an interdisciplinary outlook been formative in your career? But I feel you're already embodying that.
You're absolutely right. I created an interdisciplinary major at Amherst. Shout out to my alma mater and to liberal arts education.
We love that at CAA, yes.
And we love it because it allows people to see the breadth of the world in some fashion and then choose something or choose a few things. I'm one of the people that thought about Latin American and African American and Latinx artists at least from my college years, and I've been going with that for the longest, along with ideas of the African diaspora. You might start out with "Let's compare"—the comparative structure; the binary is such a signature of art history. But then you realize that it's so much more than a just a binary—the interdisciplinarity, the multidisciplinarity. That's always been a part of what I've looked at because at that time—and I know I've said it on numerous occasions in numerous platforms—art history was really taught one way. Because I had grown up in New York I said, "But wait a minute, they're leaving out all of these people that are making art that I know!" That I see every week. I mean, how is that possible? So I started there and just kept going.
I also read that you wanted to be a diplomat originally, and that makes sense to me. I think art historians are often part-diplomats, part-detectives, part-scientists. There's so much that goes into the field.
Absolutely. I wanted to get away from art. I grew up with artists and poets and I said, "Oh my god, these people are broke. I can't do that."
Well, that's realistic—I suppose it's changed, too.
It's absolutely changed, but if you're thinking about late 1970s—wow. People weren't even thinking about objects too much.
Someone reminded me much later—maybe a couple of years ago—they said, "Well you know, you've been doing [diplomacy] with art. You've been a cultural ambassador with this work, because you've done shows around the world." Art history became, "Wow, you can do the same things." You can study languages. You can travel. It did become a way you could do all those things, and then of course as you just mentioned, as a curator you are a diplomatic entity between artists and the institution.
As a liaison, definitely. It's sensitive.
Right. Even as an academic, if you're traveling around or if you're representing a contemporary artist in your writing—how do you balance how the artist sees themselves with what you have to say? There's always that.
I'm curious what you see as emerging trends in scholarship, especially in art history. 
I think students and academics—particularly a new generation—don't want traditional art history as we have known it. They want a more interdisciplinary, multidisciplinary, global understanding of art in the world. Art history is not just Europe, and it's not just the United States. And the art of the United States meaning not just New York!
I think the other really exciting arena is, of course, gender. Gender studies. Queer studies in art history. Trans studies. All those things really change how we understand the object, how we understand history, the histories that we look for. There's a similarity to the discoveries that I made when I was a student in college about how art history at that time did not represent even the histories of African Americans who were in New York, for instance. United States art history is written from a New York-centric perspective. And at that time, you didn't see too many women in it. You didn't see too many African Americans or Latinx figures. So now that such subjects are more widely known the next step seems to be to ask,"What is a queer art history?" And some people have been doing this for a while: Jonathan Weinberg, James Smalls, Julia Bryan-Wilson has brought us into the present with some of these ideas, and C. Ondine Chavoya with his Axis Mundo, project. So all these ideas are becoming more visible and I think it's really exciting.
That's one of the reasons why I've been so keen on my Harlem Renaissance article. It started out in one way, and then it took me in another direction; it takes another look at objects that have been dismissed as not being relevant, and sees them  through a different lens. It opens up other paths into these works that have been discarded. Or maybe not discarded, but put to the side. Let's ask, "What's going on with gender in these works?" What's going on with queerness, and how do they signify to a Harlem Renaissance that is quite queer? It's something people in literature have discovered, certainly in the African American context, and they've been talking about that for years. Art history has to catch up.
Yes, you feel a real energy in the field, a real hunger for it. With recent protests around Warren Kanders at the Whitney Museum, what are your views on that momentum? [Editor's note: Since this conversation took place, Warren Kanders announced his resignation from the Whitney Museum board.]
Well, you know, there have always been protests at US museums as well as those around the world. So whether you are a curator or a director who bares the brunt of the protest, or you are an artist who withdraws, you're part of history. Scholars down the road are going to say, "These people pulled out. These people wrote a letter. These were the curators. These were the board members." So for me it's just part of history, and it has ebbs and flows. There are a lot of things going on in this world that artists are addressing, that artists see. They do respond to the world in one way or another. You may not see it visibly, but it's there.
I agree. I think putting new ideas in the world the way artists do is cultural change, and like you said—it's interconnected. You can't really have one without the other.
Yes. It's part of a larger history.
I think students and academics—particularly a new generation—don't want traditional art history as we have known it.
When did you first join CAA? Do you have a favorite memory from a conference?
I had joined CAA by 1990, when I served as the co-chair of the programming at the Annual Meeting for the Studio or Artists' sessions with Robert Storr. I've been on plenty of panels since then, but to be honored in this way is humbling and exciting. Even better, all of the respondents I asked to participate on the Distinguished Scholar panel said, "Yes! I'll be a part of it." So I'm thrilled about that. I've been at Columbia University about 13 years, and I remember when Rosalind Krauss was honored, and I participated in Richard J. Powell's Distinguished Scholar panel. So to step into those shoes, it seems a bit surreal.
Thinking of Chicago in 2020—do you have a favorite art-related excursion there?
Well, the South Side Community Art Center is legendary. It's one of the original community art centers from the New Deal era, and it's still in existence. I would definitely say go to that. That's my favorite.
I'm marking it down for myself. Are there exhibitions coming up this fall that you recommend?
Senga Nengudi at Lenbachhaus in Munich; Robert Colescott at the Contemporary Art Center in Cincinnati curated by Lowery Sims and Matthew Weseley; Lynette Yiadom-Boakye at Yale Center for British Art curated by Hilton Als; Hank Willis Thomas: All Things Being Equal…, his first major survey at the Portland Art Museum. Curator Meg Onli at ICA Philadelphia has done a trio of shows under the title Colored People Time. The final component Banal Presents will be on view through December 22, 2019.
Shows that are further out that I'm excited about are Prospect 5 in New Orleans (Fall 2020), curated by Naima Keith and Diana Nawi. The citywide triennial in New Orleans is just a great experience. Everyone should check it out. Thomas Lax's exhibition on Just Above Midtown gallery, that generative space of 1970s and 1980s, and its founder Linda Goode Bryant, will be wonderful to see at MoMA in 2022.
There are so many great young curators out here. Rujeko Hockley, Erin Christovale, numerous others. Tiona Nekkia McClodden is an artist who's been doing some great archival curatorial work. She had a show that was in response to the anniversary of Mapplethorpe's The Perfect Moment that just closed. There are just so many great people out here doing some wonderful things, and a lot of wonderful younger artists. I'm excited by it. We started out by talking about multidisciplinarity, interdisciplinarity—young curators are invested in that idea as much as scholars.
Oh and one thing that I'm really looking forward to down the line is, of course, the reopening of the Studio Museum in Harlem. I cannot wait for that!
Yes! It's a ways off but that's an exciting one. Well, thank you Dr. Jones. I appreciate you taking the time, and it's been a pleasure to speak with you.
Thanks for your questions, and again it's really an honor to be a part of this whole thing. I still kind of can't believe it. I guess I will in February when I step off that plane!
The Distinguished Scholar Session honoring Kellie Jones will take place Thursday, February 13, 2020, from 4-5:30 PM at the Hilton Chicago, Grand Ballroom.
Biography of Dr. Kellie Jones
Dr. Kellie Jones is a Professor in Art History and Archaeology and African American and African Diaspora Studies at Columbia University. Her research interests include African American and African Diaspora artists, Latinx and Latin American Artists, and issues in contemporary art and museum theory.
Dr. Jones, a member of the American Academy of Arts and Sciences, has also received awards for her work from the Hutchins Center for African and African American Research, Harvard University and Creative Capital | Warhol Foundation. In 2016 she was named a MacArthur Foundation Fellow.
Dr. Jones's writings have appeared in a multitude of exhibition catalogues and journals.  She is the author of two books published by Duke University Press, EyeMinded: Living and Writing Contemporary Art (2011), and South of Pico: African American Artists in Los Angeles in the 1960s and 1970s (2017), which received the Walter & Lillian Lowenfels Criticism Award from the American Book Award in 2018 and was named a Best Art Book of 2017 in The New York Times and a Best Book of 2017 in Artforum.
Dr. Jones has also worked as a curator for over three decades and has numerous major national and international exhibitions to her credit.  Her exhibition "Now Dig This! Art and Black Los Angeles, 1960-1980," at the Hammer Museum, Los Angeles, was named one of the best exhibitions of 2011 and 2012 by Artforum, and best thematic show nationally by the International Association of Art Critics (AICA). She was co-curator of "Witness: Art and Civil Rights in the 1960s" (Brooklyn Museum), named one the best exhibitions of 2014 by Artforum.
posted by CAA — August 29, 2019
The following article was written in response to a call for submissions by CAA's International Committee. It is by Swati Chembakur, an architectural historian at Jnanapravaha, a center for the arts in Mumbai, India. The author is also a 2019 alumna of the CAA-Getty International Program.  
In 2018, the University of London's School of Oriental and African Studies (SOAS) partnered with the Đà Nẵng Museum of Cham Sculpture in central Vietnam to produce a remarkable and visually striking centenary catalogue of its world-renowned collection of the sacred arts of the Cham people of Vietnam. The publication of Vibrancy in Stone: Masterpieces of the Đà Nẵng Museum of Cham Sculpture was timed to coincide with the renovation and expansion of the museum. 
Beginning in the second century CE, settlements appeared along the central coast of what became Vietnam. The Chams probably migrated over the ocean from Borneo and were accomplished navigators. Their ports were the first call for any ship heading from China to India and the Arab world. Their role in the medieval maritime trade grew steadily and reached an apogee in the fourteenth and fifteenth centuries, when the great neighboring empire of Cambodia declined. The prosperity won from trade led to large scale temple construction earlier than the Cambodians.  
When tourism resumed in Vietnam after the wars of the twentieth century, the museum quickly became a prime attraction in the port city of Đà Nẵng. It is the world's only museum devoted exclusively to the art of ancient Champa, the name given to the civilization of the Cham people. With 500 objects on display, its collection far outnumbers those in the Hanoi and Ho chi Minh City History museums, as well as the Musée Guimet in Paris. 
In the late nineteenth century, fifty sculptures were gathered by a French colonial administrator and amateur/enthusiastic collector, Charles Lemire, in a public garden at Tourane (Đà Nẵng), forming the embryo of the future museum collection. Some years later, French architect and archaeologist Henri Parmentier took charge of the neglected artworks and proposed a museum for their protection, which opened in 1919 (Fig. 2). He compiled the first comprehensive catalogue.  
French colonial research formed the basis of Cham studies. Today a growing number of Vietnamese archaeologists and art historians are taking an active interest in this subject, expanding our understanding of the ancient art. Ethnic Cham scholars still remain few in number. Almost seventy years after Parmentier's catalogue, a short guidebook to the museum was published about Cham history and art (Trần Kỳ Phương, 1987). It marked the first catalogue of the collection compiled by Vietnamese researchers and highlighted the link between Vietnamese and French research. After the devastating twentieth-century wars in Vietnam, some of the objects in Parmentier's 1919 catalogue had disappeared, been damaged, or moved to other institutions. At the same time, many recently discovered artifacts have been added to the museum inventory.  
Knowledge of Champa's history, culture, and art, and an appreciation of its richness and uniqueness, has gradually progressed with the accumulation of new data and the engagement of various scholarly disciplines by both national and international scholars. Champa studies no longer appear in only French-language journals, as in the early twentieth century, but now attract a growing number of scholars from Europe, Asia, and North America, who work alongside Vietnamese experts.  
Vibrancy in Stone is organized into two parts. Part I includes fourteen essays about the history and culture of Champa by Vietnamese and international scholars. Part II presents a stunningly illustrated chronology of Cham sculpture accompanied by meticulous descriptions and comments by contemporary scholars.  
The introductory essay by museum director Vo Văn Thắng discusses the history of the museum, its collection, changing installations over the years, and the current renovation and expansion of the building. Subsequent essays by Kenneth Hall, John Whitmore and Đỗ Trường Giang address the importance of several Champa ports extending along the central Vietnam coast and their active role in the maritime trade network. Champa was probably never a unified state or kingdom but rather a series of loosely linked smaller polities. Its capitals were widely separated settlements on different parts of the coast, which took turns assuming hegemony over others.  
Whitmore's essay delineates fully for the first time the rise of Vijaya (in today's Bình Đinh province) as the culture's capital in the ninth century to its sudden demise in the fifteenth century.  
Several essays address the Hindu-Buddhist religion, its rituals, archeology, and inscribed objects (by Shivani Kapoor, Ann-Valérie Schweyer, John Guy, Arlo Griffiths, Lâm Thị Mỹ Dung, and—full  disclosure—myself) while others (by Trần Kỳ Phương and Parul Pandya Dhar) focus on the architecture, taking the reader through the history of Cham temples and highlighting the evolution of key construction techniques and design features that produced a series of tall, distinctive and elegant brick towers along the coastline (Fig. 3).  
The iconography of the beautiful and vibrant Cham sculptures erected in these towers—referenced in the catalogue title—is the subject of chapters by Thierry Zéphir, Grace Chiao-Hui Tu, and Peter D. Sharrock. Cham art has hitherto been almost exclusively studied through an Indic lens but Hui-Tu's work brings out many new and unseen Sinitic aspects in Cham sacred art. For example, a ninth century monumental sandstone Buddha from Đồng Dương monastery is seated in the "European" position with pendant feet and palms resting on the knees (Fig. 4). While Buddhas seated with pendant legs can be found in Indian, Southeast Asian, and Chinese Buddhist art traditions, this particular hand posture is seen only in China and Đồng Dương. 
The question of the relationship between Cham and neighboring Khmers forms the core of the paper by Peter D. Sharrock. Addressing the beautiful Khmer bronze of a naga-enthroned Buddha discovered by the French in the main Cham temple outside Vijaya, he points out that this icon was never part of Cham iconography. He then uses art historical and epigraphic evidence to untie a series of long-distorting knots in the history of the Khmer-Cham relationship. 
Part II of Vibrancy in Stone focuses on masterpieces of the museum, one of which is the beautiful bronze illustrated in Figure 5, found in the Đồng Dương monastery in 1978. Earlier labelled as Tārā or Prajñāparāmita, here it has been correctly identified as the female aspect of Avalokitesvara and the main cult image of the monastery. 
Other masterpieces include the most famous Mỹ Sơn Śivalinga pedestal (Fig. 6a-b), the only Cham sculpture that records the daily spiritual activities of ascetics performing rituals, practicing meditation, conversing, playing musical instruments, treating diseases, etc., and a widely acknowledge high relief of a Trà Kiệu dancer draped in beads (Fig. 7). 
Vibrancy in Stone brings together some of the most priceless and rare works of Cham art. As such, it proclaims the value and artistry of works by the Cham people whose heirs today are an ethnic minority in Vietnam. Equally important, it gathers together these beautiful and rare works of art as a resource for scholars, students, and connoisseurs alike.  
posted by CAA — July 26, 2019
In June, Amy Meyers ended a long and fruitful career as Director of the Yale Center for British Art, which she led for seventeen years. Prior to her appointment in 2002, she spent much of her career at research institutes including Dumbarton Oaks; the Center for Advanced Study in Visual Arts at the National Gallery of Art, Washington, DC; and The Huntington Library, Art Collections, and Botanical Gardens. She also taught at the California Institute of Technology, the University of Michigan, Mount Vernon College, and Yale, and has written extensively on the visual and material culture of natural history in the transatlantic world.
Joelle Te Paske, CAA Media and Content Manager, corresponded with Amy over email to reflect upon her tenure at the YCBA, her experiences with CAA, and her plans for the future. Read the interview below.
Joelle Te Paske: Amy, thank you so much for speaking with us. To begin, what pathways led you to the Yale Center for British Art (YCBA)?
Amy Meyers: There is no question that my experiences as a graduate student at Yale set the stage for my return to direct the Yale Center for British Art 25 years following my arrival as a doctoral candidate in American Studies, in the fall of 1977—the first year the magnificent collections of the newly opened YCBA were accessible to students.
I had come to Yale to write a dissertation on the photographers who accompanied the federal geological surveys of the American West following the Civil War, and my interest in the art of empire brought me to explore the staggering collections of paintings, prints, drawings, maps, rare books, and manuscripts amassed by the Center's founder, Paul Mellon, relating to the depiction of the natural world, particularly in the Americas.
The following spring, I enrolled in one of the first courses held at the Center—a seminar on Ruskin, taught by George Hersey. That course included students not only from the Department of the History of Art, but others, who, like me, were interested in the influence of Ruskin's thought on many aspects of culture, particularly science. Professor Hersey's important consideration of Ruskin as a major thinker of the nineteenth century, and the discussions that took place in that class between and amongst students, were foundational to my graduate education. I formed collegial friendships with many students who would go on to contribute significantly to art historical scholarship, both in academe and in museums, including David Curry, Bruce Robertson, George Shackelford, Mark Simpson, and Scott Wilcox—and these friendships have informed my scholarship and influenced the way in which I have approached the programs I have had the privilege to run, from the Virginia Steele Scott Gallery of American Art at the Huntington Library, Art Collections, and Botanical Gardens, to the YCBA.
The interdisciplinarity of Professor Hersey's class reflected Yale's commitment to exploration across disciplinary boundaries in many areas of study—a commitment that was unusual at American universities in the 1970s. Jules Prown, who had been the YCBA's first director, creating the institution in concert with Paul Mellon and a distinguished committee of Yale faculty members, was himself devoted to examining the history of art from a broad range of vantage points, and he and his colleagues built that approach into the Center's culture, both as a research institute and as a public museum with teaching at its heart.
I was privileged not only to study with Jules, but to have him as one of my dissertation advisors. I learned from him the value of the close examination of objects as primary to art historical research, as well as the importance of working collaboratively with groups of scholars in developing the richest, most productive, and enjoyable of research communities. Jules drew around him, through his exciting classes and seminars, a large and devoted coterie of students from across the university who were interested in cross-cultural studies, including art history and material culture—a field he was instrumental in driving forward. Many of the students who took George Hersey's seminar were part of this group; but others, including Margaretta Lovell (who by then was teaching a course on material culture with Jules), David Lubin, Angela Miller, Rodger Birt, Esther Thyssen, Buffy Easton, Valerie Steele, Catherine Lynn, Rebecca Zurier, Kenneth Haltman, Alexander Nemerov, Richard Powell, and Helen Cooper (who already was serving as Curator of American Paintings at the Yale University Art Gallery) also were active members of Jules's circle of students (and there were many others who were off writing dissertations, such as Kathleen Foster, or who had graduated relatively recently and were known to us by their groundbreaking work, such as David Solkin). At that time, Bryan Wolf was a young professor of English literature and American Studies who had developed a strong interest in American art, and he also was an important member of Jules's circle. I was tremendously privileged to have Bryan as one of my dissertation advisors, as well.
The sadly short-lived Center for the Study of American Art and Material Culture, directed by Richard Beard, was established by Robert McNeil, through the Barra Foundation, at the Yale University Art Gallery in the same year that the YCBA opened.
This center both reinforced the community of Americanists at Yale and gave me the opportunity to curate the first of my own exhibitions, American Photographs: 1840 to 1940. The group of Western American historians fostered by my third dissertation advisor, Howard Lamar, and Archibald Hanna, the then-curator of Western Americana at the Beinecke Rare Book and Manuscript Library, also promoted a culture of intellectual exchange, focused quite centrally on the visual culture of the West. Additionally, the American Studies Program offered students and faculty members with cross-disciplinary interests a supportive environment that encouraged innovative, experimental approaches to the study of American culture across the board. Collectively, these centers and programs taught graduate students of my generation at Yale the value of being a member of an engaging and supportive community of intellectual interchange, supported institutionally, and I have no doubt that this experience influenced my interest in being involved in study centers over the course of my professional career.
Indeed, as a graduate student, I was introduced to the vibrant culture of international research institutes when I was awarded a junior fellowship at Harvard University's Washington-based research institute, Dumbarton Oaks (DO), my dissertation topic having shifted to a broader consideration of the relation of the visual arts to the natural sciences, from the colonial period, through the establishment of the republic, and into the nineteenth century. Some of my closest collegial friendships were formed in the community of DO, including my life-long professional partnership with Therese O'Malley, with whom I presently am organizing an exhibition on John and William Bartram and the emergence of environmental thought in America.
Therese and I were privileged to be hired by the first dean of the Center for Advanced Study in the Visual Arts (CASVA), at the National Gallery, Henry Millon, to work as predoctoral research assistants for the Architectural Drawings Advisory Group, an international consortium convened at CASVA and supported by the J. Paul Getty Trust to set standards for the scholarly cataloguing of architectural drawings online. This early experience in working with an international group of scholars on one of the first electronic database projects in the history of art stimulated my life-long dedication to advancing the development of electronic tools for art historical research—one that I brought to the Yale Center for British Art when I became director.
The collective of fellowship programs in art history across the museums and research institutes of Washington, DC offered me a rich community of peers as an advanced graduate student and young professional, and this stimulating environment furthered my interest in working within the context of a study center, which had begun at Yale. The appeal of funding art historical research (and research in the humanities more generally) through grants and fellowships was strengthened by the work of my husband, Jack Meyers, an assistant director in the Research Division at NEH at that time—and we have been most fortunate to have developed comparable careers in this regard. While I worked for fourteen years as the Curator of the Virginia Steele Scott Gallery of American Art at the Huntington, which is one of the largest residential fellowship-granting research institutes in the humanities in the world, Jack served as a program officer and then deputy director of the Getty's Grant Program (now Foundation). We both became fully committed to the support of scholarship internationally, and, over the last years, while I have served as director of the Yale Center for British Art, and CEO of the Paul Mellon Centre for Studies in British Art (PMC) in London, Jack has served as President of the Rockefeller Archive Center. Our complementary positions have allowed us to share our experiences in the running of study centers, which has been wholly gratifying, and, I hope, of benefit to our mutual institutions.
JTP: What would you say are some of the biggest changes you've seen during your time at the YCBA?
AM: Certainly the greatest change I have seen in the field of British art over the last seventeen years, which has affected the YCBA and PMC in fundamental ways, and to a certain extent has been promoted by these sister institutions, has been a major shift in vantage point from what commonly has been called the "imperial gaze" to a more global viewpoint. Although by the time I was named director of the YCBA seventeen years ago, the approach to British art had become as much concerned with social history as with connoisseurship, works still were interpreted largely in terms of a relatively closed history of European art. The complex and tragic histories of the British Empire and slave trade were only beginning to affect the ways in which British art was understood, and the canon remained essentially defined as the creation of white, male artists of British birth—or, more generously, of white, male European or colonial American artists who came to practice in the British Isles, or who were associated with British artists and patrons on the Grand Tour.
Over the last years, a sea change has taken place, and not only has the canon expanded—and shifted—to include works by artists from many other parts of the world that came under British dominion or were deeply affected by the Empire, but also by artists of more diverse racial backgrounds and genders. The sense of the West's ownership of the world on the part of historians of British art has been altered dramatically, and standard practice now insists that even the most traditionally canonical works must be reinterpreted from a global vantage point, and in terms of much larger and more challenging histories.
JTP: What is a favorite memory—perhaps one that is less well-known—from your time there?
AM: My fond memories from my years at the YCBA—and the PMC—are innumerable, and it is extremely difficult to select a favorite. However, one program stands out as particularly memorable for me personally. In July of 2005, the YCBA co-organized a conference entitled, "Ways of Making and Knowing: The Material Culture of Empirical Knowledge," with the PMC and the Wellcome Trust Center/Centre for the History of Medicine at University College London (UCL).
My co-conveners were close associates in the history of science: Pamela Smith, who is the Seth Low Professor of History at Columbia University, and Harold Cook, who, at that time, was director of the Wellcome Trust Center and now is the John F. Nickoll Professor History at Brown University. Beginning with a series of discussions at the Huntington, we planned an interdisciplinary conversation about the material construction of knowledge, examining how artisans and other makers of things informed the ways in which the natural world came to be understood in the West, from the sixteenth-century through the nineteenth. Exploring the relationship between two spheres traditionally understood to be distinct—practical and theoretical knowledge, the lectures and demonstrations were given by the seventy presenters, including art historians and historians of material culture, historians of science, artists, and craftspeople.
The program took place over five days, at sites across London ranging from the Chelsea Physic Garden, the Enlightenment Gallery at the British Museum, the Royal Botanical Gardens at Kew, the Natural History Museum, the Linnean Society, the V&A, and Painshill Park, in Surrey. This experimental program included as many object-study sessions and hands-on making workshops as formal papers, interrogating how the use of natural materials in the processes of making yielded the most profound understanding of nature, feeding science as much as technical knowledge in exciting new ways. A selection of the papers appeared under the title of the conference, in the Bard Graduate Center's series Cultural Histories of the Material World, published by the University of Michigan Press in 2014. I must say that the support of Brian Allen, at that time the splendid and long-serving Director of Studies of the PMC with whom I had the honor of working closely for ten years, was a special pleasure.
I also remember with great fondness working with Joanna Marschner, Senior Curator at Kensington Palace, on Enlightened Princesses: Caroline, Augusta, Charlotte, and the Shaping of the Modern World, an exhibition co-organized by the YCBA and Historic Royal Palaces, with the support of the PMC, that was mounted in New Haven and London in 2017. Our mutual interest in women and patronage, particularly in relation to the natural sciences, found its expression in this project, and we look forward to working together on the subject long into the future.
JTP: What is a resource at the YCBA that you think people don't often know about, but should?
AM: The collection of British art at the YCBA is renowned as the largest and finest outside the UK, comprising over 2,000 paintings; 20,000 drawings and watercolors; 45,000 prints and photographs; and several hundred pieces of sculpture. Much less well known is the institution's truly glorious rare book and manuscript collection. The Center's founder, Paul Mellon, began his life as a collector in this field, and over his lifetime he amassed one of the greatest collections formed in the twentieth century, comprising approximately 35,000 titles. Mr. Mellon focused in part on British illustrated books, acquiring the renowned J.R. Abbey collection of British color plate books, which serves as the touchstone for all other collections of this kind. Other major parts of the collection include drawing manuals, sporting books and manuscripts, early maps and atlases, early printed books by Caxton and his contemporaries, and archival and manuscript material relating to British artists, writers, and travelers of all periods.
The Center's Chief Curator of Rare Books and Manuscripts, Elisabeth Fairman, and her extraordinary colleagues, have augmented Mr. Mellon's collections in remarkable ways over the decades, and have brought to the Center a singularly important collection of private press and contemporary artists' books, as well. These works are available online through the
Center's website
, where they can be searched seamlessly with related objects in the YCBA's art collections. They also can be found through the Yale Library system's online catalogue, ORBIS, which will lead users to the university's other rare book and manuscript collections. The Center's archives can be searched through "Archives at Yale," which provides detailed descriptions of the individual archival collections and directs users to other archival collections at the university.
The Rare Books and Manuscripts collection contains splendid photographic holdings, beginning with some of the earliest printed books including original photographic illustrations produced by the first British experimenters with paper-print photography, such as William Henry Fox Talbot. These collections have grown enormously over the years, as have the photographic collections in the Prints and Drawings Department, making the Center one of the most significant repositories of British photographs in the country.
The same holds true for the development of the institution's collection of contemporary British art, and over the course of this summer, the Center has mounted an exhibition illuminating the role that donors have played in enhancing both areas of the institution's collections over the last few years. Entitled Photographs/Contemporary Art: Recent Gifts and Acquisitions, the exhibition demonstrates the breadth and depth of these holdings and signals their continued growth.
JTP: When did you first become a CAA member? Do you have a favorite memory from a CAA conference?
AM: I have been a member of the CAA for so long that I do not remember precisely when I joined—undoubtedly by the early 1980s, when I was attending conferences regularly in my later years of graduate school. My memories of the very first conference I attended are shrouded in the mists of time, but I believe that I joined a group of Yale graduate students at a conference in New York while I was still enrolled in courses, in the late 1970s.
I have countless happy memories from conferences throughout the years, from sessions I have co-organized on the visual and material culture of natural history with my long-standing colleague, Therese O'Malley, to the multitude of fine papers given by scholars in my own fields of American and British art. Of course, one of the most important functions of the conference is to introduce participants to subjects that lie beyond their own areas of expertise, and I have learned an enormous amount from papers on topics to which I have had little exposure,  especially as art history has evolved in such exciting ways over the last years. New methodological approaches are always stimulating to consider, and I particularly have enjoyed learning from the work of younger colleagues. Indeed, the call for papers for next year's conference promises a rich and important group of sessions that will have me running from one talk to the next throughout the proceedings.
Since 1989, due to my association with The Huntington and the YCBA and PMC, I have had the pleasure of attending the winter meeting of the Association of Research Institutes in Art History (ARIAH), as an affiliated society, which always is held the first day of the CAA conference. Naturally, I also have enjoyed attending reunions of the departments and study centers with which I have been connected. The joint reunion of the YCBA and PMC has been a true pleasure to co-host with the PMC's current Director of Studies, Mark Hallett, who promotes the mutual interests of his London research center and the YCBA with dedication and inspired vision. Mark and I have been deeply grateful to the Deputy Directors of Research of these sister institutions, Martina Droth and Sarah Turner, for organizing these shared events annually.
I do have one favorite memory that stands out among all others, however, and that is of the 2009 Terra Foundation for the Arts Distinguished Scholar Session, entitled "Generations: Art, Ideas, and Change," in honor of Jules Prown. Chaired by Bryan Wolf, and including papers by Alex Nemerov, Margaretta Lovell, Jennifer Roberts, Jennifer Greenhill, and Ethan Lasser, the session paid special tribute not only to the professor who had inspired so many of us as graduate students at Yale, but also to the scholar who had informed the work of students pursuing the study of American art and material culture throughout the world through his groundbreaking research and approaches to analysis.
JTP: I imagine it is impossible to summarize the sentiments surrounding a 17-year tenure, but if there was one feeling you could share in the wake of your departure from the directorship of the YCBA, what would you say it is?
AM: The feeling I wish to share is one of excitement.
As I have indicated, the field of British art–and of art history more generally—is developing and changing in such important ways, and I have no doubt that Courtney J. Martin, who just has begun her first term as the Center's brilliant new director, will work with her YCBA colleagues not only to continue to introduce the work of new artists to the collection, but to encourage an ever-expanding community of visitors from the university, the city, the region, and the world through innovative displays, exhibitions, publications, and programs. She is a tremendous addition to the impressive complement of collection directors under the excellent leadership of Yale's Vice Provost for Collections and Scholarly Communications, Susan Gibbons, and I expect that splendid developments are about to take place across all of the university's museums and libraries with this gifted team in place.
JTP: What are you most proud of having accomplished at YBCA?
AM: My pride lies in what I was able to accomplish in concert with my superlative friends and colleagues: the staff of the YCBA and PMC, Yale students and faculty members, the 250 visiting scholars who have joined our community to pursue research in the YCBA's collections, our advisory committees and consultants, the PMC's Board of Governors, and supporters of both institutions. So much has been accomplished collectively that a full review would be impossible, but I will outline some of our most significant collaborative achievements.
Working with museums and cultural institutions across the UK, and in certain instances the United States, we developed a program of over fifty major loan exhibitions which explored a wide range of topics from the early modern period through the current day. These were underpinned by workshops involving students and scholars from around the world, and they were enhanced by an equivalent number of significant publications produced in association with Yale University Press London (YUPL). Approximately forty in-house exhibitions and displays, often developed with undergraduates and graduate students, enriched the exhibition program, examining the Center's own holdings from important new vantage points.
One such exhibition, Unto This Last: Two Hundred Years of John Ruskin, curated by three of Tim Barringer's graduate students—Tara Contractor, Victoria Hepburn, and Judith Stapleton—has been in the planning stages for some time as the Center's central contribution to the bicentennial commemoration of Ruskin's birth (both critical and celebratory), and it will open on the evening of September 17th of this year, accompanied by a leading-edge catalogue edited by Tim, to which the students, and others, have contributed. I have no doubt that for this cohort of students, the experience of working with Tim on an assessment of Ruskin's significance as a thinker for the modern world will be as important as George Hersey's Ruskin seminar was for me and my own group of peers over forty years ago.
During the last seventeen years, the research cultures of the YCBA and the PMC were augmented through the joint efforts of a new Research Division at the Yale Center and an amplified program at the London Centre, which also produced a superb run of publications with YUPL. Support of scholars across the field of British art was substantially increased through the PMC's grant program and the YCBA's visiting scholars program. The PMC and YCBA also collaborated to develop an innovative online journal, British Art Studies, which is fully accessible, free of charge, to the world.
The YCBA's education program developed magnificently, as well. Our docents toured 92,929 school-age students through the galleries, and an average of 88 Yale classes utilized the collections each year, with nearly 14,000 Yale students visiting the Study Room either with a class or to use collections on their own. The Center hosted 903 undergraduate student interns and workers, 76 graduate student research assistants, and 20 postdoctoral research associates who received doctorates from other universities. Empirically based programs focused on close looking in the galleries, designed to increase both the sensitivity and diagnostic skills of medical and nursing students (the first such programs in the world), continued to develop for Yale graduate student in other fields.
Additionally, creative learning programs for teenage girls on the autism spectrum were put into place, and a teaching relationship with Chapel Haven, a home for adults with cognitive disabilities, flourished. The Center actively joined the university's mentorship program to engage undergraduates who have attended New Haven public schools, or approved charter schools, and who have been awarded New Haven Promise scholarships, in professional experiences over the summer months. We benefitted from the fine work of those who were participants in the program, and we were able to add several extremely talented young people to our permanent staff from the program.
The collections also developed in exciting ways over the years, with curators adding to the historic corpus with important works from the Tudor period through the mid-twentieth century, and with modern and contemporary works expanding the Center's holdings into our own time.
Sculpture became a special focus of the acquisitions program, along with photography and modern and contemporary art. In all, almost 9,000 objects and collections across the curatorial departments amplified the Center's holdings for teaching, research, and exhibition.
A program to make the Center's entire collection accessible virtually, placed 90,000 records online, and 78,000 high-resolution digital images of works in the public domain freely available to the world for any use, in concert with Yale's Open Access policy. The Center now seeks to connect these online collections with others across the university and the globe, through linked open data, allowing audiences worldwide to explore the rich global history of British art.
We also worked with collections across the university to develop a state-of-the-art conservation program on Yale's West Campus, and to create the Institute for the Preservation of Cultural Heritage, with a major conservation science program intended not only for the technical assessment of our own collections, but also to address global conservation needs. Additionally, the Center published a model conservation plan for its landmark building designed by Louis I. Kahn, which has helped to steer the conservation of other modern buildings of cultural significance according to best practices. This plan allowed a three-phased conservation program to address the physical needs of the Kahn building, and following the conservation of the interior spaces and upgrading of the mechanical systems, a freshly conceived display of the art collections was installed, entitled "Britain in the World."
JTP: What are you most excited about when you think of your next steps? Are there projects you are looking forward to?
AM: Returning to my own scholarship is a great joy, and I am beginning to work with Therese O'Malley to co-curate an exhibition examining the naturalists John and William Bartram and the early development of environmental thought in North America and the transatlantic world—a project that derives from the dissertations on which we worked together so many years ago, but that now is informed by the scholarship of those working on the culture of natural history in the Americas from new points of view.
The Bartrams, who created one of the first scientific gardens in the British colonies, began to be mythologized in their own time, and have been the focus of academic study since the nineteenth century. However, their work is just beginning to be assessed in relation to the knowledge they gained not only from Native American peoples they encountered on their collecting expeditions, but from enslaved peoples of African descent in bondage to the Bartrams' family members and friends throughout the southern colonies, as well as those William himself enslaved on a small, short-lived plantation that he attempted to establish in Florida. This project will serve as a case study examining the diverse systems of knowledge about nature that converged and collided in this period, resulting in new conceptions of a wholly interconnected cosmos, in a constant state of flux.
Amy Meyers BIOGRAPHY
Amy Meyers (Yale PhD, American Studies, 1985) retired from the directorship of the Yale Center for British Art on June 30th of this year. Prior to her appointment in July of 2002, she spent much of her career at research institutes, including Dumbarton Oaks; the Center for Advanced Study in Visual Arts at the National Gallery of Art, Washington, D.C; and The Huntington Library, Art Collections, and Botanical Gardens, where she served as Curator of American Art from 1988 through June of 2002. Meyers also has taught the history of art at the California Institute of Technology, the University of Michigan, Mount Vernon College, and Yale. As Director of the Center, Meyers sought to strengthen the institution's educational and research initiatives. She endeavored to promote a rigorous academic publication program in association with Yale University Press and to develop an exhibition program of the highest scholarly standard in partnership with major museums across Europe and the United States. She expanded the Center's fellowship program; amplified the teaching mission in concert with departments and programs across the university; and promoted the cataloguing of the collections on-line, with free and open access to all images in the public domain. Meyers supported the creation of a conservation plan for the institution's landmark building, designed by Louis I. Kahn, and she oversaw the conservation of the building, as well as two full-scale reinstallations of the entire collection.
Meyers has written extensively on the visual and material culture of natural history in the transatlantic world, serving as editor of Knowing Nature: Art and Science in Philadelphia, 1740 to 1840, with the assistance of Lisa Ford  (New Haven: Yale University Press, 2011); with Harold Cook and Pamela Smith, Ways of Making and Knowing:  The Material Culture of Empirical Knowledge (Ann Arbor: The University of Michigan Press, 2011); with Therese O'Malley, The Art of Natural History: Illustrated Treatises and Botanical Paintings, 1400-1850 (Washington, D.C.: National Gallery of Art, Studies in The History of Art Series, 2008); Art and Science in America: Issues of Representation (San Marino: The Huntington, 1998); and, with Margaret Pritchard, Empire's Nature: Mark Catesby's New World Vision (Chapel Hill: University of North Carolina Press, 1998). She also has organized numerous international symposia in the field, including Curious Specimens: Enlightenment Objects, Collections, Narratives (with Luisa Calè, Michael Snodin, Margaret Powell, and Cynthia Roman; London, 2010), Ways of Making and Knowing: The Material Culture of Empirical Knowledge (with Hal Cook and Pamela Smith; London, 2005); and 'Curious in Our Way': The Culture of Nature in Philadelphia, 1740 to 1840 (Philadelphia, 2004). With Therese O'Malley, she currently is co-organizing an exhibition on John and William Bartram and the emergence of an environmental conception of the natural world in colonial and early republican America, to be mounted in 2024.
posted by CAA — June 19, 2019
In fall 2018, we announced CAA had received an anonymous gift of $1 million to fund travel for art history faculty and their students to special exhibitions related to their classwork. The generous gift established the Art History Fund for Travel to Special Exhibitions.
The jury for the Art History Fund for Travel to Special Exhibitions met in May 2019 to select the first group of recipients as part of the gift.
The awardees are:
Catherine Girard, Eastern Washington University
Class: Topics in Art History: Manet Inside Out
Exhibition: Manet and Modern Beauty at The J. Paul Getty Museum, Los Angeles
Luis Gordo Peláez, California State University Fresno
Class: Arts of the Colonial Andes
Exhibition: Art & Empire: The Golden Age of Spain at The San Diego Museum of Art
Alison Miller, University of the South
Class: Japanese Print Culture
Exhibition: Yoshitoshi: Spirit and Spectacle at the Minneapolis Institute of Art
Rachel Stephens, University of Alabama
Class: American Portraiture
Exhibition: Black Out: Silhouettes Then and Now at the Birmingham Museum of Art
"We're delighted to announce the inaugural recipients of the Art History Fund for Travel to Special Exhibitions, a groundbreaking CAA program designed specifically to enhance students' first-hand knowledge of works of art," said Hunter O'Hanian, CAA's executive director. "The new Fund places a spotlight on the critical work art history scholars are doing to grow the field, with CAA as the go-to organization supporting and advancing their work."
The Art History Fund for Travel to Special Exhibitions supports travel, lodging, and research efforts by art history students and faculty in conjunction with special museum exhibitions in the United States and throughout the world. Awards are made exclusively to support travel to exhibitions that directly correspond to the class content, and exhibitions on all artists, periods, and areas of art history are eligible.
Applications for the second round of grants will be accepted by CAA beginning in fall 2019. Deadlines and details can be found on the Travel Grants page.
CAA News
Categories
More +
Archive