posted by CAA — July 16, 2016
Each month, CAA's Committee on Women in the Arts selects the best in feminist art and scholarship. The following exhibitions and events should not be missed. Check the archive of CWA Picks at the bottom of the page, as several museum and gallery shows listed in previous months may still be on view or touring.
July 2016
Rebecca Warren: The Main Feeling
Dallas Museum of Art
Hoffman Galleries, 1717 North Harwood, Dallas, TX
March 13–July 17, 2016 (and on permanent display in the Eagle Family Plaza)
The Dallas Museum of Art presents the British artist Rebecca Warren's sculpture exhibition, The Main Feeling, featuring work from a pivotal phase in the artist's practice with her shift to increasingly abstract forms. The display of works from 2003 to today shows Warren's transition in materials from clay, to steel, and then to bronze. In conjunction with the exhibition, the museum unveiled Warren's newly commissioned sculpture, Pas de Deux (Plaza Monument) (2016), which is installed in the museum's Eagle Family Plaza, a new space for contemporary art and outdoor programming.
"The title Pas de Deux refers to the dynamic, fluctuating relationship between art history's most persistent binaries: male/female, high/low, old/new, Dionysus/Apollo, classic/grotesque." The sculpture consists of two bronze biomorphic forms, each more than fourteen feet tall and hand painted by the artist. "Warren is known for challenging Western sculptural traditions through her distinctive female nudes. She uses an earthy, unfinished look, and her figures often have exaggerated physical characteristics, such as very large breasts or buttocks. Warren's figures challenge our ideas about what sculptures should be or look like, and they provide a wry commentary on the ways that so many male artists have distorted women's bodies."
This exhibition marks Warren as among one of the first living female artists to have commissioned work permanently installed at an entrance of an American museum.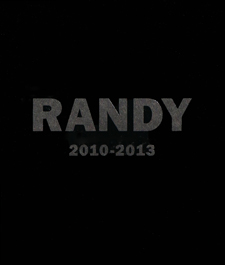 Randy 2010–2013
Anthology release
Online
The new publication by Capricious Press, Randy 2010–2013, collects three-hundred-plus pages of this queer/feminist zine into one anthology. The undertaking includes over one hundred interviews, conversations, and works that were featured in Randy from 2010 to 2013. Begun by the artist A. K. Burns and the publisher Sophie Morner, the experimental zine is described by Burns as "an intentionally irregular trans-feminist project celebrating the politics of art, sexuality and aesthetics."
The zine brings together underrepresented voices in an intergenerational dialogue "as a means to examine multiple perspectives on queer identity and gender." The anthology includes an extensive list of voices, including these artists: niv Acosta, Jess Arndt, Meriem= Bennani, Sadie Benning, Elizabeth Bethea, Ramdasha Bikceem, Cass Bird, Dana Bishop-Root, Pauline Boudry, boychild, Kathe Burkhart, Nao Bustamante, Jibz Cameron, Silvia Casalino, Christelle de Castro, Leidy Churchman, Jon Davies, Hayden Dunham, Celeste Dupuy-Spencer, Nicole Eisenman, Edie Fake, Corrine Fitzpatrick, Daphne Fitzpatrick, Shannon Funchess, Mariah Garnett, Luke Gilford, Julia Gillard, Jules Gimbrone, Reina Gossett, Goodyn Green, Gordon Hall, Harmony Hammond, Onya Hogan-Finlay, Emily Hope, Katherine Hubbard, Amber Ibarreche, Mariana Juliano, Stanya Kahn, Sarah Forbes Keough, Pozsi B Kolor, Adam Krause, Lisa Lenarz, Katerina Llanes, Amos Mac, Lee Maida, India Salvor Menuez, Lessa Millet, MPA, Ulrike Müller, Sheila Pepe, Litia Perta, Cassie Peterson, Isaac Preiss, R.H Quaytman, Jen Rosenblit, Colin Self, Mel Shimkovitz, Amy Sillman, Tuesday Smillie, Jazmin Venus Soto, Matthew Stone, Ginger Brooks Takahashi, Lanka Tattersall, Wu Tsang, Scott Valentine, Leilah Weinraub, Hanna Wilde, Martha Wilson, Io Tillett Wright, Geo Wyeth, and Yes! Association/Föreningen Ja!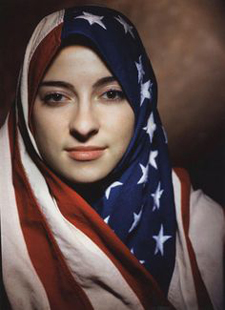 She Who Tells a Story: Women Photographers from Iran and the Arab World
National Museum of Women in the Arts
1250 New York Ave NW, Washington, DC
April 8–July 31, 2016
Gallery Talk: July 27, 2016, 12:00–12:30 PM
The National Museum of Women in the Arts presents She Who Tells a Story: Women Photographers from Iran and the Arab World. The landmark exhibition contains more than eighty photographs and video installations of the people, landscapes, and cultures of Iran and the Arab world as seen through the lens of female photographers. The title, derived from the Arabic word rawiya, is also the name of a photography collective of women, based in the Middle East and founded in 2009.
The exhibition "refutes the conventional idea that Arab and Iranian women are oppressed or powerless, illuminating the fact that women are creating some of the most significant photographic work in the region today." It features artists working in a range of genres from portraiture to documentary to staged narratives. "Each artist in She Who Tells a Story offers a vision of the world as she has witnessed. The photographers' images invite viewers to reconsider their own preconceptions about the nature of politics, family, and personal identity in the Middle East."
In conjunction with the exhibition, the museum will host a gallery talk with the chief curator Kathyn Wat, focused on selected works on display. The event will take place on July 27, 2016.
Mona Hatoum
TATE Modern
Millbank, London SW1P 4RG, UK
May 4–August 21, 2016
TATE Modern presents a comprehensive exploration into thirty-five years of Mona Hatoum's work in Britain. Born into a Palestinian family in Beirut in 1952, Hatoum has lived and worked in London since 1975. From her early performance and video works to her sculpture and large-scale installation, this artist creates a challenging vision of our world, exposing its contradictions and complexities. Juxtaposition of opposites, her work engages us in conflicting emotions of desire and revulsion, fear and fascination.
From her intimate traveling notebooks to large installations such as Homebound, Interior/Exterior Landscape, Hatoum's survey takes visitors on a journey from her early drawings and documentation of performances to her most recent project throughout a series of encounters with the body and the world, confrontations that are at once intimate and global, personal and political. Through little drawings incorporating nail-pairings, sewing, and urine stains, and through records of performances that were self-exposing and abject, the artist balance the disjunctions between the grand statement and the whisper.
Throughout her distinguished career, Hatoum has questioned and explored themes of themes of home, displacement, and self, provoking strong psychological and emotional responses. In celebration of her internationally acclaimed work, the School of the Museum of Fine Arts, Boston, has recently honored Hatoum with the Medal Award for her commitment to a work that challenges us to rethink a world fractured by conflict and imagine new forms of connections.
Bouchra Khalili: The Mapping Journey Project
Museum of Modern Art
11 West 53rd Street, New York, NY 10019
April 9–October 10, 2016
The Museum of Modern Art is presenting the Mapping Journey Project (2008–11), a video installation by the Moroccan-French artist Bouchra Khalili. Eight individual screens are installed throughout the museum's Marron Atrium, exposing the stories of individuals who have been forced to travel illegally by political and economic circumstances and whose journeys have taken them throughout the Mediterranean uncertain path.
Khalili (b. 1975) has encountered her subjects accidentally, in transit hubs across Europe, North Africa, and the Middle East. Following an initial meeting, the artist invited each person to narrate his or her journey and trace it in thick permanent marker on a geopolitical map of the region. While their faces remain unseen, the videos feature each subject' voice and hands sketching of their singular trajectory across the map. The formal elements chosen by the artists to narrate the stories are pared to necessities: a paper map of the world; a hand holding a marker, drawing lines on the map across oceans and borders; a voice of a man or a woman telling, voices in a first-person from the experience of illegal immigrants from the Middle East or Africa to Europe in search of a better life.
Witnessing the path of each subject, a complex portraiture of the network of migration emerges. Shown together, the videos function as an alternative geopolitical map defined by the precarious lives of stateless people. Khalili's work takes on the challenge of developing critical and ethical approaches to questions of citizenship, community, and political agency. The Mapping Journey Project was acquired by MoMA, and the exhibition was possible by the Modern Women's Fund.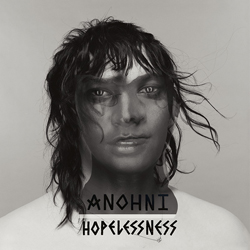 Anohni: Hopelessness
Album launch and Performance tour
Hopelessness is the new album by the singer, songwriter, visual artist, and activist Anohni. Formerly known as Antony Hegarty (from Antony and the Johnsons), she decided a few years ago to utterly transform the sound and message of her music. She not only renamed herself with what she calls her "spirit name," but also embarked on a new artistic course. "Subjugation of women and of the Earth are one and the same," "Kill the mother and appropriate her power." Anohni expressed as talking about the foundations of Hopelessness. This relentlessly political album and utterly emotional performance is a testimony of her process.
Here, Anohni's voice is as beautiful and deep as ever bringing drone warfare, environmental catastrophe, government surveillance and capital punishment, the personal is political, as radical feminists used to say. The album includes "Four Degrees," a single released to coincide with the Paris climate conference, and is a stunning meditation on our complicity in global warming. During the performance, twenty women artists and activists such as Shirin Neshat, Lorraine O'Grady, and Nola Ngalangka Taylor joined her in spirit throughout the performance. Their projected moving lip synching portraits seem to embrace Anohni's voice on stage.
In 2013, Anohni spent ten days living with the Martu of Parnngurr in the Western Australian Desert, and she has since campaigned against a proposed uranium mine on their ancestral land. In early June, she joined her Martu friends Nola and Curtis Taylor on a 180-kilometer protest walk from their remote community to the site of Mitsubishi and Cameco's proposed open-cart uranium mine in the Western Australian Desert.
Hopelessness was launched at Park Avenue Armory in New York on May 18 and 19, followed by an international tour.