posted by CAA — November 29, 2023
CAA is pleased to announce this year's participants in the CAA-Getty International Program. Now in its thirteenth year, this international program, supported by the Getty Foundation, welcomes twelve new participants and four alumni to attend the 2024 Annual Conference in Chicago, IL. The goal of the CAA-Getty International Program is to increase international participation in CAA's activities and the field of visual arts in academia, thereby expanding international networks and the exchange of ideas both during and after the conference. We look forward to welcoming this year's participants!  
At a preconference colloquium, the new participants will discuss key issues in the international study of art history together with CAA-Getty alumni and US hosts. The program will delve into topics such as postcolonial and Eurocentric legacies, decolonization of museums, scholarship and pedagogy, interdisciplinary and transnational methodologies, and the intersection of politics and art history. Learn more about the first ten years of the program in our online publication. 
Program participants—art historians, curators, and artists—hail from multiple countries, expanding CAA's international membership and contributing to an increasingly diverse community of scholars and ideas. Selected by a jury of CAA members from a highly competitive group of applicants, each participant will receive funding for travel, hotel accommodation, conference registration, CAA membership, and a per diem. 
Alumni invited back to the 2024 conference will present at the Art, Authenticity, Migration, and Global Climate Change session while also connecting our new participants to our burgeoning group of nearly 160 CAA-Getty International Program alumni.  
2024 PARTICIPANTS IN THE CAA-GETTY INTERNATIONAL PROGRAM 
Mariela Cantú is a researcher, audiovisual preservationist, artist, and curator. She is a PhD candidate in Art History at the University of San Martín (CIAP-UNSAM CONICET) and holds a master's degree in Preservation and Presentation of the Moving Image (University of Amsterdam). She is a member of RAPA—Argentinian Network of Audiovisual Preservationists, and the creator of Arca VIDEO, a collaborative archive of Argentinian video art. She has undergone specific training on video preservation at Associação Cultural Videobrasil (Brazil), La Camera Ottica (Italy), Media Burn Archive and Video Data Bank (USA), and Cinemateca Boliviana (Bolivia), while also attending the Film Preservation and Restoration School Latin America (CINAIN, Cineteca de Bologna, L'Immagine Ritrovatta and FIAF). She has been a professor at Universidad de Buenos Aires, Universidad del Cine, Universidad Nacional del Arte, and Universidad Nacional de La Plata, among others.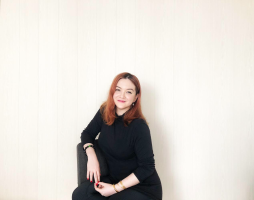 Kathleen Ditzig is a curator at National Gallery Singapore. She received a PhD from Nanyang Technological University in 2023 with a dissertation titled "Exhibiting Southeast Asia in the Cultural Cold War: Geopolitics of Regional Art Exhibitions (1940s–1980s)." She obtained an MA from the Center for Curatorial Studies, Bard College, in 2015. Inspired by her experience in cultural policy, Ditzig studies modern and contemporary Southeast Asian art in relation to global histories of capitalism, technology, and international relations. As a curator and researcher, she is invested in advancing and interrogating art as an exceptional site and system of speaking to power. She won an IMPART Curatorial Award in 2021. Her writing has been published by Southeast of Now, Journal of Social Issues in Southeast Asia, Afterall, post: notes on art in a global context, Art Agenda, and Artforum, among others.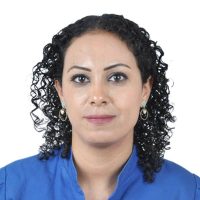 Marzouka Hanna Ibrahim Gaied has a bachelor's degree in Egyptology from El Minya University, Egypt. Their research has focused primarily on the art of Middle Kingdom (about 2000 BCE) in the Beni Hasan al-Shuruq area of Middle Egypt, and they have wide-ranging experience working on many archaeological sites across Egypt. In their current position as Inspector of Antiquities at the Central Department for Seized Antiquities, they are on the front lines of addressing the trade in looted artifacts, which drains Egypt of its cultural resources. Their experiences have provided them with a deep knowledge of excavation techniques, collection management, and a passion for local community engagement. 
Paweł Ignaczak graduated in art history at the Adam Mickiewicz University in Poznań, where he earned a PhD for his thesis on etchings of Jean Pierre Norblin de la Gourdaine (1745–1830) in 2013. Between 2003–15 he worked in the Print Room of the National Museum in Poznań and in the print collection of the Polish Library in Paris. From 2015–22 he worked at the Museum of Warsaw. Since 2015, he has been lecturing at the Academy of Fine Arts in Warsaw, and since 2020 he has been vice-dean at the Faculty of Artistic Research and Curatorial Studies. Currently, he's been conducting research on amateur artistic work in Poland in the second half of the eighteenth and early nineteenth centuries. 
Eyitayo Tolulope Ijisakin is an associate professor in the Department of Fine and Applied Arts, Obafemi Awolowo University, Ile-Ife, Nigeria. His doctoral research focuses on printmaking and the developmental history and contributions of printmaking to contemporary Nigerian art. He has written for Critical Arts and African Arts. Dr Ijisakin is a Fellow of the American Council of Learned Society in the African Humanities Program. He was a Postdoctoral Fellow with the Arts of Africa and the Global South, Rhodes University, South Africa (2017–18). He also received the Carnegie Corporation of New York Fellowship for the 63rd Annual Meeting of the African Studies Association (2020). He has served as a reviewer for several international journals. He is listed among the artists whose works engage social change by the Denver Art Museum, in 2022. He is a member of the Society of Nigerian Artists and the Nigerian Field Society.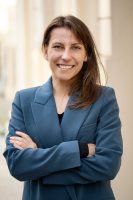 Agnieszka Patala is an assistant professor in the Institute of Art History, University of Wroclaw. The area of her academic focus is medieval art in Europe, with particular reference to panel painting and sculpture—the (multisensorial) relations of artworks with the viewer and space, their use in devotional practices, extra-religious realities of their functioning, including afterlives in the nineteenth totwenty-first centuries. In 2015 she wrote her dissertation on the impact of Nuremberg art and artists on late Gothic panel painting in Silesia. It was published in 2018 and served as a foundation for exhibition, Migrations: Late Gothic Art in Silesia (National Museum in Wroclaw). Currently, she is at work on her postdoctoral project determining the origins, functions, and agency of early altarpieces in Central Europe. She is also a co-investigator in the project, Residua of Premodern Relations with Art in Selected Contemporary Convents in Poland.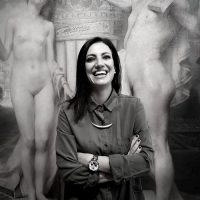 Elena Stylianou researches, writes, and curates at the intersection of the history and theory of photography, modern and contemporary art, critical studies, and museum and curatorial practices. She is currently associate professor at European University Cyprus and president of the International Association of Photography and Theory (IAPT). Her scholarship has been published in peer-reviewed journals and edited volumes, and she is co-editor of Museums and Photography: The Display of Death (Routledge, 2018), Ar(t)chaeology: Intersections of Photography and Archaeology (IAPT Press, 2019), and Contemporary Art in Cyprus: Politics, Identity and Culture Across Borders (Bloomsbury, Spring 2021). She is currently working on a special issue on processes of decolonization and the photographic archive. Elena earned her doctoral degree from Columbia University Teachers College, is a recipient of numerous awards and grants, including a Fulbright and an ArtTable fellowship, and she held a postdoctoral position at UCL, London. She has curated international art exhibitions in Cyprus, and is the lead researcher of several funded projects dealing with arts and heritage.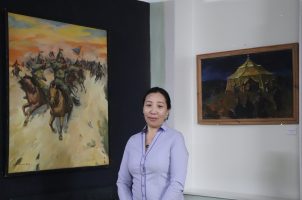 Suvdaa Sampil is a curator at the History and Local Museum of Tuv province, Mongolia, and has been working as a museum curator since 2011. They have written academic articles on cultural heritage research, art history, and interethnic relations that have been published in national and international journals. Moreover, they wrote the books Cultural Heritage of the Central Region and The Settlement of Ethnic Groups in the Tuv Province: Some Cultures and Traditions. After receiving a master's from the University of Mongolia in 2007, their research concentrated mainly on Mongolian and local cultural heritage and art history. Sampil is in charge of the cultural heritage and collections at the museum and curates permanent temporary exhibitions. In 2016, they were a member of the International Committee for Museums and Collections of Modern Art (CIMAM), an Affiliated Organization of ICOM, and became a member of the International Committee of Museums (ICOM) in 2018.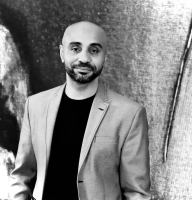 Igor Simões has a PhD in Visual Arts—History, Theory, and Criticism of Art at the Programa de Pós-Graduação em Artes Visuais da Universidade Federal do Rio Grande do Sul (PPGAV-UFRGS) and is the adjunct professor of History, Theory, and Criticism of Art and Methodology and Practice of Art Teaching (UERGS). He was assistant curator of the 12th Mercosur Biennial, member of the curatorial committee of the National Association of Fine Arts Researchers (ANPAP). He works with the links between exhibitions, film editing, art history, and racialization in Brazilian art and the visibility of Black subjects in the visual arts and is the author of the thesis "Film Editing and Exhibition: Black Voices in the White Cube of Brazilian Art." He is also a member of the curatorial committee of the Museum of Contemporary Art at the University of São Paulo/USP. Curator of the exhibition "Presença Negra no Museu de Arte do Rio Grande do Sul" (2022). He is a member of the curatorial boards of the exhibitions Social Fabric and Enpowerment and a member of the board of AWARE—Archives of Women Artists, Research and Exhibitions and Fractured Times. In 2023 he was general curator of Dos Brasis: Arte e pensamento negro, the most comprehensive exhibition of Black Brazilian artists (Brazil- São Paulo). That same year he was guest curator at the Inhotim Institute for the 2023 season, curating the exhibitions Mestre Didi: The Initiates in Mystery Don't Die and Doing the Modern, Building the Contemporary: Rubem Valentim and the Right to Form. In 2024, he will co-curate Rosana Paulino: Atlântica e Amefricana at Museo de Arte Latinoamericano de Buenos Aires (MALBA). 
Trained as a studio artist with a major in sculpture, Kanwal Syed earned her PhD in art history from Concordia University as the 2023 Graduate Valedictorian. During her candidacy, she earned the prestigious FQRSC doctoral grant and numerous internal grants, published three journal articles, co-chaired two panels at the annual College Art Association conference, and presented papers at academic conferences in Vancouver, Brighton, Rome, and Chicago. Her dissertation titled "ھم گنہاگار عورتیں (We Sinful Women): Urban Feminist Visuality in Contemporary Art and Feminist Movements in Pakistan After 9/11," garnered an Honorable Mention in the UC Berkeley South Asia Art & Architecture Dissertation Prize 2023 and has been nominated for NAGS Dissertation Award 2023–24. Before joining American University in Dubai as an Assistant Professor of Art history, she worked as an adjunct faculty at the University of British Columbia and as a part-time faculty at Concordia University. Her research interests encompass non-Western art, decoloniality and cultural feminist visuality in contemporary art. 
Carolina Vanegas Carrasco researches the processes of creation and reception of nineteenth-century monuments in Latin America. She is the current director of Centro de Estudios Espigas at the Universidad Nacional de San Martín, Argentina, and researcher of the Centro de Investigaciones en Arte y Patrimonio (CONICET-UNSAM). Vanegas is General Coordinator of the Group of Public Art Studies in Latin America based on the Universidad de Buenos Aires. She is the author of Disputas monumentales: escultura y política en el Centenario de la Independencia en Colombia (Bogotá, 1910) (2019, Instituto Distrital de Patrimonio Cultural of Bogotá).   
Fanying Zhang, an Assistant Professor in the Department of Arts Administration, Education, and Policy at the China Academy of Art, earned her Ph.D. in Art History in 2021. Her research focuses on unraveling how the Western world shaped its perceptions of Chinese art in the 20th century.  She places particular emphasis on analyzing exhibitions, conferences, publications, and the contributions of scholars, artists, and curators to the global dissemination of Chinese art. Zhang's academic career commenced with a graduate program centered on Osvald Sirén who had already been an accomplished scholar in the study of Trecento painting before getting involved in the study of Chinese art. After that, she expanded her interests in transcultural art history, particularly the role of Chinese art in constructing global art history. She has incorporated this interest into her teaching and is engaged in international collaborations. She is also involved in a project on Professor James Cahill's archive initiated by the China Academy of Art, further enriching her experience in the field. 
PARTICIPATING ALUMNI 
Amrita Gupta is an art historian, writer, administrator, and editor involved in arts education and cultural management. With over two decades in the nonprofit cultural sector in India, she has contributed through art historical research, teaching, published writing, arts programming, and institution building. In 2002, she joined the Mohile Parikh Center (MPC), Mumbai, and became its Program Director in 2005, a responsibility she served till early 2023. In this capacity, she facilitated critical thinking by curating a wide range of innovative art education programs, initiating public art projects, and co-creating short art videos for diverse audiences, and remains associated with the MPC in an honorary capacity. She is Founding Member and Co-director at the Council for Arts and Social Practice (CASP), established in 2013 as a transdisciplinary platform to facilitate critical dialogues on cultural sustainability. Her practice at CASP focuses on the interplay of social history, fieldwork, community-based art, and collective experience. She serves as a jury member for the Arthur Kingsley Porter Prize for Art Bulletin articles and the SAIL Mentorship Program (Edition III) at Sunaparanta Goa Center for the Arts. In 2019, she co-founded and edits the e-journal, Partition Studies Quarterly (PSQ), which focuses on partition narratives of Northeast India, and other less-remembered partition stories in the subcontinent. Her ongoing and independent research focuses on the art practices of Northeast India, and an essay on this topic has been published in the edited book 20th Century Indian Art (Thames & Hudson and Art Alive, 2022). Her art writings for anthologies, journals, exhibition catalogs, and magazines have been published widely in leading print and digital platforms; she has edited art books for children and continues to write on Indian modern and contemporary art.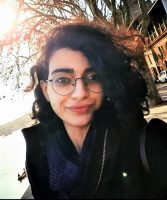 Delaram Hosseinioun received her first MA in literary criticism from the University of Exeter and her second MA in cultural studies from KU Leuven University. In her PhD project at Utrecht University, titled "Unveiling the Other: The Metamorphosis of Voices of Iranian Female Artists from the Mid-Twentieth Century to the Present Day," Delaram draws from gender theories in poststructuralist psychoanalysis, such as in the works of Butler and Cixous, along with theories regarding self and forms of othering in continental philosophy, namely works of Bakhtin and Derrida. Her goal is to trace the trajectories and endeavors of Iranian female artists in reclaiming their identities. Working along with the artists Delaram explores the artworks as a pictorial form of dialogue and artists' attempts in surpassing sociocultural restraints. Delaram's focus rests on the revelation and universality of women's voices in creative platforms, art journalism and interviewing artists beyond borders.    
Mariana Levytska is an associate professor in the Department of Graphic Design and Artbooks of the Ukraine Academy of Printing. She works as a part-time senior research associate in the Department of Art Studies of the Ethnology Institute at the national Academy of Ukraine in Lviv. She received her PhD in the history of art from the Lviv National Academy of Arts in 2023. She specializes in Ukrainian art of the long nineteenth century through social art history optics. In 2022 she began a research project focused on artists' response to the warfare in Ukraine, after the full-scale Russian invasion.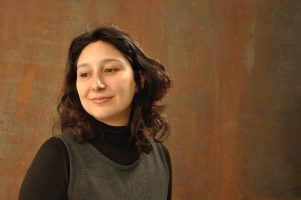 Ana Mannarino is an art historian and professor of Art History at School of Fine Arts at Federal University of Rio de Janeiro (EBA-UFRJ) and at Visual Arts Postgraduate Program at Federal University of Rio de Janeiro (PPGAV-UFRJ). She received her PhD in Art History/Visual Arts at PPGAV-UFRJ and participated in a yearlong collaborative study program at Université Sorbonne Nouvelle-Paris 3. Her doctoral thesis, "Word in Brazilian Art: Mira Schendel and Waltercio Caldas," focuses on the relationship between text and image in Brazilian contemporary art, especially in the work of these two artists. Her research also considers modern art and historiography of art in Brazil, the connections between art and poetry, Concrete art, and the production of artists' books. 
This program is made possible with support from Getty through its Connecting Art Histories initiative.