posted by CAA — Jul 06, 2023
Getty has awarded College Art Association (CAA) a grant to fund the CAA-Getty International Program for a thirteenth consecutive year. The Getty Foundation's support will enable CAA to bring twelve international visual-arts professionals to the 112th Annual Conference, taking place in Chicago, February 14–17, 2024. These individuals will be first-time participants in the program and will be accompanied by alumni of the program returning to present papers during the conference. 
Participants will receive funds for travel expenses, hotel accommodations, per diems, conference registrations, and one-year CAA memberships. We encourage all international art historians, art history educators, and museum curators to apply. The program will also include a one-day preconference colloquium on international issues in art history on Tuesday, February 14, as well as ongoing engagement with other alumni from the program online and at future conferences. The deadline for applications is August 15, 2023. Guidelines and application can be found here. 
In 2021, CAA organized a publication to celebrate ten successful years of the CAA-Getty International Program. The publication, entitled Global Conversations: 10 Years of the CAA-Getty International Program features in-depth accounts of the program, a timeline of important events and milestones, and directories of past papers, members, and meetings.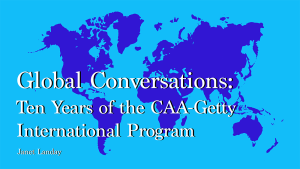 The CAA-Getty International Program was established to increase international participation in CAA and the CAA Annual Conference. The program fosters collaborations between North American art historians, artists, and curators and their international colleagues and introduces visual arts professionals to the unique environments and contexts of practices in different countries. 
Since it began in 2012, the program has brought 159 scholars to the conferences, from over 50 countries located in Central and Eastern Europe, Asia, Southeast Asia, Africa, the Caribbean, and Central and South America. Each year, a preconference colloquium on international topics in art history inaugurates the week, kicking off four days of conference sessions, meetings with new colleagues, and visits to museums and galleries. Subsequent to these events, the program has generated many scholarly collaborations, including publications, conferences, and exhibitions. 
Most of all, former grant recipients have become ambassadors of CAA in their countries, sharing knowledge gained at the Annual Conference with their colleagues at home. Past recipients have said that "variety of topics presented also exposed me to the realization that there is so much to be done to unearth the hidden treasures of global art history, which hitherto I have overlooked in my discipline and nation but which will now form the basis of my future projects," and "the direct contact with other global south researchers is an unique occasion, rarely possible and extremely enriching." 
This program is made possible with support from Getty.