posted by CAA — November 29, 2022
CAA is pleased to announce this year's participants in the CAA-Getty International Program. Now in its twelfth year, this international program, supported by the Getty Foundation, welcomes twelve new participants and four alumni to attend the 2023 Annual Conference in New York City. The goal of the CAA-Getty International Program is to increase international participation in CAA's activities and the field of visual arts in academia, thereby expanding international networks and the exchange of ideas both during and after the conference. We look forward to welcoming this year's participants!  
At a pre-conference colloquium, the new participants will discuss key issues in the international study of art history together with CAA-Getty alumni and US hosts. The program will delve into topics such as postcolonial and Eurocentric legacies, decolonization of museums, scholarship and pedagogy, interdisciplinary and transnational methodologies, and the intersection of politics and art history. Learn more about the first ten years of the program in our online publication. 
Program participants—art historians, curators, and artists—hail from multiple countries, expanding CAA's international membership and contributing to an increasingly diverse community of scholars and ideas. Selected by a jury of CAA members from a highly competitive group of applicants, each participant will receive funding for travel, hotel accommodation, conference registration, CAA membership, and a per diem. 
Alumni invited back to the 2023 conference will present at the Global Change, Crisis, and the State of the Visual Arts session while also connecting our new participants with our burgeoning group of nearly 150 CAA-Getty International Program alumni.  
2023 PARTICIPANTS IN THE CAA-GETTY INTERNATIONAL PROGRAM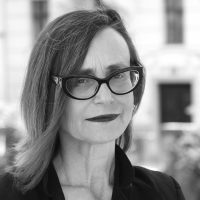 Marina Grzinic is a principal research associate at the Research Centre of the Slovenian Academy of Sciences and Arts (ZRC SAZU) in Ljubljana, Slovenia, where she is affiliated with the Institute of Philosophy. She holds a PhD in philosophy and is an artist with a forty-year career. She has been a professor at the Academy of Fine Arts Vienna, Austria, since 2003, in charge of the Studio of Conceptual Art (Post-Conceptual Art Practices) at the Institute of Fine Arts. Grzinic is the principal investigator of the Austrian Science Fund and Programm zur Entwicklung und Erschließung der Künste (FWF-PEEK) project "Conviviality as Potentiality" (2021–25). She was also the principal investigator of the FWF-PEEK project "Genealogy of Amnesia (Opposing Colonialism, Antisemitism and Turbo-Nationalism)" (2018–21). Her areas of expertise include contemporary philosophy, contemporary art, the study of coloniality and decoloniality, transfeminism, the analysis of racism, antisemitism, nationalism, and the study of memory and history in the context of resistance.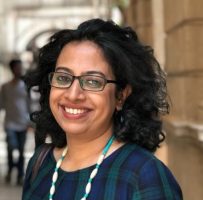 Amrita Gupta is an art historian, writer, educator, and editor who works across art education and cultural management. In 2002, she joined the Mohile Parikh Center (MPC), Mumbai, and became its program director in 2005, facilitating critical thinking by curating a wide range of innovative art education programs. She runs the website V-IDEO: Ideas worth Sharing, an archive of short videos on Indian artists for which MPC is the knowledge partner. She received an MFA in art history from Viswabharati University, Santiniketan 2002.  
Her writings on modern and contemporary art have been published in anthologies, journals, and websites in India and internationally, and she has authored and edited art books for children. She was a visiting lecturer in art history at the Sir J. J. School of Art, Mumbai; a fellow at ARThink South Asia (ATSA); a research grantee from the India Foundation for the Arts, and curatorial advisor for Art1st Foundation, Mumbai. Her current art historical research is on Northeast India, framing the region as a "critical art geography" where one can attend to meanings that engage with global modernism and heterodox contemporaneity drawn through one's own historical position. An essay from this research has been published in the book 20th Century Indian Art (Thames & Hudson, 2022). She is cofounder and executive editor of the independent e-journal, Partition Studies Quarterly which focuses on partition stories of Northeast India within the larger discourse of the partition in the subcontinent.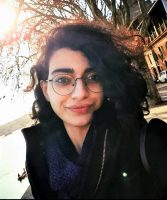 Delaram Hosseinioun was born and reared in Tehran, Iran, and seeks to reflect the voice of Persian women in creative and comparative narratives in spite of borders and restrictions. Delaram received an MA in literary criticism from the University of Exeter and another in cultural studies from KU Leuven University. Through her PhD project at Utrecht University, titled "Unveiling the Other: The Metamorphosis of Feminist Persian Art from the Mid-Twentieth Century to the Present Day," Delaram draws from gender theories in French psychoanalysis, such as in the works of Hélène Cixous and Judith Butler, and continental philosophy, namely in the work of Mikhail Bakhtin and Jacques Derrida. Working with artists and scholars around the world, Delaram deciphers artworks as pictorial dialogues and as artists' attempts to surpass sociocultural restrictions. The revelation and universality of the feminine voice frame her core vision. Delaram's other passion is art journalism and interviewing artists beyond borders.  
Brigitta Isabella is a researcher of art history, critical theories, and cultural studies. Her research trajectory revolves around the (im)mobility of artists and the (im)mobilization of art within the geopolitical and geoaesthetic terrains of transnational solidarity. By looking into the transnational traffic of artists, objects, and ideas, she reexamines the reciprocity between nationalism and internationalism and how artistic traces of Third World solidarity can play a discursive part in decentralizing global art history. She studied philosophy at Gadjah Mada University, Yogyakarta, Indonesia, and gained her MA in critical methodologies at King's College, London. She is also a part of a research-action group called Kunci Study Forum & Collective and serves as the coeditor of Southeast of Now: Directions in Contemporary and Modern Art in Asia, a peer-reviewed journal published by NUS Press. She is a lecturer at the Faculty of Visual Arts in Indonesian Institute of the Arts, Yogyakarta.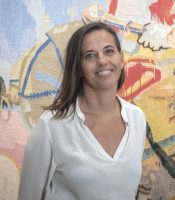 Żanna Komar, PhD, was born in Ukraine, lives in Poland, and is an art historian, theoretician of architecture, and exhibitions curator. She is a member of the academic staff at the Institute of European Heritage, part of the International Cultural Centre, Kraków, where she works as a content specialist. She specializes in urban studies, social and art history, and the theory and protection of cultural heritage. She is the author of numerous publications on the history of architecture and art, including the book Trzecie miasto Galicji. Stanisławów i jego architektura w okresie autonomii galicyjskiej (The third city of Galicia. Stanisławów and its architecture in the period of Galician autonomy, 2008). She writes about Art Nouveau, historicism, modernism, and contemporary art, and about totalitarian and modern architecture in present‑day Poland and Ukraine.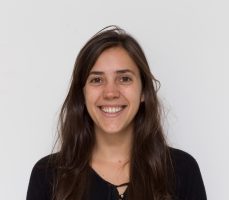 Larisa Mantovani holds a PhD in history from the Escuela Interdisciplinaria de Altos Estudios Sociales, Universidad Nacional de San Martín, Buenos Aires. She has a BA in art history and a teacher training degree in art history from Universidad de Buenos Aires. She is a postdoctoral fellow at the Research Center in Art and Heritage of the National Scientific and Technical Research Council (CIAP/UNSAM-CONICET). She works as an assistant professor of history of decorative arts I and II at the Universidad del Salvador. Both her dissertation and current postdoctoral research focus on applied arts and the links between art, education, and industry in Argentina in the first half of the twentieth century.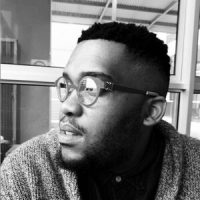 Thabang Monoa's research interests involve art history, art criticism, visual culture, curatorial practice, and cultural studies. He completed his undergraduate studies at the Tshwane University of Technology and then went on to do a master's degree in visual art at the Faculty of Art, Design and Architecture, University of Johannesburg. He later worked as an art historian in the faculty's department of visual art. His doctoral study, which he undertook with the SARChI Chair in South African Art and Visual Culture, focused on the notion of Blackness in Afrofuturist aesthetics. Monoa is a member of the College Art Association (CAA) in the USA; a former council member of the South African Visual Art Historians (SAVAH); and is coconvenor of the Gerard Sekoto Winter/Summer School, which is administered through the Johannesburg Art Gallery. In his current capacity as a lecturer in Art History at the University of Cape Town's Michealis School of Fine Art, Monoa continues to generate scholarly output concerning racial aesthetics, notions of futurity, and Black radical thought. 
Haoxue Nie is an assistant professor at the School of Art and Humanities, Guangzhou Academy of Fine Arts. She holds a PhD in Western modern art history and theory from the China Academy of Art (2018). Her dissertation was published as a monograph in 2019 titled Beyond Boundaries: George Ault and Early Modern American Art. She was a recipient of the Getty Foundation grant for the 35th CIHA Congress (2019) and the international Travel Grant by Terra Foundation for American Art (2016).   
Her research covers the first half of twentieth-century American art history, especially from the 1920s to the 1950s. Recently, she has been focusing on the visual ideology of cityscapes within this period and how they remained minor artworks in the mainstream of art history, as well as the concept of time, space, and subjectivity as formal, ideological, and psychological manifestations. The intertextuality among easel painting, modern photography, and films with urban themes in American modernism is also a part of her scholarly explorations.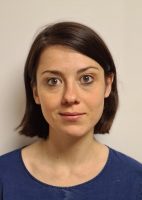 Zuzanna Sarnecka is an assistant professor of art history at the University of Warsaw (Poland).  She earned her PhD in history of art at the University of Cambridge (2017). She is the author of The Allure of Glazed Terracotta in Renaissance Italy (Brepols, 2021) and coeditor of The Agency of Things in Medieval and Early Modern Art. Materials, Power and Manipulation (Routledge, 2017) and The Materiality of Terracotta Sculpture in Early Modern Europe (Routledge, 2023). Her current research focuses on the adaptation of technique of tin-glazed earthenware from the Italian peninsula across Central Europe. In her work, she aims to construct more inclusive narratives through close investigation of microhistories that have long remained ignored, not because of the lack of sources, but because of the cult of masterpieces. She promotes multisensory perspective in studies of the arts of the past, as more immediately significant for the twenty-first-century beholder, than stylistic attributions and dating.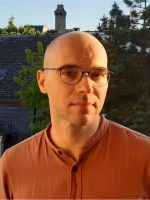 Jakub Stejskal is a MASH junior research group leader at the Department of Art History, Masaryk University, Brno, where he heads the research group Remote Access: Understanding Art from the Distant Past. He has held fellowship positions at eikones (University of Basel) and Freie Universität Berlin. He holds a PhD in aesthetics from Charles University, Prague. His research interests lie at the intersection of archaeology, art history, anthropology, and philosophical aesthetics. He is the author of Objects of Authority: A Postformalist Aesthetics (Routledge, 2022) and his work has appeared in Critical Inquiry, World Art, Journal of Aesthetics and Art Criticism, and RES: Anthropology and Aesthetics.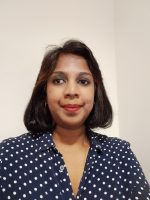 Cheryl Chelliah Thiruchelvam holds a PhD in art history and is currently attached to the Advertising Department, Faculty of Arts and Social Science at Universiti Tunku Abdul Rahman (UTAR), Malaysia. Her research interests are Hindu-Buddhist visual arts of the Southeast Asian region and to a lesser extent feminist studies. Her latest publication is a book chapter on the prevalence of the Ramayana epic in Malaysian visual arts for the book The Multivalence of an Epic: Retelling the Ramayana in South India and Southeast Asia (Manipal Universal Press, 2021). She also has a forthcoming coauthored essay entitled, "Tracing Indian Cultural Connections in Malaysia and Brunei: From Early Candis to Modern Art," for the book Connected Histories of India and Southeast Asia: Icons, Narratives, Monuments that will be published by SAGE Publications India. Besides that, she is also interested in writing criticism, reviews, and commentary within the Malaysian art scene. 
Tanja Trška is assistant professor at the Department of Art History, Faculty of Humanities and Social Sciences, University of Zagreb, Croatia, where she teaches courses on early modern art in Europe and present-day Croatia. She received her PhD in art history from the Scuola Normale Superiore in Pisa, Italy (joint supervision with the Faculty of Humanities and Social Sciences, University of Zagreb) in 2014. Her research interests center on early modern art and architecture, the exchange of cultural and artistic experiences between Italy and the eastern Adriatic coast, art patronage, and history of collections. She has collaborated on Croatian Science Foundation's research project "Visualizing Nationhood: The Schiavoni/Illyrian Confraternities and Colleges in Italy and the Artistic Exchange with South East Europe (15th–18th centuries)" (2015–18) and is currently a team member of the research project "Provenance Research on Artwork in Zagreb Collections" (2020–24). 
PARTICIPATING ALUMNI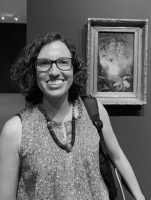 Patricia D. Meneses is an assistant professor of art history at the University of Campinas (Brazil). She earned her PhD in history of the visual arts at the University of Pisa (2009). She is the author of Baccio Pontelli a Roma. L'attività dell'architetto per Giuliano Della Rovere (Felici Editore, 2010) and editor of several books, such as Arte Não-Europeia: Conexões historiográficas a partir do Brasil (Estação Liberdade, 2020) and A imagen como experimento. Debates contemporâneos sobre o olhar (Milfontes, 2021). In 2019, she was Hans Jonas visiting professor at the University of Siegen, where she taught a course on "exotic" materials in art history. She is currently part of a Connecting Art Histories project sponsored by the Getty Foundation ("Teaching and Researching Non-European Art at Brazilian Universities"). Her research focuses on the connections between art, science, and ecology in the nineteenth century.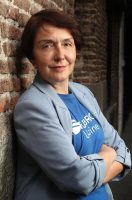 Natalia Moussienko is a leading research fellow at the Modern Art Research Institute of the National Academy of Arts of Ukraine (Kyiv). She is the author of numerous books and articles on art history, cultural diplomacy, cinema, and urbanism, including Art of Maidan (2016), Kyiv Art Space (2013), and Arts and Politics (2002). In 2016 the National Academy of Arts of Ukraine awarded Dr. Moussienko a gold medal for her achievements in cultural diplomacy. She was also awarded a Fulbright scholarship to conduct research at the Kennan Institute, Wilson Center, in Washington, DC (2011–12), and a Thesaurus Polonia Fellowship to study at the International Cultural Center in Krakow (2017 and 2022). Dr. Moussienko is an initiator and curator of Art of Maidan, a continuing project begun in 2014 to document the explosion of artistic creativity during the Revolution of Dignity in 2013–14 and a Russo-Ukrainian war premonition in it. Central to the project is a book and exhibition that has already been presented in nineteen locations in Ukraine, the United States, and Europe.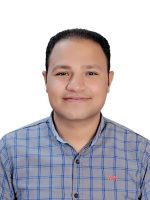 Shenouda Rizkalla Fahim Youssef is a trained archaeologist with extensive experience in archaeological fieldwork, database and collections management, and community outreach. His current research focus is on the museum practices in the Egyptian provinces, using the Akhenaton Museum in Minya, Egypt, as a case study. The museum, opening in 2023, will focus on the site of Tell el-Amarna, where the famous bust of Nefertiti, currently exhibited in the Egyptian Museum in Berlin, was found. The aims of the presentation are to analyze the archival resources for the history of the museum, develop community outreach programs by engaging the local population with the collection, and using this to develop avenues for future outreach activities. The results will be related to wider discussions of repatriation and postcolonial heritage management in Egypt.    
Rizkalla received a PhD in Egyptology from Helwan University, Egypt. His research has been diverse, working on recording and translating Ptolemaic Period hieroglyphics, creating and executing site management strategies, and addressing the looting of archaeological sites. He has been a member of many excavations and site management missions in Egypt since 2012, has given numerous presentations and invited talks, and has written a number of academic reports and publications.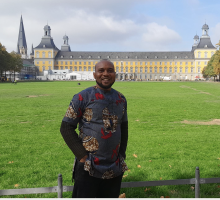 J. Kelechi Ugwuanyi is a senior lecturer in the department of archaeology and tourism, University of Nigeria, Nsukka. He is currently a postdoctoral research fellow at the Global Heritage Lab, Transdisciplinary Research Area: Present Pasts, University of Bonn, Germany. Kelechi has a PhD in heritage studies from the University of York, UK, and MA and BA in archaeology and tourism as well as a diploma in tourism and museum studies from the University of Nigeria. He is a coeditor of the Journal of African Cultural Heritage Studies and sits on the editorial board of the Studies in Contemporary and Historical Archaeology in Theory book series published by the Archaeopress. Kelechi's research interests are critical heritage studies, museum, Indigenous knowledge systems, tourism, and contemporary archaeology. His current research revisits the originating communities of ethnographic archives collected from Africa during colonialism to reengage members of the descendant communities to understand their changing significance in the present.