posted by CAA — February 13, 2018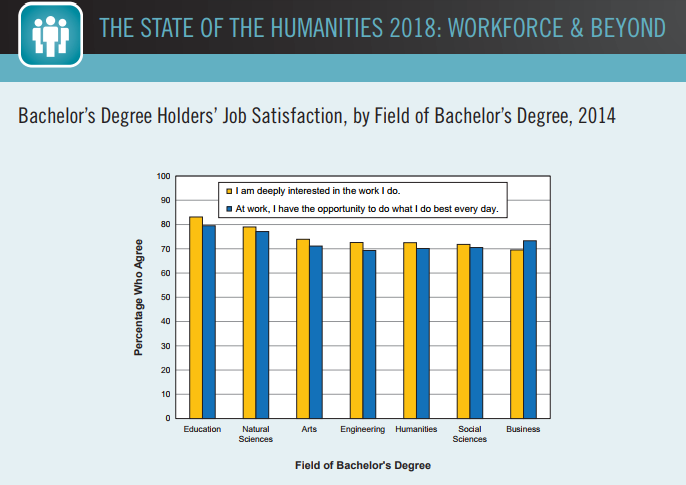 The Humanities Indicators project, an Andrew E. Mellon Foundation-funded initiative, just released the most recent numbers on salaries for those entering the the humanities professions. CAA has been an active participant in the initiative for the past few years.
Their survey shows that as of 2015, for arts graduates in the workforce, the median earnings for art history majors in the workforce with just a bachelor's degree were $45,000, while those who had gone on to earn an advanced degree (which could be in any discipline) had median earning of $65,000. Graduates who majored in the arts had median earnings of $48,000 (with just a bachelor's degree) and $60,000 (with an advanced degree). In all cases, these were slightly below the average for all fields.
These updates about earnings are tied to a new report on humanities majors in the workforce, which tries to look beyond earnings, and finds that when it comes to job satisfaction and perceived well-being, humanities majors are pretty much the same as graduates from every other field (including art majors).
Among the key findings in the new report:
Almost 87% of workers with a bachelor's degree in the humanities reported they were satisfied with their jobs in 2015, comparable to graduates from almost every other field.
Over three-quarters of humanities graduates saw themselves at or approaching "the best possible life," which was similar to the shares among engineering and natural science graduates. Education majors had the highest level on this measure.
The academic fields were quite similar with respect to their graduates' level of satisfaction with their personal financial situations in 2014. Among graduates from engineering, barely 50% reported "I have enough money," while among humanities and education graduates, the share was 42%. (Arts majors had the lowest share on this question.)
More than a million graduates with bachelor's degrees in the humanities were employed as managers in 2015, and almost 60% of humanities graduates report managing or supervising employees as part of their job (which was equal to the share of all graduates).
While much of the report points to similarities, there was one notable difference: only 30% of graduates with a bachelors in humanities perceived a close relationship between their job and their degree in 2014, while more than a third saw no relationship. Fine and performing arts majors were similar on this score. This differed substantially from graduates with science and professional degrees.