posted by CAA — Jul 04, 2016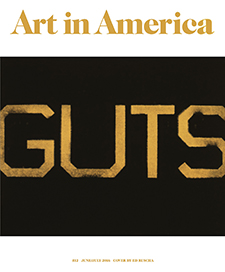 As one of the most venerable American art publications for collectors, artists, art dealers, and art professionals, Art in America is CAA's featured membership partner for July.
Since 1913, Art in America has been instrumental in defining the many art movements that coalesced over the course of a dynamic century. The magazine works with the finest critics, scholars and reporters, identifying trends and creating a record of key developments in the world of art. Having earned a reputation for the highest journalistic and critical standards, Art in America has helped shape the sensibilities and standards of generations of curators, artists, collectors and dealers.
Each month Art in America, the world's premiere art magazine, provides in-depth coverage of the global, and often controversial, art scene. Every issue contains articles on both respected and rising talents, and reviews of current exhibitions around the world. Each subscription to Art in America includes the "Guide to Museums, Galleries & Artists," published in August.
CAA members can receive a special discount (CAA members $24.95; regular $45) on a one-year subscription to Art in America. Simply log into your CAA member page to unlock the special discount code and apply it to checkout on the Art in America subscription page.