posted by CAA — Jun 28, 2022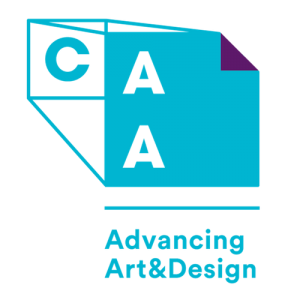 The CAA-GOLDEN Scholarship Program supports artists whose mission it is to give back to their communities through teaching, while nurturing and developing their own talents and capabilities as artists. Funded by Golden Artist Colors, Inc., CAA grants two unrestricted scholarships of $8,000 each on an annual basis to artists with an MFA who are pursuing a career in K-12 education. Grantees will also receive two weeks at the Sam and Adele Golden Foundation Residency Program, $1000 towards GOLDEN products, registration to the 2023 CAA Annual Conference, and one year of CAA membership.   
MEET THE GRANTEES 
Mick Bodnar 
Having grown up between two dairy farms in rural New York State, Mick Bodnar is something of an anomaly in the art world. He has over two decades of experience as a working-class graphic designer. After being displaced from that career, he embarked on a formal education. His collegiate career began at SUNY Broome Community College, where he gained an AS in Visual Communication Arts, and received the BCC Foundation Scholarship for Excellence in Liberal Arts, the Robert R. Cotten II Award in Graphic & Editorial Design, plus the SUNY Broome Second Chance Scholar Award. With those achievements, he was offered a generous scholarship to attend an elite private college. From that institution, Bard College, he earned a BA in Studio Arts, the Studio Arts Award, and the Bard Center for the Study of Hate Fellowship Award. In 2022, he gained an MFA in Painting & Drawing from SUNY New Paltz, as well as the Outstanding Graduate Award in Studio Arts and the Sojourner Truth Fellowship Award. In 2022, he plans to pursue a master's degree in Art Education from Adelphi University. 
Mick is proud that his work to date has been well-received equally by the layman as well as by academics. He believes that art is the purest form of communication between humans, crossing the barriers of time, culture, and language — and that everyone should have access to it, regardless of background. He is committed to making art available to the general population. 
Beth Reitmeyer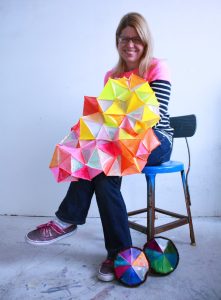 Beth Reitmeyer. Photo by Krystal Henriquez / Assets for Artists. 
Beth Reitmeyer is a visual artist based in Nashville, TN who likes to make people happy with her colorful installations. Her work investigates landscapes and the joy of unexpected yet beautiful spaces and places that are discovered as one explores the land and structures within it: clouds, rivers, caves, geodes, stars. These environments allow viewers to explore the land and get to know one another in a more profound way, providing space for renewal and hope for persevering. 
Beth was born in Colorado Springs, CO and raised in Louisville, KY. She attended Northwestern University (MFA), The School of the Art Institute (Post Baccalaureate program), and the Pennsylvania State University (BFA). In the fall of 2022, she will be pursuing a Master's in Education/Teaching at Western Kentucky University or Lipscomb University. 
Beth teaches with the Frist Art Museum, Western Kentucky University, Cheekwood Estates and Gardens, and Nashville School of The Arts. 
Beth's work has been exhibited at the Frist Art Museum, Nashville; Elizabeth Foundation for the Arts, New York; OZ Arts, Nashville; 1708 Gallery/Virginia Museum of Fine Arts, Richmond, VA; FIGMENT, Chicago; The Downing Museum, Bowling Green, KY; Kindling Arts Festival, Nashville; Zg Gallery, Chicago; Ground Floor Gallery, Brooklyn, NY; Institute of Contemporary Arts, London. Beth has been an artist-in-residence at The Studios at MASS MoCA, ChaNorth/ChaShaMa Foundation, The Ragdale Foundation, CONVERGE, and Mineral House Media. Recent awards include grants from the Metro Nashville Arts Commission/National Endowment for the Arts and a finalist for a Burning Man grant.