posted by Christopher Howard — Sep 16, 2009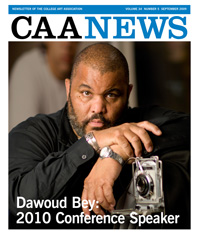 The September CAA News has just been published. All individual and institutional members may download the PDF from the CAA website.
Inside you'll find early information about the upcoming Annual Conference. Among the special events for Chicago is a keynote address by the renowned photographer Dawoud Bey, who will speak at Convocation. In addition, the painter Phyllis Bramson has been named one of two artists to be interviewed in ARTspace.
Also included in the issue are details about two conference mentoring sessions—the Artists' Portfolio Review and Career Development Mentoring—as well as an interview with Jackie Battenfield, the author of the recently published book, The Artist's Guide: How to Make a Living Doing What You Love.
The September newsletter is the second in our return to a digital-only format. The layout has been changed to better fit your computer screen, and all images are now in color. If you prefer to read a hard copy, printed pages are clear and readable.
Submissions to the Endnotes section of the November CAA News are due by September 30; please review the guidelines before sending your listing. Questions or concerns? Please contact Christopher Howard, CAA managing editor.