posted by CAA — Jan 29, 2018
CAA has awarded two 2017 Professional Development Fellowships—one in art history and one in visual art—to graduate students in MFA and PhD programs across the United States. In addition, CAA has named one honorable mention in art history and one in visual art. The fellows and honorable mentions both receive a complimentary one-year CAA membership and free registration for the 2018 Annual Conference in Los Angeles.
The recipient of the $10,000 fellowship in art history is Sooran Choi, a PhD candidate in Art History at CUNY Graduate Center. Accepting the $10,000 fellowship in visual art is Brenna K. Murphy, a MFA candidate in Studio Art at the University of Michigan Stamps School of Art & Design.
The honorable mention for art history goes to Murad Khan Mumtaz, a PhD candidate in the Department of Art and Architectural History at the University of Virginia. The recipient of an honorable mention in visual art is Courtney N. Ryan, a MFA candidate in Ceramics and Sculpture at Georgia Southern University.
Suzanne Preston Blier, president of the CAA Board of Directors, will formally recognize the two fellows and two honorable mentions at the 106th Annual Conference during Convocation, taking place on Wednesday, February 21, 2018, at the Los Angeles Convention Center.
CAA's fellowship program supports promising artists and art historians who are enrolled in MFA and PhD programs nationwide. Awards are intended to help them with various aspects of their work, whether for job-search expenses or purchasing materials for the studio. CAA believes a grant of this kind, without contingencies, can best facilitate the transition between graduate studies and professional careers. The program is open to all eligible graduate students in the visual arts and art history. Applications for the 2019 fellowship cycle will open in the late spring.
FELLOW IN ART HISTORY
Sooran Choi
Sooran Choi will complete her PhD in Art History at The Graduate Center, City University of New York, in summer 2018. Her dissertation The South Korean "Avant-Garde," 1967-1992: Subterfuge as Radical Agency concerns the South Korean avant-garde under Cold War military dictatorships from 1967 to 1992, and focuses on the social and political tension between the military dictatorships and the opposition of political dissidents comprised mostly of artists, students, and intellectuals, who defined themselves as "avant-garde artists." By examining various forms of performative and conceptual art along with the recontextualized rhetoric of the avant-garde in South Korea, Choi argues South Korean artists appropriated and repurposed various Euro-American post-WWII avant-garde practices such as Fluxus, Happenings, Conceptualism, and Environmental art to mask their social and political critique to evade censorship and torture by the military juntas. A re-purposed avant-garde as covert political agency, Choi contends, proved useful for the South Korean artists to further their own social and political ends, and requires a renewed and nuanced interpretation of non-Western art historical trajectories beyond the binary of center/periphery model, and expands the existing discourse on the avant-garde.
Choi has received a Center for Place, Culture and Politics Dissertation Fellowship, and research grants from The Academy of Korean Studies, and the City University of New York. Choi's scholarly interest in diverse art historical trajectories has carried over into her teaching as an Adjunct Lecturer at the City University of New York and the Fashion Institute of Technology (SUNY) where she teaches art history. Her past writing included topics such as East Asian artists in diaspora, alternative art spaces in South Korea, Gwangju Biennials, the Korean War Memorial in Battery Park (NYC), Japanese students at the Bauhaus, and the eroticism of Japanese Shunga art.
FELLOW IN VISUAL ART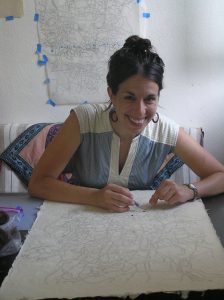 Brenna K. Murphy
Brenna K. Murphy explores the experience of loss and its relationship to the body using fiber-based techniques such as weaving, embroidery, and lace-making. She holds a B.F.A. from the University of North Carolina – Chapel Hill where she graduated with Highest Honors and was the recipient of the Alexander Julian Prize, an award for the Department of Art's "best students making work with a high standard of design," and is currently pursuing an M.F.A. from the University of Michigan Stamps School of Art & Design.
A working artist for many years, Brenna has exhibited widely throughout the U.S. and internationally in China, Nepal, and France in community art centers, commercial galleries, and corporate venues. Her work has also been featured in exhibitions at museums and universities such as the Hunter Museum of American Art in Tennessee, the Patan Museum in Kathmandu, the University of Pennsylvania, Moore College of Art & Design, and the Tyler School of Art at Temple University. She has taught courses, led workshops, and given lectures at venues such as the Kathmandu University Center for Art & Design, the Nepal Art Council, and the Tyler School of Art, and her work has been collected by the Henry-Copeland Permanent Art Collection at the University of North Carolina and the prestigious West Collection. She is the recipient of many awards, including a competitive two-year fellowship from the Center for Emerging Visual Artists and the Fleisher Art Memorial Wind Challenge Award in Philadelphia, and has attended several artist residencies, such as the Santa Fe Arts Institute in New Mexico, the Kathmandu Contemporary Arts Centre in Nepal, and the CAMAC Centre d'Art and Cité Internationale des Arts in France.
HONORABLE MENTIONS IN ART HISTORY AND VISUAL ART

Murad Khan Mumtaz
Murad Khan Mumtaz is a Pakistani-American scholar who examines historical intersections of art, literature and religious expression in South Asia. His primary research focuses on devotional portraiture with a special interest in representations of Muslim saints in early modern India. He is also an artist trained in the traditional practices of North Indian painting, which he exhibits, researches and teaches internationally.
A native of Lahore, Mumtaz was educated at Pakistan's National College of Arts, where he first studied Indian painting under the guidance of Ustad Bashir Ahmed. He later completed an MFA in visual art as a Fulbright Scholar at Columbia University. He is currently a doctoral candidate in the Department of Art and Architectural History at the University of Virginia and is working toward the completion of his dissertation, "Objects of Devotion: Representations of Muslim Saints in Early Modern South Asian Painting," which he expects to defend in April 2018.
Mumtaz has been awarded fellowships from the American Institute of Indian Studies, the American Institute of Pakistan Studies and the CLIR-Mellon Program for dissertation research in original sources. As a Theodore Rousseau Fellow of the Metropolitan Museum of Art he has carried out research in European museums and libraries. He was recently appointed an art history research fellow of the Freer-Sackler Galleries at the Smithsonian Institution in Washington, DC.
Courtney N. Ryan
Receiving her Master of Fine Arts in Ceramics and Sculpture this May, Courtney Ryan is known for her intricate clay sculptures that appear to have emerged organically from their surroundings. She currently resides in Statesboro, Georgia, near Savannah, where she teaches Two-Dimensional and Three-Dimensional design courses as an Instructor of Record at Georgia Southern University. Upon graduation, Courtney intends to continue her studio practice while exhibiting work as she searches for her future career. As an aspiring professor of art, she wants to continue teaching and remain involved within the art world both professionally and academically.
Over the course of her graduate career, Courtney has had the opportunity to travel abroad to experience the Venice Biennale, as well as spend two summers in Ireland on residency through the European Council. As an avid presenter, Courtney has participated in conferences such as SECAC, SLSA, and of course CAA. Last August, she had her first solo exhibition, Domestic Consumption, at Columbus State University, and has since shown her work at other universities including the University of Georgia, Georgia State University, and Augusta University. Featured in Sculpture Magazine as an Honorable Mention for the 2017 Outstanding Student Achievement Award, Courtney continues to push her work into new realms. Currently she is exhibiting in The Delaware Contemporary Museum's 2017 MFA Biennale: Domestic, as well as an upcoming show-swap with Aalto University in Helsinki, Finland. Having just completed a 40-foot mural and a public arts sculpture, Courtney is also heavily involved in her local community.