posted by CAA — Nov 21, 2019
Up next in our Member Spotlight series, we are highlighting the work of Barbara Hoffman, founder and principal of The Hoffman Law Firm and a pioneer in the field of art law who served as CAA's pro bono legal counsel for ten years. Joelle Te Paske, CAA's media and content manager, spoke with Barbara over the phone to learn about her rich history with CAA. Read the interview, edited for length and clarity, below.
Hi Barbara. I'm delighted to have the chance to speak with you. You are one of our esteemed lifetime members who has been a part of the organization in various capacities for more than 40 years. That's incredible.
The pleasure is mine. I loved working with CAA during my tenure there.
Just looking over your bio on your website, I'm just amazed at how many different roles you've taken on over your career as an art lawyer. How did you first get involved with CAA?
I've always been interested in art, and I studied in Paris at the Académie Julian during my junior year when I majored in French and Art History. But I wasn't very aware of the College Art Association.
After my studies, I was one of the early art lawyers. I had founded the Volunteer Lawyers for the Arts in the state of Washington, and continued to develop and write on the subject of art law, at a time when there were only a handful of people who were doing it.
Before then, I practiced civil rights law in New York. I'm from New York—I went to Columbia Law School—and was helping artists on the side when I was in my senior year. I volunteered as a lawyer for the first Volunteer Lawyers for the Arts in New York. I was then recruited to be a law professor in Seattle and I'd had so much fun with Volunteer Lawyers for the Arts that I thought I would join the Washington branch when I moved. When it didn't exist, I ended up founding the statewide Washington Volunteer Lawyers for the Arts, and hosting an art law clinic at the law school.
Oh, interesting. So it started in New York and then you brought it over to the West Coast, in Washington.
Yes. Then eventually I moved back to New York and I joined the New York City Bar Art Law Committee. I was also Chair of the Public Art Subcommittee. We drafted a balanced, annotated model contract to be made available to artists and administrators. Percent for Art was just starting, and most artists and bureaucrats had little knowledge of copyright and other issues in public art.
The National Endowment for the Arts put together a task force of artists and administrators in which I was invited to participate, alongside Joyce Kozloff, who was on the CAA Board of Directors at the time. Susan Ball was executive director at the time. There was a feminist uprising, and my name was put forward to replace Gil Edelson.
I was CAA's pro bono outside counsel and member of the executive committee for ten years. Among many activities, I wrote a column for CAA on legal issues. My fondest memories are those of working with the different CAA committees and their chairs. Particularly memorable was the work I did with Albert E. Elsen, a professor of art history and a great scholar on Rodin. We revised the guidelines for the code of ethics for art historians. And I worked with several well-known artists too, many of whom are no longer with us.
I also advised all the CAA publications. This was an interesting time for the issues of fair use and copyright in images. Through me, CAA got involved in what was called the Conference on Fair Use, taking place under the US Patent and Trademark Office and the US Copyright Office, which dealt with bringing copyright law into the digital world.
Before I came in to represent CAA, most of the people there were representing either libraries on one side, who were of course for fair use, or publishers, both trade book and academic publishers, who were of course for a stricter interpretation and enhanced copyright protection. But nobody was really talking about issues like images until we brought up to the subject.
On that issue I worked very hard, and CAA worked very hard. It was extremely controversial for the organization, because as you know, everybody at CAA wears multiple hats and the copyright issues involved both publishers and scholars. So I worked with the Copyright Committee and Fair Use and Christine L. Sundt, president of the Visual Resources Association and a member of CAA. She was a passionate devotee of legal issues there.
I imagine those are the fundamental building blocks for CAA's Code of Best Practices in Fair Use that was published in 2015.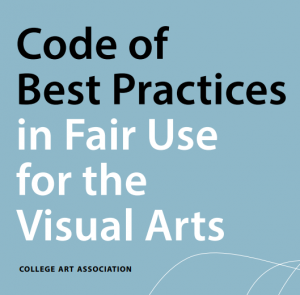 There are earlier versions of it, too. There was one during my tenure and then it evolved over time. We were never successful in terms of getting the government, the Conference on Fair Use, to be able to come together to develop official guidelines. I spent hours and hours and hours developing scenarios. We tried to get people's agreement on the analysis and whether it was or wasn't fair use. But at the end there was never a resolution of that and I think it continued on until 2015. It was a long-going effort. We were the first people to really address the whole issue in the late eighties, early nineties.
That's fascinating. And especially now, with the emergence of the internet.
Another thing that we were really involved with during my tenure was the issue of freedom of expression. I represented CAA and was active in what we now call the Culture Wars, when Jesse Helms tried to ban the publication of [Robert] Mapplethorpe's images. This was in 1989, and continued through the 1990s.
They were extremely active times. I'm most proud of the two-volume issue I did on censorship with Robert Storr for Art Journal. It was voted at the hundredth anniversary conference the best Art Journal that was published in the journal's history.
---
To accompany this interview, we've brought the historic two-volume issue out from behind the paywall for readers to explore through the end of December 2019: Censorship I and Censorship II
---
For the double issue, I dedicated my statement to Justice Brennan of the Supreme Court. In my view, his decisions on the Supreme Court regarding the First Amendment and freedom of expression basically did more to provide contours of protection for artistic expression than any other Supreme Court Justice.
Then Rob Storr made his editor's statement a full reprint of Mapplethorpe's X Portfolio. He got permission from the Mapplethorpe Foundation because of his connections to publish them, but when we sent it to our normal printer, they were afraid to publish it because they thought they (or CAA) would be sued for pornography. They asked us to find a different printer. So we sent it around to all these places that might publish pornography. But the pornography magazines that we sent them to didn't have the quality that we would require for the CAA journals! So we went to The Burlington Magazine and asked them if they would print it. It was much more expensive, but our usual printer paid the difference. So it was actually printed, by my recollection, by The Burlington Magazine.
There were two fall outs from the issue. The first fall out was a number of CAA members dropped their membership. Pretty amazing. They said the issue should have come with a warning label. You know, they got it in the mail, they left it on the table, and then their children saw it, with no warning.
Another spin off was because the CAA journal goes to every single university that's a member for the library and art departments, the images that people had been talking about—but never saw—were suddenly available. As part of this I ended up participating in a panel at the University of Nashville, defending a professor who had brought that issue to his class of drawing and photography.
It was all a very meaningful experience. As a result, I was involved in authoring two friends of the court briefs, in the district court and the appellate court, on behalf of the College Art Association. Those were then quoted by the court defending Karen Finley and what they called the NEA Four [Karen Finley, Tim Miller, John Fleck, and Holly Hughes], who had their NEA grants declined because of the Helms amendment. So we introduced a friend of the court brief on behalf of College Art Association, and another one was on behalf of College Art Association and PEN America.
Later on, the organization's centennial publication featured an image from Faith Ringgold's French series that I licensed as her lawyer at the time. Faith was an active CAA member on the board and committee on diversity.
The complexity of being an art lawyer—it brings you into so many different issues. 
It was great. As I said, I worked with all the CAA Committees over that time. I still go to conferences from time to time and participate. And I just, you know, I'm happy to see so many artists that I've worked with being rewarded over time by the CAA. I've shown up for their presentations, the last ones being Howardena Pindell and Ursula von Rydingsvard for lifetime achievements.
Yes! Our 2019 honorees.
So I'm still keeping up and seeing how the organization has grown and changed. My legacy is these cases, my friends, and the guidelines. A wonderful opportunity for me to combine my passions—law and art history. As a member of the Executive Committee I attended all the CAA annual conferences, and when I wasn't doing official business, I'd go to art history sessions. I have very happy memories of the wonderful people that I met there. I'm still in contact with many of them. That's a part of my life that's ongoing.
That's wonderful.
And I'm still doing the same thing—still fighting for artists. Still fighting for the first amendment. Still doing public art. So, I feel very fortunate to be a life member.
Barbara Hoffman Biography
The Hoffman Law Firm continues as a preeminent global art and copyright boutique with a focus on Europe, Asia, Africa, and the United States. Author and editor of A Visual Artist's Guide to Estate Planning (1996 and 2008), Barbara Hoffman also advises artists, galleries, and their estates on legacy planning, and endowed foundations.
Barbara has been recognized by her peers and clients with leadership posts and honor, including as Chair of the New York City Bar Association Committee on Art Law, Chair of the International Bar Association Committee on Art and Cultural Institutions and Heritage Law, and being selected to New York Super Lawyers, Best Lawyers in America, and Best Law Firms in art law and copyright law (2012-2020).
In addition to her service on the CAA executive committee, Barbara serves or has served on many boards, including ArtTable, Performa and the boards of several artists' foundations. She was voted one of Art and Auction 51's Power Women in the Art World 2016. www.hoffmanlaw.org