posted by CAA — Dec 22, 2016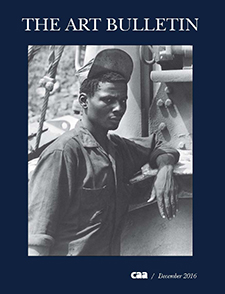 A young Ghanaian man photographed by Paul Strand in 1963 peers intently from the cover of the December 2016 issue of The Art Bulletin. Mark Crinson's essay analyzes the American photographer's book Ghana as a conflicted attempt to represent postcolonial nationhood.
In other essays featured in the issue, Michalis Olympios reassesses the Renaissance art of Venetian Crete in light of local Gothic traditions and adaptations of northern European models; Susannah Rutherglen defines a genre of Venetian Renaissance painting that treats interior doors and shutters as sites of artistic innovation; Ruth S. Noyes finds that Mattheus Greuter's engravings for Galileo's controversial publication on sunspots argue a case too provocative to articulate in the text; and Harper Montgomery surveys the work of the Guatemalan artist and critic Carlos Mérida, a cosmopolitan who worked in the 1920s to incorporate indigenous Maya culture into the transnational production and display of modern art.
The reviews section, on the theme of "Subjects Framed and Reframed," takes aim at early photography. It includes reviews of recent books on Eadweard Muybridge's nudes, photographs of the abolitionist Sojourner Truth, a European commercial photographer in 1870s Yokohama, and portrait photography in the Arab world of the late nineteenth century.
CAA sends print copies of The Art Bulletin to all institutional members and to those individuals who choose to receive the journal as a benefit of membership. The digital version at Taylor & Francis Online is currently available to all CAA individual members regardless of their print subscription choice.