posted by CAA — December 14, 2021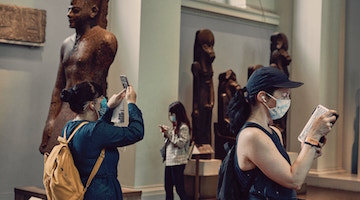 See below for information on CAA's virtual Resources for Academic Art Museum Professionals (RAAMP) session and a list of other sessions with museum topics, organized by the two conference components, the first from February 17-19 and the second March 3-5. 
Note: As of January 7, all in-person sessions and activities scheduled for February 16-19 in Chicago are now virtual on the same dates. Virtual sessions and activities scheduled for March 3-5 will remain the same. This change will allow for more access and engagement, regardless of location.
See the rest of this year's conference schedule online! After you register, sign into the app and create your own custom schedule using the tools and filtering options on the side (switch time zones in the upper left of the app: CST for in-person and your own time zone for virtual).
Register for CAA's upcoming conference and learn more at our
registration page
.
---
CAA's RAAMP Session and Talks
New and Improved: Using Recent Experiences to Inform the Future of Museums  
Thursday, March 3, 2022, 11:00 AM – 12:30 PM CST (12:00 PM – 1:30 PM EST)
Walking the Talk: New Low Carbon Curatorial and Educational Structures that Amplify Impact and Reduce Costs
Natalie Marsh, ViVA Virtual Visiting Artists
Amanda Potter, Zimmerli Art Museum at Rutgers University
Jennifer Reynolds-Kaye, ViVA Virtual Visiting Artists
Lessons Learned from a Year of Virtual Teaching
Ellen M. Alvord and Kendra Weisbin
Speculative Annotation at the Library of Congress: A Web-Based Annotation Tool that Invites Virtual Engagement with the Library's Collection
Courtney Lynn McClellan and Jaime Mears, Library of Congress
---
Museum Sessions, February 17-19
Canonizing the Intangible: Aromatic Strategies in the Making of the U.A.E.'s National Identity
Friday, February 18, 2022, 9:00 AM – 10:30 AM CST
Francesca Bacci, Zayed University
Economies of Discipline and Display: Curating Conflict in Israel/Palestine
Friday, February 18, 2022, 9:00 AM – 10:30 AM CST
Michelle Facos, Indiana University
Instrumentalizing Memory and the Politics of Commemoration
Friday, February 18, 2022, 9:00 AM – 10:30 AM CST
Iro Katsaridou, Museum of Byzantine Culture, Thessaloniki, Greece
Eve Kalyva, University of Kent
Reassessing the Art Biennial
Friday, February 18, 2022, 11:00 AM – 12:30 PM CST
Paloma Checa-Gismero, Swarthmore College
Recent Perspectives in the Philosophy of Curatorial Practice
Friday, February 18, 2022, 11:00 AM – 12:30 PM CST
Rossen Ventzislavov
The Mary H. Dana Women Artists Series at Rutgers University's Douglass College: A 50 Year History of Exhibition and Space Making for Woman-Identifying Artists through the Voices of the Artists Themselves
Friday, February 18, 2022. 2:30 PM – 4:00 PM CST
Julia E. Marsh, Cedar Crest College
The Practice of Care: Trauma Informed Pedagogy
Education Committee
Saturday, February 19, 2022, 11:00 AM – 12:30 PM CST
Jenna Ann Altomonte, Mississippi State University
TFAP Feminist Solidarities and Kinships, Panel 3 – Exhibitions and Curatorial Spaces
The Feminist Art Project (TFAP)
Saturday, February 19, 2022, 12:30 PM – 2:00 PM CST
Erina Duganne, Texas State University
Susan E. Richmond, Georgia State University – School of Art and Design
Tatiana E. Flores, Rutgers University
New Frontiers: Creating, Collecting, Preserving and Displaying Digital Based Art of Russia and Eastern Europe
Saturday, February 19, 2022, 4:30 PM – 6:00 PM CST
Natalia Kolodzei. Kolodzei Art Foundation
---
Museum Sessions, March 3-5
Curatorial Care: Feminist and Queer Practices
Friday, March 4, 2022, 9:00 AM – 10:30 AM CST (10:00 AM – 11:30 AM EST)
Nomusa Makhubu, University of Cape Town
The Global Rise of Traveling Exhibitions at Mid-Century
Friday, March 4, 2022, 9:00 AM – 10:30 AM CST (10:00 AM – 11:30 AM EST)
Agata Justyna Pietrasik
Magdalena Moskalewicz, School of the Art Institute of Chicago
Activist Exhibitions
Friday, March 4, 2022, 4:30 PM – 6:00 PM CST (5:30 PM – 7:00 PM EST)
Rebecca J. DeRoo, Rochester Institute of Technology
New Age of Teaching the Art of the Islamic World
Museum Committee
Saturday, March 5, 2022, 9:00 AM – 10:30 AM CST (10:00 AM – 11:30 AM EST)
Xenia Gazi, School of the Art Institute of Chicago
Reconsidering Art History Through Access
Saturday, March 5, 2022, 9:00 AM – 10:30 AM CST (10:00 AM – 11:30 AM EST)
Sara Catherine Woodbury, College of William and Mary
Curating Craft: Contemporary Making in Global Museums of Islamic Art
Saturday, March 5, 2022, 11:00 AM – 12:30 PM CST (12:00 PM – 1:30 PM EST)
Leslee Michelsen, Doris Duke Foundation for Islamic Art at Shangri La
New Perspectives in Art, Design, and Art History: Supporting and Showcasing Emerging Voices from Marginalized Communities
Committee on Diversity Practices
Saturday, March 5, 2022, 2:30 PM – 4:00 PM CST (3:30 PM – 5:00 PM EST)
Stefanie Snider, Kendall College of Art and Design
Rachel Lynn de Cuba, Clemson University