posted by Christopher Howard — Jan 29, 2009
What would a trip to Tinseltown be without taking in a few films? During the upcoming CAA Annual Conference in Los Angeles, a pair of excellent documentaries on contemporary artists will be screened.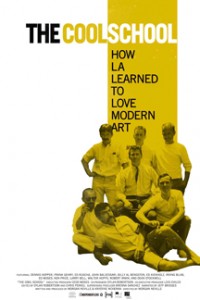 Join us at REDCAT: The Roy and Edna Disney/CalArts Theater (REDCAT) in downtown Los Angeles for a screening of The Cool School, a documentary about how a few renegade artists built the Los Angeles art scene from scratch. The principal cast includes: Ed Ruscha, Dennis Hopper, Frank Gehry, Billy Al Bengston, Irving Blum, and Robert Irwin. The film's director, Morgan Neville, will be on hand for a Q&A session after the film.
The screening of The Cool School will take place on Thursday, February 26, from 7:00 to 9:00 PM. Tickets are $15; space is limited. Tickets can be purchased by calling CAA Member Services at 212-691-1051, ext 12., or in the registration area at the Los Angeles Convention Center only; they cannot be sold or purchased at REDCAT.
Produced and directed by Jeffrey Perkins, The Painter Sam Francis, a feature-length film portrait of the artist Sam Francis (1923–1994), portrays his entire life and professional career. Forty years in the making, the film shows the artist at work in his studios from 1969 to 1992; it also includes interviews with the artist, his family members, art historians, and artists such as Ed Ruscha, James Turrell, and Bruce Conner. The film is an intimate portrait of an important artist at work, as well as an personal view as told by the artist himself and those that knew him.
The Painter Sam Francis will be screened on Friday, February 27, and Saturday, Febru-ary 28, 12:30–2:00 PM, in the Ahmanson Auditorium at the Museum of Contemporary Art, Los Angeles; admission if free.