posted by Christopher Howard — May 08, 2009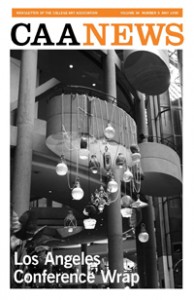 The May issue of CAA News has just been published. All individual and institutional members will receive it in the mail; you can also download a PDF of the issue now, reformatted to better fit your screen.
In the issue, CAA President Paul Jaskot and Director of Programs Emmanuel Lemakis sum up highlights from the 2009 Annual Conference in Los Angeles, and CAA Board Member Andrea Kirsh writes about her experiences at this year's Arts Advocacy Day and Humanities Advocacy Day.
The May newsletter also includes instructions for proposing a session for the 2011 Annual Conference in New York—CAA's centennial year. Please read the guidelines carefully before the submission process begins on June 16, 2009. Deadline: September 1, 2009.
Also published are calls for texts on "the contemporary" for Art Journal and for participation on CAA's Professional Interests, Practices, and Standards Committees—plus the latest news from CAA's affiliated societies and listings of solo exhibitions, books published, and exhibitions curated by CAA members.