posted by CAA — Sep 08, 2016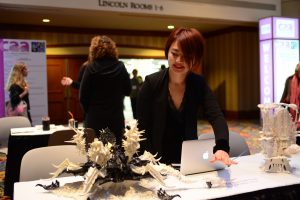 The Services to Artists Committee invites artist members to participate in ARTexchange, CAA's unique pop-up exhibition and annual meet-up for artists and curators. This social event provides an opportunity for artists to share their work and build affinities with other artists, historians, curators, and cultural producers. ARTexchange will take place at the 105th Annual Conference in New York on Friday evening, February 17, 2017, from 5:30 to 7:30 PM.
Each artist is given the space on, above, and beneath a six-foot table to exhibit their work: prints, paintings, drawings, photographs, sculptures, and small installations; performance, process-based, interactive, and participatory works are especially encouraged. Previous ARTexchange participants have found that this parameter sparked many creative display options. Please note that artwork cannot be hung on walls, and it is not possible to run power cords from laptops or other electronic devices to outlets.
To participate as an exhibiting artist in 2017, contact Katie Apsey, CAA manager of programs, by December 2, 2016, with the following information: (1) a short description of what you will exhibit and how you will use the six-foot table space (provide details regarding performance, sound, spoken word, or technology-based work, including laptop presentations); (2) your CAA member number (memberships must be active through February 18, 2017); and (3) your website or a link to a digital portfolio.
Because ARTexchange is a popular venue and participation is based on available space, early applicants are given preference. Participants are responsible for their work; CAA is not liable for losses or damages. Sales of work are not permitted. Deadline extended: January 6, 2017.