posted by CAA — Nov 22, 2016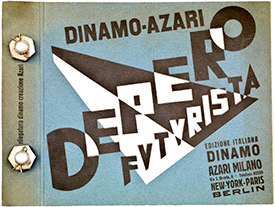 One of our Member Partners, Designers and Books, recently launched a Kickstarter campaign to raise funds to bring a classic design book back to life.
In 1927 Italian futurist artist Fortunato Depero developed what is still considered the first avant-garde artist book: Depero Futurista, commonly known as the Bolted Book. In an edition of fewer than 1,000 copies, this book is celebrated for its daring experiments in typography,  innovative ideas about graphic design, and reinvention of the concept of the printed book (and yes– its binding is two steel bolts!).
You can explore this wonderful book, page by page, on the Bolted Book website.
Designers and Books is  partnering with the Center for Italian Modern Art in New York and the MART Museum of modern and contemporary art of Trento and Rovereto to produce the first exact facsimile of Depero Futurista. The facsimile will include an accompanying readers' guide, featuring essays from a variety of experts, original unpublished materials from the Depero archives at MART, and translations of selected pages of the book.
Your Kickstarter pledge toward this important piece of art and design history will be rewarded with an exact copy of The Bolted Book, the readers' guide, and full acknowledgement of your support.
The least expensive Kickstarter reward tier currently available for a copy of the book is $141 (including US shipping). Acknowledging the special relationship of this book to the CAA community Designers and Books is making it available for a special price: $109 (plus shipping of $14 for a total of $123)——for a savings of $18.
Since this price is not available to the general public, here is how CAA members can secure a copy of the book for this special price:
1) Go to bit.ly/BoltedBook-Kick
2) Next to the video, click "Back This Project"
3) Click "Make a pledge without a reward"
4) Enter $123 and click "continue"
5) Log in or sign up, then complete the pledge as directed
6) Please email info@designersandbooks.com indicating your name, shipping destination,  and the code "CAA."
You will then receive a confirmation that you are registered for this special offer.