posted by CAA — Dec 07, 2016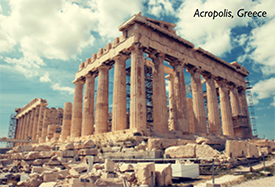 CAA is excited to announce an exclusive offer to its members to spend two weeks exploring the art and art history of Greece and Italy, from June 2 to June 11, 2017. The trip includes stops in Athens, Rome, and Florence. Hosted by CAA Executive Director and CEO, Hunter O'Hanian, this is a once in a lifetime opportunity to explore these majestic cities with fellow CAA members and lovers of art.
Local tour guides in each city will lead the group through numerous cultural and historic sites, museums, and galleries. The tour begins in Athens, where highlights include the National Archaeological Museum, the Benaki Museum, Zappio Gardens, the Acropolis and museum, and the Museum of Cycladic Art. In Rome, the tour will visit the Colosseum, Roman Forum, Capitoline Museums, and the Borghese Gallery, among others. Ending in Florence, the tour will stop at the Duomo and Baptistery, Church of Santa Croce, Galleria dell'Accademia, Medici Chapels, Church of San Lorenzo, and the Uffizi Gallery.
Following Florence, you may choose to extend your trip to Venice where the 57th Venice Biennale will be taking place, May 13 through November 26, 2017.
For more information, including rates and a day-by-day tour itinerary, please download and review the Greece & Italy Art and Art History Tour brochure.