posted by CAA — Jan 16, 2017
Each month, CAA's Committee on Women in the Arts selects the best in feminist art and scholarship. The following exhibitions and events should not be missed. Check the archive of CWA Picks at the bottom of the page, as several museum and gallery shows listed in previous months may still be on view or touring.
January 2017
The Future is Female
21c Museum Hotel
700 West Main Street, Louisville, Kentucky
November 2016–May 2017
The Future is Female at the Louisville, KY, 21c Museum Hotel, features feminist art from the 21c collection, including painting, video, photography, and installation. Works on view include pieces by Carrie Mae Weems, Jenny Holzer, Nandipha Mntambo, Kiki Smith, and Frances Goodman, among many others. "Gleaming acrylic fingernails glued into patterned, reptilian forms that emerge from the wall; barnacles and ceramic teeth encrusted in life-size human figures in decay; cement seeping through lace and paint; haunting words about the present overlaid on imagery of the past: surface tension abounds in this exploration of contemporary feminist art."
Curated by Alice Gray Stites, chief curator and museum director, the exhibition fuses celebration and critique through engaging and evocative art. In Alison Saar's work on view, Hades D.W.P., five glass jars are filled with water to varying levels. Each jar is "tagged with lines of poetry, their surfaces etched with figures that float between life and death." While the work hints the water is meant for drinking, its toxic colors indicate otherwise, alluding to the drinking water disaster in Flint, Michigan.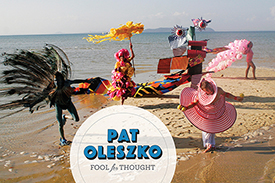 Pat Oleszko: Fool for Thought
Women's Studies Research Center/Kniznick Gallery
Brandeis University, Epstein Building, 515 South Street, Waltham, MA
November 21, 2016–March 3, 2017
The visual and performance artist Pat Oleszko brings her signature style to the Kniznick Gallery, which presents an exhibition of her costumes, inflatables, videos, and props. "With elaborate handmade costumes and props, Oleszko utilizes the body as armature for ideas in an array of lampoons that call her audience to action." Through humor and the absurd, Oleszko touches on issues from the personal to the political. Fool for Thought highlights her performances, including Hello Folly: The Floes & Cons of Arctic Drilling, Oldiloks and the Bewares, Stalking Walking Topiary, and the Pat and the Hats. Self-identified as the Fool in question and the questioning Fool, Oleszko fans the flames with rousing absurdity and maintains that she who laughs, lasts.
The exhibition also includes several events, including an artist's lecture with Oleszko and a reception on January 25 and a lecture on February 2 with Barbara Bodenhorn. The lecture will focus on the combination of art and science as it seeks to engage young people in ecologically vulnerable regions.
A Woman's Afterlife: Gender Transformation in Ancient Egypt
tBrooklyn Museum
200 Eastern Parkway, Brooklyn, New York
Starting December 15, 2016
Through new research and scholarship, the Egyptian artifacts in A Woman's Afterlife explore the gender transformation of deceased women and the difference between male and female access to the afterlife. The exhibition is part of A Year of Yes: Reimagining Feminism at the Brooklyn Museum, a yearlong project celebrating a decade of feminist thinking at the institution.
"Egyptian medicine taught that a woman, once in her tomb, faced a biological barrier to rebirth. Because the ancient Egyptians believed that in human reproduction it was the man who created the fetus, transferring it to the woman during intercourse, rebirth was impossible for a woman alone." It was the priest's role to magically transform the woman's mummy into a man, thus creating a fetus. This was accomplished through incanted spells with masculine pronouns, graphic representations of those spells on the coffin, and adding red skin—a color assigned to men. The centerpiece, a painted coffin and mask of Weretwahset, exemplifies these steps and depicts her fleeting transformation from female to male.
The exhibition was sparked by researched published by the scholars Kathlyn M. Cooney (University of California, Los Angeles), Heather McCarthy (New York University), Gay Robins (Emory University), and Ann Macy Roth (New York University). "This research has led to a better understanding of the logic behind this unexpected gender transformation by discovering that women were intentionally represented with red skin and with masculine pronouns. Previously, these representations were regarded as mere mistakes," said Edward Bleiberg, curator of Egyptian art. "Feminism has changed the questions we ask of ancient history as well as the answers we offer. This is a striking example of how feminism has provided a basis for new scholarship that reinterprets an ancient puzzle."
Catalina Schliebener: Growing Sideways
Bureau of General Services—Queer Division
208 West 13th Street, Room 210, New York
Open until January 22, 2017
The Bureau of General Services Queer Division presents Growing Sideways, an exhibition of new work by the Buenos Aires–based Chilean artist Catalina Schliebener (b. Santiago, 1980). Organized by the independent curator John Chaich, the exhibition takes its title—and somewhat its conceptual and formal inspiration—from the queer scholar Kathryn Stockton Bond's notion that rather than the normative view of "growing up," the nonstraight child grows sideways through life-long, lateral interactions between childhood motivations and adult identifications, formed by sly intentions, blurred chronologies, and animalistic attachments.
Growing Sideways presents over five dozen drawings on collage that frame the space and culminate in a floor-to-ceiling mural, growing across two- and three-dimensional surfaces and creating a disjointed narrative exploring gender formation and erotic curiosity through Schiebener's combination of cuttings from found children's books with abstract drawings and vinyl mural recalling organic sensual shapes in nature and the body. An artist-curated selection of books accompanies the site-specific installation.
A dialogue with the artist, Chaich, and Kris Grey will take place on January 12, 2017, at 7:00 PM.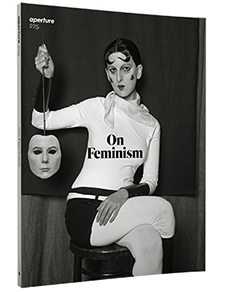 On Feminism
Aperture #225 (Winter 2016)
Aperture's winter issue has focused "On Feminism." In a moment that the very idea of gender is central to local and global conversations about equality, this approach arrives at a right moment to address the power and influence that women hold on the stage of the art world and beyond.
This issue focuses on intergenerational dialogues, debates, and strategies of feminism in photography, acknowledging the immense contributions by artists whose work articulates or interrogates representations of women in media and society. "On Feminism" features include a lively roundtable with curators from Paris and New York on modernist photographers between the wars, Nancy Princenthal on the feminist avant-garde of the 1970s, Eva Díaz on protest and visual politics, Laura Guy on lesbian erotica as critical rebellion, Eva Respini on abstraction, Julia Bryan-Wilson on visions of trans feminism, and a conversation with Renée Cox about black feminist icons, plus contributions from Martha Rosler and Maria Nicolacopoulou, among others, as well as portfolios by Farah Al Qasimi, Jennifer Blessing, Zackary Drucker, Catherine Morris, A. L. Steiner, Zanele Muholi, Yurie Nagashima, Elle Pérez, Laurie Simmons, Cosey Fanni Tutti, and Gillian Wearing.
The issue's contents are organized in two main sections that underscores how photography has shaped feminism as much as how feminism has shaped photography. Use #OnFeminism to join the conversation on Twitter, Instagram, and Facebook.
Nairy Baghramian: Déformation Professionnelle
S.M.A.K. 
Jan Hoetplein 1, 9000 Ghent, Belgium 
November 26, 2016–February 19, 2017 
S.M.A.K. presents Déformation Professionnelle, a solo exhibition by influential Iranian sculptor Nairy Baghramian. Born in 1971 in Isfahan, Iran, Baghramian is currently living and working in Berlin. She has become internationally known for her contextual approach to exhibition-making via sculpture and photography. Focusing in a site-responsive practice, her works explore the body and its supportive functions.
Déformation Professionnelle is a new production which builds on eighteen works in the artist's oeuvre from 1999 to 2016. Baghramian alludes to existing work from discarded ideas to working material. In the artist' words, she is "surveying the survey." This body of work formulates fundamental questions about progress and economy, while interrogating what happens when something ceases to exist, and how something new comes into being.
The exhibition includes several large-scale works such as Class Reunion (2008), Retainer (2012), and French Curve (2014). Both inside and outside the museum,the display evidences the artist complex engagement with the transformation and consequent deformation of form, language, and meaning in its translation from one series into the other.
Nairy Baghramian | Déformation Professionnelle is organized by S.M.A.K. and the Walker Art Center in Minneapolis, where the exhibition will travel in October 2017.