posted by CAA — May 23, 2019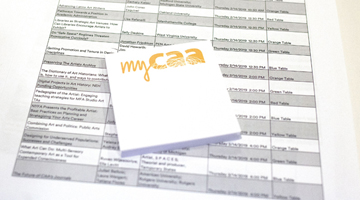 Motivated by an Idea Exchange roundtable held at the 2019 Annual Conference in New York, CAA announces the formation of a Working Group Against Harassment and Assault, aimed at addressing issues related to sexual harassment and power dynamics at the Annual Conference.
The working group is made up of CAA members from around the country, many of whom have experience effecting change at their own institutions in this arena. The working group members are:
Sonia De Laforcade, Princeton University
Claire Kovacs, Binghamton University Art Museum
Karen Leader, Florida Atlantic University
Daniel Quiles, School of the Art Institute of Chicago
Leanne Zalewski, Central Connecticut State University
The working group will meet several times over the summer of 2019 to formulate suggestions to the Board of Directors. These recommendations are intended to aid CAA in addressing the systemic and structural dynamic of power and privilege that makes space for predatory behavior at the Annual Conference.