posted by CAA — Dec 03, 2019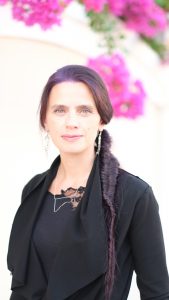 STATEMENT
As a Canadian artist, educator and creative initiator working internationally, in my professional practice, as well as in my academic roles, I advocate and facilitate building connections between people and places—particularly cross-cultural explorations within international contexts. This is the international perspective that I will bring to the CAA Board of Directors.
Over the past two decades I have assembled an international network of peers comprising academics, artists, designers, architects and industry specialists, along with important stakeholders who have contributed to innovative strategizing. I believe my experience and my advocacy of a multidisciplinary and international approach demonstrates my passionately held commitment to the issues in which I am engaged. These include women in the arts, cultural diversity and exchange, as well as ecological issues in my own practice. I look forward to engaging my network through collaborations and potentially facilitate more international exchange at CAA. Working in the Gulf / West Asia, it has been crucial to discuss and promote cultural awareness and the importance globally for inclusion while also decolonizing the curriculum. How can we as educators work positively together for a more inclusive tomorrow that also takes into consideration future generations? How can CAA become a resource globally, for promoting new dialogues? The world needs more platforms for exchange to counter fear and build trust across cultures. CAA should be such a platform promoting cultural collaboration and understanding.
Currently, I am a Professor in Visual Arts at the College of Arts and Creative Enterprises, Zayed University, Dubai. Throughout my time in the United Arab Emirates I have contributed to the development of the art community and to the education of emerging artists here, accomplishing significant milestones as I engaged the opportunity to build, imagine and support this vision. I have been a member of CAA since 1999 and have seen the association expand its strength in advocacy and intellectual engagement. One of its ongoing milestones is its drive towards inclusivity to grow the diversity in its membership.
I see CAA playing a larger role internationally, in particular to achieve its vision of supporting all professionals whether academic or practitioners, across all areas of the arts, design and architecture, while strengthening a diverse membership of art historians globally. It must also continue to look at new models, to engage emerging professionals, and strengthen communication and opportunities throughout the year. Interdisciplinary, multi-voiced approaches need to be strengthened, along with creating various virtual channels of communication that can attract the next generation of CAA that ideally will be more global.
Through team efforts, cultural and intellectual exchange as well as building connections between international and local artists, designers, art historians (and more) are initiatives I will contribute towards. I see these as essential for building a future of CAA that is more inclusive internationally. However, these cannot be accomplished in silos and I want to listen to the members, their ideas and see how I can help foster them.
Download Janet Bellotto's Resume