posted by CAA — Dec 03, 2019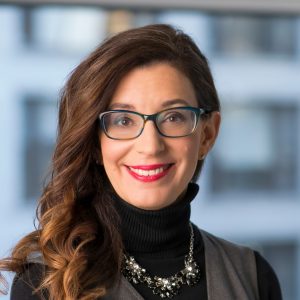 STATEMENT
I am an artist, scholar, educator, and administrator. I currently serve as the Vice Provost of Undergraduate Studies at the Maryland Institute College of Art.
Over my 20-year career in the arts, CAA has inspired my own professional development and intellectual engagement with peers. I attended my first annual CAA conference in New York in 1999 to interview for teaching positions. When I walked through the revolving doors of the Midtown Hilton for the first time, I felt the surge of energy that comes with the conference kick off and the anticipation of reconnecting with friends—and I look forward to that lobby energy every time I return. I'm honored to be nominated to join the Board of Directors so that I might help advocate for the vital role of the arts in society given the challenges facing higher education.
I worked as a Professor of Art and Technology Studies for eleven years at the School of the Art Institute of Chicago before I took on a dean role for the next seven. For those of us in my generation, we have witnessed some of the most important technological breakthroughs of the history of the planet. We can remember a world with rotary phones, floppy disks, and Commodore 64s. Most of our college students cannot. The "iGen" of the developed world connects and shares globally at all hours. This generation of future scholars and educators is demanding that institutions steeped in privilege adapt rapidly to provide more equitable hiring practices as well as more inclusive forms of teaching. This is CAA's moment to shine and utilize technology to facilitate learning communities, provide key resources and professional development opportunities to its academically affiliated and independent members around the world.  The annual conference is wonderful but there may be further opportunities for dialogue to produce more empathetic teaching strategies, advocacy groups, and community partnerships.
For the last eight years, my work has been concentrated in academic leadership; I have a solid track record directing complex initiatives with limited resources: a Scientist-In-Residence program at an art school, an honors or "scholars" concentration with a global learning component, an interdisciplinary professional practice curriculum, and soon, a research center and new curriculum in creative entrepreneurship for artists and designers. I care deeply about the future of art and design education as well as the urgent need to retain a liberal arts focus in higher education. We must work collectively to develop evidence of the immense value provided by an art history or studio degree. I would welcome the opportunity to bring my considerable professional experience and capacity for listening to serve the CAA community.
Download Tiffany Holmes's Resume