posted by CAA — Jan 17, 2020
The American Council for Southern Asian Art (ACSAA), a CAA Affiliate Society, has condemned the ongoing assault on democratic institutions and intellectual freedoms in India. Read their statement below.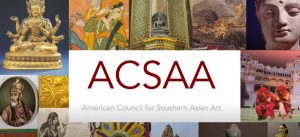 The American Council of Southern Asian Art (ACSAA), a non-profit organization and a community of academics and humanists, condemns the ongoing assault on democratic institutions and intellectual freedoms in India.
Both the Citizenship Amendment Act (CAA), signed on 11 December 2019, and the National Register of Citizens (NRC) Act, to be implemented in 2021, are openly discriminatory laws. We denounce any attempt at exclusion based on religion, caste, gender, race, or sexual identity, and find both laws to be antithetical to the Indian constitution and its democracy. In particular, as researchers and teachers of India's art and architecture across millennia, we are committed to preserving the rich contributions of Muslims to its visual culture and intellectual life. We see this commitment as directly threatened by the violent, often state-sanctioned, erasure of such contributions, in instances such as the demolition of the Babri Masjid, the occupation of Kashmir, the renaming of cities, and the rewriting of academic curricula along Hindutva lines.
We stand in full support of the students and teachers at Aligarh Muslim University and the Jamia Millia Islamia, following the events of 15 December 2019; at Jawaharlal Nehru University, following events there on 5 January 2020; and everyone currently participating in peaceful protests and demonstrations across the country. We see the brutal attack at JNU—organized and executed by members of the Akhil Bharatiya Vidyarthi Parishad (ABVP), the student faction of the Hindutva organization, the Rashtriya Swayamsevak Sangh (RSS) and, with the ruling Bharatiya Janata Party (BJP), a member of the Sangh Parivar—as one more instance of a widespread denial of the rights of Indian citizens to critique their government peacefully and openly.
The accusations of "anti-nationalism" directed at marginalized communities at these confrontations – particularly Muslims, Dalits, and women – are reminders of the extent to which extremists will go to erode the secular principles on which the country was founded.
To date, there have been no arrests or investigations into the identity of the attackers at JNU, despite indisputable evidence. We deplore the negligence of the Delhi Police, who looked on as the attacks happened, and call for both an immediate investigation and the resignation of JNU's Vice Chancellor, M. Jagadesh Kumar. Following as it does the instances of police violence at Aligarh Muslim University and Jamia Millia Islamia, as well as long-term interventions including cuts to funding and fee hikes, the JNU attack urgently increases our concern, as part of the global academic community, for public higher education and critical thought in India.
The American Council for Southern Asian Art (ACSAA) is dedicated to advancing the study and awareness of the art of South and Southeast Asia and the Himalayan regions, spanning all periods and forms of artistic production.
---
Related reading: In Photos: The World's Largest Democracy Is in Upheaval (Quartz India, December 15, 2019)
Police Fire Tear Gas as Delhi Protesters Decry Citizenship Law (Al Jazeera, December 15, 2019)
I Saw Police Stand by as Masked Men Attacked Students at a Top Delhi University. It Was Yet Another Assault on India's Intellectuals (Time, January 8, 2020)
Behind Campus Attack in India, Some See a Far-Right Agenda (New York Times, January 10, 2020)