posted by CAA — Oct 26, 2021
The October Picks from the Committee on Women in the Arts engage with the notion of space and its rich, multi-layered resonances with politics, gender, sexuality, ecology, diaspora and survival. Our selection features exhibitions featuring the work of feminist and womxn artists who respond to current urgencies and stress the importance of thresholds and their liberatory potential in showing these subjects, histories, narratives and discourses which have been invisible and silenced.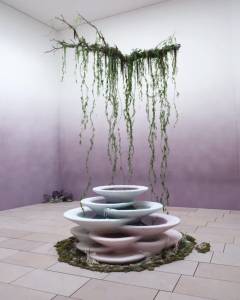 Bianca Bondi, The Daydream, 2021, exhibition view, Fondation Louis Vuitton, Paris. 
---
Sharon Hayes
Ricerche 
October 9–November 7, 2021 
The Common Guild, Glasgow, United Kingdom 
https://www.thecommonguild.org.uk/programme/project/ricerche-6b86 
Inspired by Pier Paolo Pasolini's 1964 film Comizi d'Amore (Love Meetings), Ricerche comprises of several video works presented as 'ricerche' or research that navigate intersections between gender, sexuality, politics and contemporary collective identifications in the United States. Hayes' project with The Common Guild includes three films featuring a range of individuals in which the artist continues her journey of exploration into the entanglements among activism, queerness, love, sexuality and history and their entanglements. 
Noémie Goudal
Post Atlantica
October 10, 2021–January 2, 2022 
Le Grand Café, Contemporary Art Centre, Saint-Nazaire, France 
https://www.grandcafe-saintnazaire.fr/en/expositions/post-atlantica/ 
Noémie Goudal creates visual stories that via construction of handmade sceneries displaying structural imperfections and playing with perspectives and points of view reveal the process of making an image. Clues that she leaves unveil technical experiments and effects behind constructed scenes that at the first glance do not appear artificial. The exhibition includes works that explore layers of time and space. It features the artist's new series Post Atlantica, a result of her research into paleoclimatology and her fascination with extreme mutations of landscapes subjected to the force of nature. With this work Goudal invites us to consider, via the image, past and future climate changes.  
Frida Orupabo
How did you feel when you come out of the wilderness
September 23–November 21, 2021 
Kunsthall Trondheim, Trondheim, Norway  
https://kunsthalltrondheim.no/en/utstillinger/frida-orupabo 
Frida Orupabo's art practice reclaims spaces for narratives that are silenced or erased elsewhere. Her physical and digital collages, some of which are featured on her Instagram account @nemiepeba, emphasize the cracks and cuts that need to be sutured with care. Exploring mostly Black visual culture, Orupabo salvages fragments of counternarratives to create a body of knowledge that is rebellious, fugitive and willful. The exhibition presents the artist's new body of work, including a wallpaper and a wooden sculpture that accompany collages, which engages with survival and the continuous struggle for freedom. 
Bianca Bondi 
The Daydream
September 22, 2021–January 24, 2022 
Fondation Louis Vuitton, Paris, France 
https://www.fondationlouisvuitton.fr/en/events/open-space-8-bianca-bondi  
Bianca Bondi's The Daydream transforms Fondation Louis Vuitton's gallery space into an artificial interior garden offering a multisensorial experience. Inspired by sacred springs, this landscaped place of meditation invites the audience to immerse themselves in reflection and reverie. The artist references rituals and occult practices which connect us to the invisible world. The exhibition features sound designed by Jenn Hutt and flower arrangements designed by Tata Msellati. Olfactive ambience is created by the perfumeur Yann Vasnier. Fostering mutations and transformations between materials, senses and experiences, Bondi's artistic practice is alchemical, seeking to discover and reveal the intangible.  
Eva Davidova  
Global Mode > Omnivores 
October 5–November 10, 2021  
Instituto Cervantes, New York, USA 
https://cultura.cervantes.es/nuevayork/en-US/espacios-ocupados-/143561  
Global Mode > Omnivores is a solo exhibition of new media artist Eva Davidova. It is part of the Occupied Spaces program inviting multi-faceted collaborations between artists and contexts within which the Instituto Cervantes centres are located. Davidova's interest in unfixed positions and counterstrategies that disrupt prevailing hierarchies translates into the exhibited single channel video Garden for Drowning Descendants. The work engages with global ecological disaster and interspecies dependency to reflect on the current condition of the world. 
Diane Severin Nguyen
IF REVOLUTION IS A SICKNESS
September 16–December 13, 2021 
SculptureCenter, Long Island City, NY, USA 
https://www.sculpture-center.org/exhibitions/13184/if-revolution-is-a-sickness  
Diane Severin Nguyen's new moving image work commissioned by SculptureCenter and the Renaissance Society at the University of Chicago traces the dichotomous relationship between the East and the West. Set in Warsaw, Poland, the film follows the character of an orphaned Vietnamese child fascinated with K-pop dance culture. The artist navigates the fractures between Eastern Europe and Asia with roots in Cold War allegiances to question inherited cultural divisions and layered conflicts and ways in which these are reckoned while trying to find shared identifications and symbols. The narrative is accompanied by the voice reading excerpts from texts on revolution by Ulrike Meinhof, Hanna Arendt, Mao Zendong among others. The juxtaposition of text and image, and the engagement with contradictory discourses via a photographic and moving image serve to interrogate subject formation and the tensions that emerge from cultural divisions. 
Candeğer Furtun
September 16, 2021–April 17, 2022 
ARTER, Istanbul, Turkey 
https://www.arter.org.tr/en/exhibitions/candegerfurtun  
This first retrospective exhibition of Candeğer Furtun's works, curated by Selen Ansen, explores the notion of the 'shell' which often emerges, explicitly and implicitly, in Furtun's ceramic practice. Featuring over a hundred works, the exhibition presents the artist's innovative approach to ceramics embodying forms, textures and natural processes that liberate the soil. The notion of the shell manifests the threshold space between the human body and nature which are important in Furtun's formal and conceptual explorations. It also enables the viewers to interrogate the dynamic transitions between interiority and exteriority, abstraction and figuration, or singularity and plurality.