posted by CAA — Dec 17, 2021
Many of CAA's affiliated societies will be presenting sessions at our 110th Annual Conference from February 17-19 and from March 3-5. Check out a list of their sessions to preview!
To attend these sessions and more, make sure to register for the conference and learn more at its registration page.
---
BIBLIOGRAPHICAL SOCIETY OF AMERICA
Announcements
Bibliography Week 2022 Schedule & Registration
From January 25–28, 2022 the Bibliographical Society of America will celebrate Bibliography Week with a series of events designed to demonstrate bibliographical practice and its relevance to interdisciplinary scholarship in the humanities.
Tuesday, January 25, 4-5pm Eastern – Materialities of Tibetan Buddhist Texts
Within the diverse traditions of Tibetan Buddhism, the power of books—both printed and hand-written—lies not only in their contents, but also in their materiality as objects. The three scholars on this panel will share bibliographical studies of Tibetan texts that highlight how text production, circulation, and replication within architectural spaces has been utilized by Tibetan religious and political leaders to assert and solidify their power.
Wednesday, January 26, 4-5pm Eastern – Meet the Editors of Papers of the Bibliographical Society of America
Please join Papers of the Bibliographical Society of America (PBSA) co-editors Dr. Sarah Werner and Dr. Jesse Erickson for an online Q&A session on January 26. Drs. Werner and Erickson will discuss their vision for the journal and how it can be part of an expanded field of bibliographical scholarship. They will also answer questions that you might have about publishing in PBSA, such as the submission and review process, image permissions, special issues, and open access.
Thursday, January 27, 11-12pm Eastern – In-Person, Center for Book Arts Tour
Guests are invited to a tour of the Center for Books Arts in New York (28 W 27th St., 3rd Floor). For nearly 50 years, CBA has supported artists and uplifted the book arts by presenting exhibitions, lectures, readings, and performances; providing opportunities for artists, writers, curators and scholars through residencies, fellowships, publishing, and collecting; and empowering the creation of new book art by providing courses on book art related technique and history.
Thursday, January 27, 2-3pm Eastern – Bound Images: Maps and Books
This panel offers three case studies to explore what changes theoretically and in practice when we dethrone the 'sovereign map' and engage with the production, circulation and reading of maps as bound images, a hybrid graphic and textual part of the stories told by authors and publishers which is experienced by readers through materiality, context, and significance: Giuseppe Rosaccio's Il mondo e sue parti (Florence, 1595), Johann Jakob Scheuchzer's Physica Sacra (Augsburg and Ulm, 1731), and Jorge Juan and Antonio Ulloa's Relación Histórica del viage a la América meridional (Madrid, 1748).
Friday, January 28, 12:00 pm Eastern – 2022 BSA Annual Meeting & New Scholars Program
Christopher Adams, Malkin New Scholar – 'Could you make it rather more of a He and She picture?': The Queer Dust-Jacket and Postwar British Fiction
Eve Houghton, Pantzer New Scholar – 'I am always sorry to antagonize collectors': Henrietta Bartlett and the 1916 Census of Shakespeare Quartos
Liza Mardoyan, BSA New Scholar – Decorative Bird Initials in the Medieval Armenian Manuscript Culture
Friday, January 28, 1:30 pm Eastern – Keynote Lecture by Dr. Elizaveta Strakhov: What Makes Bibliography Critical? A Medievalist's Response
What makes bibliography critical for a Western manuscripts scholar? Medievalists have, after all, enshrined bibliography to the point of developing the specialized subdisciplines of paleography and codicology. How does a Western medievalist breathe new life into bibliography, that bread-and-butter of their scholarly pursuits? This talk offers a case study of two manuscripts of bilingual Anglo-French poet Charles d'Orléans's work: not the two collections notoriously supervised by him, but two later fifteenth-century, largely neglected manuscripts of his work, one made for European humanist circles and the other circulating with English Tudor royal audiences.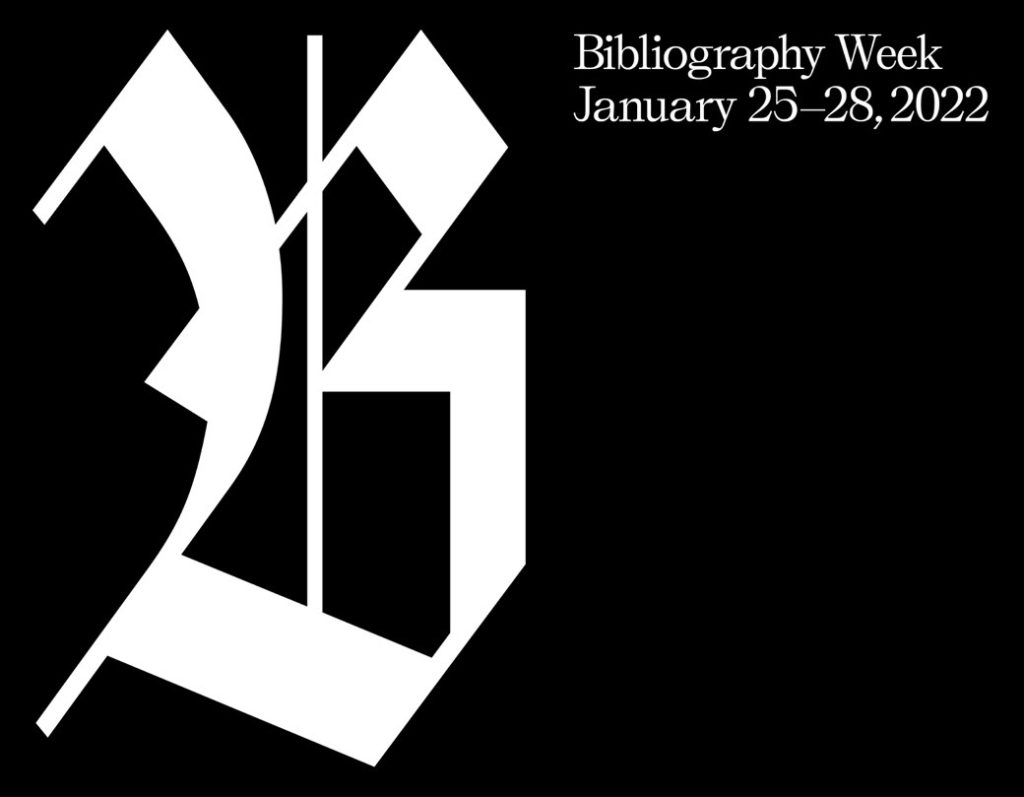 ---
AHNCA (Association of Historians of Nineteenth-Century Art)
Events
Virtual Salon Series: Rethinking the Visual and Material Culture of Enslavement
January 19, 2022 at 7 pm EST
The Association of Historians of Nineteenth-Century Art and the Dahesh Museum of Art present a Virtual Salon, "Rethinking the Visual and Material Culture of Enslavement," featuring Jennifer Van Horn (University of Delaware), Adrienne L. Childs (The Phillips Collection), and Phillip Troutman (George Washington University). Register at this link.
Virtual Salon: Decorative Arts and Materiality
February 9, 2022 at 7 pm EST
Please join us on Wednesday, February 9, at 7 pm EST for our Virtual Salon on the Decorative Arts and Materiality. This series of online events is co-sponsored by the Association of Historians of Nineteenth-Century Art (AHNCA) and the Dahesh Museum of Art. The panel will feature Amy F. Ogata (University of Southern California), Lee Talbot (The Textile Museum, George Washington University), and Christine Garnier (Center for Advanced Study in the Visual Arts/Harvard University). Registration information forthcoming!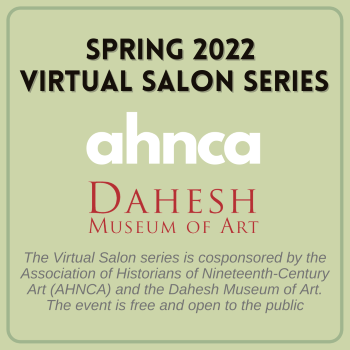 ---
SOCIETY FOR THE HISTORY OF COLLECTING
Event
As part of its continuing series of Zoom lectures focusing on the collections of university museums, the next Society for the History of Collecting–West Coast chapter event will take place on January 28, 2022:
Collectors' Clothing Caches: Selections from the Texas Fashion Collection
Annette Becker
28 January 2022, 10:00 AM, PST; 6 PM BST
This talk traces the history of the Texas Fashion Collection through three collections and collectors who have shaped its holdings. The Collection was originally conceived by Stanley and Edward Marcus, of the Neiman Marcus luxury department stores, who in 1938 created the Neiman Marcus award to recognize national and international talent in all areas of fashion and design. The talk then focuses on Claudia Heard de Osborne, whose passion for Balenciaga resulted in a gift of hundreds of garments by the designer. The final spotlight will be on brothers Scott and Stuart Gentling, visual artists who collected historic garments as part of their artistic practice.
Annette Becker is a material culture historian and arts educator committed to bridging popular and academic understandings of fashion history. She currently serves as the director and curator of the Texas Fashion Collection, an archive of nearly 20,000 garments and accessories housed at the University of North Texas.
To register for this event please email: events@societyhistorycollecting.org