posted by CAA — Dec 22, 2022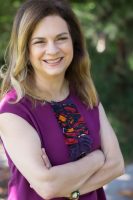 Bio
Sharon Hecker (BA Yale University cum laude, MA and PhD UC Berkeley) is an art historian and curator specializing in modern and contemporary Italian art. A member of CAA since 1993, she is a leading authority on Italian sculptor Medardo Rosso and has a special interest in material history. She has published extensively on key twentieth-century Italian artists, including essays and articles on Lucio Fontana, Luciano Fabro, Marisa Merz, Giuseppe Penone and Francesco Lo Savio. She was Project Coordinator for Jenny Holzer, the first woman to represent the US at the Venice Biennale, winner of Golden Lion Award for Best Pavilion (1990) and was the liaison between Luciano Fabro and SFMoMA for his US retrospective at SFMoMA, for which she translated his theoretical writings into English. 
Hecker's books include A Moment's Monument: Medardo Rosso and the International Origins of Modern Sculpture (UC Press, 2017, awarded CAA's Millard Meiss Publication Fund and translated into Italian); with Marin R. Sullivan, Postwar Italian Art History: Untying the Knot (Bloomsbury, 2018); with Silvia Bottinelli, Lead in Modern and Contemporary Art (Bloomsbury, 2020); Finding Lost Wax: The Disappearance and Recovery of an Ancient Casting Technique and the Experiments of Medardo Rosso (Brill, 2020); with Peter J. Karol, Posthumous Art, Law and the Art Market: The Afterlife of Art (Routledge, 2022); with Raffaele Bedarida, Curating Fascism: Exhibitions and Memory from the Fall of Mussolini to Today (Bloomsbury, 2022); with Catherine Ramsey-Portolano, Female Cultural Production in Modern Italy: Literature, Art and Intellectual History (Palgrave, 2023); and with Arianna Arisi Rota, Disguising Disease: Italian Political And Visual Culture From Post-Unification To Covid-19 (2023, Routledge, awarded the Columbia University Seminars in Modern Italy Prize). 
Hecker has received fellowships from the Getty, Fulbright, and Mellon Foundations. Her exhibitions include Medardo Rosso: Second Impressions, with Harry Cooper (Harvard University Art Museums, catalogue Yale University Press, 2004); Medardo Rosso: Experiments in Light and Form, with Tamara H. Schenkenberg (Pulitzer Arts Foundation, 2017–18); Medardo Rosso: Sight Unseen, with Julia Peyton-Jones (Galerie Ropac, 2018). She is currently organizing an exhibition on Lucio Fontana's ceramics at the Peggy Guggenheim Collection, Venice (2025).  
Hecker is Series Editor of Bloomsbury Visual Arts' Visual Cultures and Italian Contexts Series; Deputy Chair of the International Catalogue Raisonné Association (ICRA); member of ICOM; TEFAF Vetting Committee for Sculpture (19th-century to the present), Maastricht/New York (Chair); and Coordinator of the Expert Witness Pool for the Court of Arbitration for Art. She trademarked The Hecker Standard®, a best practices approach for conducting due diligence on artworks. She lives in Milan, Italy.