posted by CAA — Jan 29, 2020
ARTexchange2020
Workshops • Performances • Exhibition
at Columbia College Chicago, Hokin Gallery, 623 South Wabash
February 12–February 24, 2020
Gallery Hours: Monday–Friday 9:00am–10:00pm; Saturday, 9:00am–5:00pm
Take part in workshops and performances facilitated by artists: Noah Breuer, Wendy DesChene + Jeff Schmuki, Jennifer Natalya Fink & Julie Laffin, Carol Flueckiger, Visda Goudarzi & Artemi-Maria Gioti, MiHyun Kim, Jill Odegaard, Lydia See, Christine Stiver.
View dynamic installations co-created with the public. Visitors can interact with many of the installations even when facilitating artists are not present. Come by every day to see how the space changes. Workshops and events are "drop-in" friendly. You can come and go for any time during facilitated workshops.
CAA's Services to Artists Committee (SAC), in collaboration with the "Hokin Project," a gallery management practicum course at Columbia College Chicago, presents ARTexchange 2020 as an opportunity for artists to share their work and build affinities with other artists, historians, curators, cultural producers, and the public.
The exhibition will remain on view through February 24, 2020.
For a full listing of all SAC programming at the 108th CAA conference, see here.
And don't forget the ARTexchange Reception, Friday, February 14, 7:00pm–8:30pm.
Black Lunch Table — Wikipedia Edit-a-thon
Join us for a Wikipedia edit-a-thon hosted by the Black Lunch Table. Their initiative creates and improves articles about Black visual artists. Celebrating artists of color, women artists, and artists with disabilities, this program supports inclusion and recognition of intersectionality. No prior experience necessary. Bring a computer and a friend!
This programming is partially funded by the Office of Academic Diversity, Equity, and Inclusion, Columbia College Chicago.
Workshop times: Thursday, 10:30am–1:30pm; Friday, 10:30am–1:30pm in the Media Lounge
Noah Breuer – CB&S Rubbings and Print Project
Noah Breuer leads a printmaking workshop, utilizing engraved designs inspired by CB&S, his great-great-grandfather's textile factory that was seized along with all Jewish-owned property in German-occupied areas during WWII. Participants leave with their own book and contribute one copy for visual materials to be built upon by the next participants.
Workshop times: Wednesday, 4:00pm–6:00pm; Thursday, 4:00pm–6:00pm; Friday, 12:00pm–2:00pm
Wendy DesChene + Jeff Schmuki – Ostraka
Join DesChene and Schmuki in celebration of our fundamental right to vote through Ostraka, a collaborative installation that mirrors a 5th-century BC Athenian tradition, where citizens would inscribe the name of a person they wanted to politically neutralize on a shard of broken pottery called an ostrakon.
Workshop times: Wednesday, 2:00pm–4:00pm; Friday, 12:00pm–2:00pm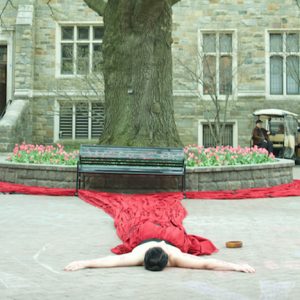 Jennifer Natalya Fink & Julie Laffin – UNDERBELLY
Join artists Fink and Laffin in a performance and "modern suffragette" march, retracing the steps of historical suffrage parades. Airing some dirty laundry to expose the underbelly of the movement, participants will wear two-sided sashes imprinted with both positive and negative statements related to the suffragette movement and voting rights.
Performance time: Thursday, 4:00pm–6:00pm
If you want to be a modern suffragette and participate in the march, sign up here to be contacted by the artists. Meet at the Hokin Gallery at 3:40 pm. Don't forget to dress weather appropriate.
Carol Flueckiger – Solitude of Selfie
Flueckiger's project explores Elizabeth Cady Stanton's 19th century women's suffrage address "Solitude of Self". Participants will be prompted to engage with Stanton's speech and make response drawings. Works will be pinned to the wall and later scanned and integrated into a book honoring the 100th anniversary of the 19th amendment.
Workshop times: Wednesday, 9:00am–11:00am; Friday, 9:00am–11:00am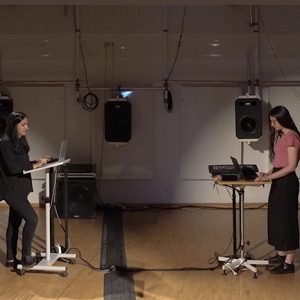 Visda Goudarzi & Artemi-Maria Gioti – Soundsourcing
Soundsourcing is a participatory performance orchestrated by artists Goudarzi and Gioti. In this collaborative sound performance, audience members contribute vocal sounds (words, phonemes and noises) which are picked up by two condenser microphones and processed by laptop performers in real-time. The artists invite participation in this unique sound creation process.
Performance time: Friday, 7:00pm–8:00pm
MiHyun Kim – Stories Become Data
Stories Become Data is an interactive digital environment that invites participants to add their own stories to a collective narrative. MiHyun Kim will lead a workshop utilizing iPads and projection to create a space for participants to share and to visualize their stories collectively and simultaneously through real time.
Workshop time: Friday, 2:00pm–4:00pm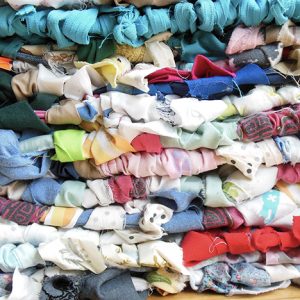 Jill Odegaard – Woven Welcome
Woven Welcome is a community-based art project that utilizes the form of a woven rug as a statement of the interconnectedness of individuals. Join artist Jill Odegaard in creating this artistic metaphor, and engage in a dialogue with other conference attendees and community members.
Workshop times: Wednesday, 6:00pm–10:00pm; Friday, 9:00am–12:00pm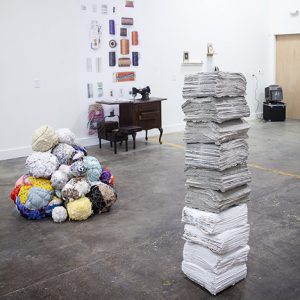 Lydia See – BMC Playbook
Lydia See's BMC Playbook encourages the examination and manipulation of materials, space, and the collective spirit. This collaborative project, resulting in an installation in the Hokin Gallery, includes a series of chance operations based on a generative BMC card game, inspired by material study workshops at Black Mountain College.
Workshop time: Thursday, 4:00pm–6:00pm
Materials and instructions are available outside facilitated workshop times for the entire exhibition.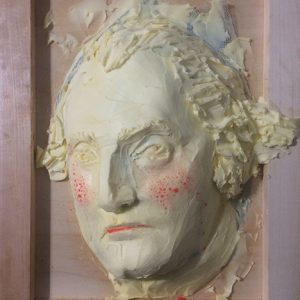 Christine Stiver – Banquet Art
Stiver's participatory performance Banquet Art is modeled after one of Caroline Shawk Brooks' own sculpting demonstrations in which she sculpted one face after another on the same bust of butter. Participants will sculpt a series of portraits, starting with Napoleon and George Washington, a litany of "great leaders" will follow.
Workshop time: Friday, 4:00pm–8:00pm
Ongoing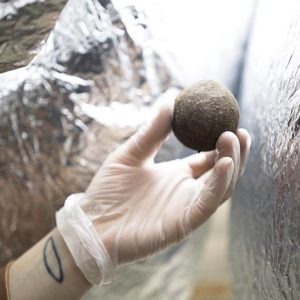 Graduate Student Screenings
A curated selection of current MA/MFA videos/digital artworks, premieres at the Media Lounge Wednesday. Participating artists: ANDiLAND, Jorge Bañales, Andrea Bagdon, Jacklyn Brickman/Heather Taylor, Christian Casas, Danielle Damico, Jesse Egner, Caleb Engstrom, Mary Gring, Selena Ingram, Bibiana Medkova, Carolina Montejo, Strange Lens, Maria V, F. C. Zuke