posted by CAA — Apr 11, 2022
Affiliated Society News shares the new and exciting things CAA's affiliated organizations are working on including activities, awards, publications, conferences, and exhibitions.
Interested in becoming an Affiliated Society? Learn more here.
---
American Society of Appraisers
Publications
Valuing a Business, 6th Edition
The seminal book on business valuation is back and better than ever. Shannon Pratt's Valuing a Business has been the go-to valuation guide for 40 years and has been updated with need-to-know information about taxes, financial reporting, compliance, and more.  Valuing a Business is still the best resource on the market for both new and experienced business appraisers.  This book fully covers the concepts of business valuation and provides detailed answers to virtually every question on the topic, from executive compensation and lost profits analysis to ESOP issues and valuation discounts.
Events
11th Annual ASA Equipment Valuation Conference
Tuesday, May 24, from 11 a.m. – 4:30 p.m.
Now in its 11th year, this annual event has grown to become the definitive source for appraisers, equipment management and finance professionals on the latest insights into equipment valuation. Instantly leverage knowledge gained on market trends and spotlighted asset sectors, as well as new contacts made, by incorporating into your practice areas or introducing to your team.
2022 ASA Summer Appraisal Camp
August 2022
Develop the skills you'll need to build a career in appraising personal property such as fine and decorative art, antiques, vintage cars, furniture, coins, stamps, and more.
The program includes four virtual courses held over four weeks, including:
PP201 – Introduction to Personal Property Valuation – August 3-6, 2022
PP202 – Development of a Personal Property Appraisal: Research and Analysis – August 10-13, 2022
PP203 – Communication of a Personal Property Appraisal: Report Writing – August 17-20, 2022
PP204 – Personal Property Valuation: The Legal and Commercial Environments – August 24-27, 2022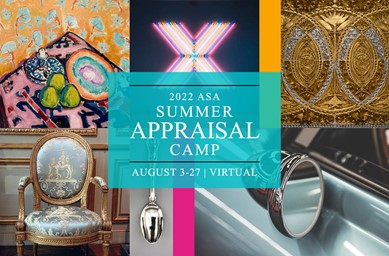 ---

Taiwanese Art History Association
Announcements / Events
PHOTOGRAPHY AND TAIWAN: History and Practice
Thursday, April 7
The Taiwan Academy of the Taipei Economic and Cultural Office in Los Angeles (TECO-LA), the University of Arizona's School of the Arts (SAUA), and the Center for Creative Photography (CCP) are collaborating for the first time on the "Spotlight Taiwan project" to hold the "Photography and Taiwan: History and Practice" online symposium from April 7 to April 9, 2022 (PST). Nineteen scholars and experts from Korea, the United States, Australia and Taiwan are invited to attend the symposium. They will help the audience understand more about the history, culture and democratization of Taiwan through a historical lens and scholarly debate as recorded in the photography.