posted by CAA — September 06, 2017
Each week CAA News summarizes eight articles, published around the web, that CAA members may find interesting and useful in their professional and creative lives.
With the 2016 opening of The National Museum of African American History and Culture at the Smithsonian Institution, consider a similar effort from another national museum dedicated to the African diaspora.
Here is a short introduction to the Caribbean Centre for the Expressions and Memory of African Slave Trade & Slavery which opened in 2015. (Read more from A Gathering of the Tribes.)
What is the everyday practical value of an education in design?
Institutions providing fine art education have formulated a detailed response to the question of practical value, in part to justify financial support of art education programs. This brief essay wonders about the role of design in general education. Design as a Third Area of General Education.
(Read more from Design Observer.)
Major news outlets now find agitprop an art practice their readership relates to with ease.
At this point, agitprop is so celebrated that mainstream publications run features based on its appeal. Whether one agrees with the practice or opinions carried by the work, it is a tactic as ubiquitous as the civic demonstrations that have proliferated recently. 5 Artists Respond to Charlottesville.
(Read more from The New York Times.)
Do you speak International Art English? Do you converse in Globish?
Hear what Berlin-based writer and critic Jennifer Allen would like us to know about one of the largest current discussions in art criticism and writing – how the ability to be an expert communicator comes from an inclusiveness built on the way the language is used by nonnative speakers.
Jennifer Allen: How do we talk about art?
(Read more from Art & Education.)
Public art occupies more national debate at this moment than it has in years.
As the practice of removing Confederate memorials occupies headlines nearly every week, important
long-overlooked questions about ways to treat controversial material are confronting the public. Twelve authorities from the field discuss the conflict. Tear Down the Confederate Monuments—But What Next? 12 Art Historians and Scholars on the Way Forward.
(Read more from Artnet.)
Utopia or spoof?
Can the ideal of getting a free MFA education survive the attempt to make it a reality? A brief history of the Bruce High Quality Foundation University. MFA Quality.
(Read more from Art in America.)
What does independent arts advocacy really look like?
A high-paid lobbyist schmoozing a senator over a three-martini lunch? Let's take a look at one person's everyday efforts at art advocacy to get a feel for how individual, practical efforts at an organized advocacy shape up the daily routine. Advocating for the Everyday Advocate.
(Read more from the Americans for the Arts.)
If you find yourself needing medical care, you might want to know if the doctor had ever studied art.
For their medical students, major institutions rely on art education to develop the essential professional traits of a critical consciousness and empathy . Coursework in art has been required by many medical curriculums since the late 1990's. Find out why. Why Med Schools Are Requiring Art Classes. (Read more from Artsy.)
posted by CAA — August 30, 2017
Each week CAA News shares eight articles, published around the web, that CAA members may find interesting and useful in their professional and creative lives.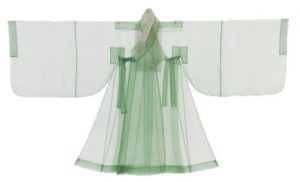 Writing a PhD Thesis? What Does It take?
Take a look at advice for writing a PhD thesis. Is this what you would tell your students?  What else would you tell them? (Via Times Higher Education). 
Check the Sofa for Loose Change!
It's time to plan your fall travels.  Here are 30 of the most important exhibitions for the fall.  Near and far, old and new, there is something for everyone.  Check back in December and let us know how many you made it to. Go! (Via Artnet News).
Making Art in a Hurricane
Within a week after Katrina hit New Orleans, artist Lori Gordon starting making work from the wreckage. Opportunities abound in Texas. (Via NPR).
What to Wear in Korea
The Asian Art Museum in San Francisco is the only US venue for an exhibition of Korean couture which spans over 600 years. Fall 2018. (Via Asian American Press).
Are You Surprised?
For-profit colleges find few reasons to lobby the new secretary of education, Betsy DeVos. (Via Chronicle).
How Much Did You Pay for That?
The National Gallery in London paid 11.6 million pounds ($15 million) for a painting by Bernardo Bellotto. Who says landscapes don't matter anymore? (Via Art History News).
Wait! That's My Phone!
Depicting the founding of Springfield, MA, this 1937 painting shows a Native American holding what can be seen as nothing other than an iPhone. What could it be? (Via Daily Mail).