We are eager to learn how individual CAA members are relying on fair use. Please take the following survey to let us know if, how, and to what extent you rely on fair use! Link here.
At last month's Annual Conference, CAA's Committee on Intellectual Property (CIP) organized "Learning from Experience: Fair Use in Practice," a panel addressing fair use and how reliance on this aspect of copyright law has increased since CAA published its Code of Best Practices in Fair Use for the Visual Arts two years ago. The CIP session featured leading visual arts professionals in four areas: the academic art library, publishing, art-making, and artist-endowed foundations, each of whom described the importance of fair use in her work. The session, which was attended by more than ninety conference-goers, was led by CIP's new chair, Anne Collins Goodyear, co-director of the Bowdoin College Museum of Art, and CAA president emerita, during whose tenure CAA undertook its fair use project, which culminated in the publication of the Code.
The panel opened with a brief overview of CAA's fair use initiative by Goodyear, and then offered compelling examples of the Code's application. Carole Ann Fabian, the Director of the Avery Architectural and Fine Arts Library at Columbia University reported that Columbia advances the principal of open access policy where possible, and that Avery librarians draw upon three fair use codes when advising library users about quoting from or reproducing copyrighted materials: that developed by the Association of Research Libraries (2012), CAA's Code of Best Practices (2015), and the Association of Art Museum Directors (AAMD) Guidelines (2016). The shared norms of the CAA and AAMD codes, both of which champion a liberal assertion of fair use, provide particularly helpful guidance on fair use applications related to copyrighted images.  Avery is often the first point of contact for students and faculty who have questions about these issues, and as a collecting organization, is also a provider of primary content (and their digital surrogates) to scholars worldwide. Fabian noted that the work librarians perform educating users about copyrights and the doctrine of fair use is ongoing with each year's influx of new students and faculty.   Having a concise resource like CAA's Code, makes it infinitely easier to introduce library users to this essential feature of American copyright law.
Victoria Hindley, Associate Acquisitions Editor, MIT Press, reported that discussions about fair use at last year's CAA Annual Conference motivated her to work with her colleagues at MIT Press to pursue a fair use initiative of their own. With support from Executive Editor Roger Conover, Press Director Amy Brand, legal counsel, and others, Hindley helped to define a progressive position in support of responsible fair use. "One of our primary goals," she said, "was to figure out how to reduce the burden of clearing permissions placed on the author." The resulting proposal, which is undergoing final Institute approval, is a robust document that most notably, as she explained: "would no longer require authors to indemnify the press when they have made a reasonable good faith determination of fair use."  MIT Press has developed proposed new contract language in support of this position; and, to further empower authors, the Press has crafted permissions guidelines that take advantage of the CAA Code and also refer authors to it. "The CAA Code of Best Practices has proven to be an invaluable guide for us as we've held these discussions and made decisions about our own guidelines," noted Hindley. The new policy pending adoption at MIT Press would provide protections similar to those that CAA grants contributors to its publications.
The third speaker was the distinguished artist Martha Rosler, who received a Lifetime Achievement Award during the conference from the Women's Caucus for Art. Rosler has for decades incorporated into her work images circulating in what she has called the public sphere of mass media, including newspapers, magazines, and television, without stopping to consider copyright. While showing examples of her work, Rosler described the importance of processes like hers, which, she said, for many artists "constitute an essential form of critique." Although Rosler's practice predates the publication of CAA's Code of Best Practices, she acknowledged that the Code serves to clarify the principles on which such a practice is based. She also noted that the Code has the potential to offer support and encouragement to other artists who might otherwise shy away from the legitimate use of copyrighted material in their work, for fear of adverse consequences. She also observed, with regret, that many artists, particularly those working in video, have deliberately abandoned or failed to undertake projects involving appropriation precisely because the legal departments of broadcast entities bar the airing of such works, out of fear of reprisal for purported infringements.
Francine Snyder, Director of Archives and Scholarship at the Robert Rauschenberg Foundation, was the fourth speaker in the CIP session. She talked about the positive effect on the Foundation of a proactive fair use policy in the year since it was introduced. The main goal of the policy has been to foster scholarship about Rauschenberg, disseminate knowledge, and enhance educational initiatives. In this regard, Snyder reported, the policy has proven a great success, generating more scholarship and innovative projects. Among the outcomes to which she referred is an online gallery for children that includes images of Rauschenberg's work. Snyder indicated that one of the most important values of the Foundation's public turn to fair use has been to reduce anxiety on the part of those who want to reproduce the artist's work for creative and scholarly purposes. Snyder mentioned that the fair use policy does not apply to commercial uses, for which the Foundation relies on licensing through VAGA. By way of conclusion, she explained that the Foundation is committed to an open dialogue as interpretations of fair use continue to evolve, as seen in the multiple applications of CAA's Code of Best Practices.
Following the formal presentations, Jeffrey P. Cunard, CAA's counsel, and Co-Chair of its Fair Use Task Force, moderated a discussion with the speakers and audience. Cunard noted the importance of the Rauschenberg Foundation's turn to the doctrine of Fair Use in making work by Rauschenberg available for scholarly and creative purposes, and the relationship between fair use and an open approach to licensing images. He also clarified, in conversation with Rosler, that copyright holders had not objected to her pioneering work, which may not have been surprising, given the transformative nature of her use of appropriated material.
The talks by each of the speakers on this panel, along with the great interest expressed by the audience, point to increased awareness of the application of fair use since CAA published the Code of Best Practices two years ago. While detailing the many ways in which fair use is benefitting scholarship and creative practice, the session also makes clear the need for ongoing education about the Code, and the importance of publicizing and encouraging its use. We invite further examples of fair use in action, and any suggestions for the continued dissemination of the Code and the guidance it provides.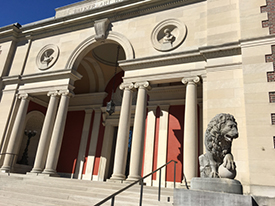 In late September, Hunter O'Hanian and I had the pleasure of spending a weekend at Bowdoin College in Brunswick, Maine, to attend two CAA events hosted by Anne Goodyear, codirector of the Bowdoin College Museum of Art and a former CAA president. We arrived at the picturesque New England campus on a beautiful fall day. The college's art museum, one of the oldest in the country, anchors the western edge of the quad, its neoclassical façade presiding gracefully over green lawns and majestic trees where students played Frisbee, read, or walked across campus. It was a perfect weekend to welcome CAA members to campus.
The first group arrived that Saturday afternoon to attend a CAA member reception, the first of several Hunter has planned around the country to provide an opportunity for him to meet with members in a relaxed setting and talk about CAA. The event began with a tour of the Bowdoin College Museum of Art given by Anne and her husband, the museum's codirector, Frank Goodyear. Immediately following, we all walked a block away to Anne and Frank's house to enjoy some wine and cheese on their back patio. The fifteen or so participants hailed from several schools and museums in addition to Bowdoin—Colby College, Bates College, the Portland Museum of Art, and the Farnsworth Art Museum—and included art historians, artists, librarians, and independent scholars.
Members spoke in turn about their most memorable CAA experiences: attending a first conference, interviewing and getting a job, meeting old friends, or networking with scholars in their fields. Hunter then shared thoughts about his goals for CAA based on what he has learned from members since he became executive director in July. He observed the importance of connectivity—how to keep CAA members in touch with issues in the field, but especially how to keep them in touch with each other. And he described many of the changes members will experience at the next Annual Conference, including a focus on personal experience, captured by a new theme for the meetings, myCAA.
On Sunday morning, several of the same CAA members returned, joined by others from around the state, for a half-day workshop about copyright and fair use. Peter Jaszi, a co–lead investigator on CAA's Fair Use Initiative, came from Washington, DC, to Bowdoin to lead the program, which focused on how visual-arts professionals can use CAA's Code of Best Practices in Fair Use for the Visual Arts in their work. Following an introduction to copyright and fair use, the workshop began with a look at how museum professionals can use the Code when employing copyrighted materials in their work.
Participants had been asked to bring real-life questions with them. Thus, a museum director wanted to know whether his museum could allow photography in the galleries of works still protected by copyright. A curator described a challenge she had in getting an image for a catalogue from a museum in central China. When she received no reply from the museum, she resorted to scanning the image from another book. Is that fair use? Other questions involved loan forms, credit lines, and online projects.
As the day continued, the program moved on to address questions from professionals in other areas: librarians and archivists, professors and teachers, artists and independent scholars. Can a faculty member use images in class that she got from a flash drive she had received from a foreign museum? What kind of credit information is necessary for a blog about films? Is Shepard Fairey's image of Obama a good case study for students learning about fair use? How should the institutional repository on a college campus view the copyright protection of yearbook photographs? By the end of the afternoon, a remarkable range of questions had been discussed, and the forty participants came away with a much greater understanding of fair use and how to rely on it in their work.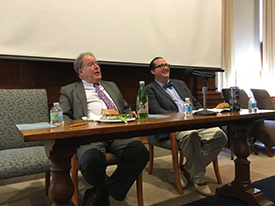 On Monday, Hunter, Peter, and I were in Cambridge, Massachusetts, to join Kyle Courtney, a copyright specialist in Harvard's Office for Scholarly Communication, for a fair-use town hall on the campus of Harvard University. As in Maine, Peter began the program with an introduction to fair use, and I followed with a description of CAA's Fair Use Initiative. Kyle spoke about a program he directs at Harvard that trains librarians to be "first responders" to users' questions about fair use. Although relatively new, the program has proven to be an effective way to support and teach visual-arts professionals about fair use. It is now being replicated on other university campuses. The event was then opened to questions from the sixty-five members of the audience, which Peter and Kyle discussed in depth.
Many of the topics were similar to those that had been addressed at the Bowdoin workshop, but a new subject emerged as well: advocacy. Does a professor who has had a manuscript accepted have any recourse when her publisher requires signed author agreements stating that all images had been cleared for publication and all fees paid? The answer is yes; she can ask her publisher to read CAA's Code and explain that many, if not all, of her uses of images comply with the doctrine of fair use. While the effort may not succeed (though CAA has several success stories on file), over time it will familiarize publishers with the principles outlined in the Code. Changes have already taken place, in large part due to this kind of challenge from users. Yale University Press now accepts fair-use defenses from its authors who are publishing monographs; the Robert Rauschenberg Foundation embraced a fair use policy for that artist's work; and CAA not only encourages its authors to consider whether or not their uses are fair, but it also indemnifies authors against lawsuits about works used under fair use.
The program concluded with a reminder that CAA is happy to answer questions about fair use; please don't hesitate to contact us at nyoffice@collegeart.org.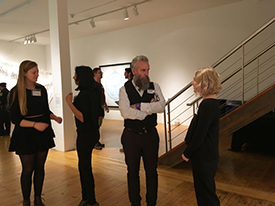 Later on Monday, Hunter and I joined another group of CAA members at the Massachusetts College of Art and Design for a wine-and-cheese reception at the school's President's Gallery and Bakalar and Paine Galleries. Attendees included a wide range of members, from professors who have belonged to the association for thirty years to new members just graduating from MFA programs. Lisa Tung, the gallery's director and curator, kicked off the event with a tour of two exhibitions currently on view, Encircling the World: Contemporary Art, Science, and the Sublime and Women's Rights Are Human Rights: International Posters on Gender-Based Inequality, Violence, and Discrimination. Hunter, who is a former vice president for development at MassArt, then invited participants to speak about how CAA is valuable to them. He emphasized the importance of hearing from members so that CAA can support them as fully as possible in this rapidly changing world.
CAA's road trip continued in early October with another member's reception in Portland, Oregon. Later this month we will convene a fair-use workshop in Seattle, Washington. More events are planned for early next year in Georgia and Virginia. Stay tuned!
The Bowdoin College fair-use event was organized by the Bowdoin College Museum of Art and CAA, with funds provided by the Andrew W. Mellon Foundation. The Harvard University fair-use event was organized by Harvard's Office for Scholarly Communication, thanks to the generous support of the Arcadia Fund, and by CAA, with funds provided by the Mellon Foundation.