posted by CAA — September 01, 2020
Affiliated Society News shares the new and exciting things CAA's affiliated organizations are working on including activities, awards, publications, conferences, and exhibitions.
Interested in becoming an Affiliated Society? Learn more here.
The Association for Textual Scholarship in Art History (ATSAH)
Announces two major changes: a new website: https://www.atsha.com/ and the formation of a new journal through Brill, A Journal of Contestations in the Arts https://brill.com/view/journals/para/para-overview.xml?lang=en.
Publications:
Liana De Girolami Cheney, Lavinia Fontana's Mythological Paintings: Art, Beauty, and Wisdom.  London: Cambridge Scholar Press, 2020.
Liana De Girolami Cheney, "Botticelli's Minerva and the Centaur: Artistic and Metaphysical Conceits,"  Journal of Culture and Religious Studies Vol. 8, No. 4 (April 2020): 187–216.
BSA (Bibliographical Society of America)
October 15: Applications due for the BSA's Call for Program Proposals. The BSA sponsors lectures, workshops, conference sessions, and receptions which are bibliographical in nature. Only virtual events considered at this time. See

https://bibsocamer.org/programs/bsa-programs/

.

September 8, applications due BSA's 2021 New Scholars Program. Those who have not previously published, lectured, or taught on bibliographical subjects are encouraged to apply. New approaches and diverse perspectives welcome. International applicants and joint applications accepted. See 

https://bibsocamer.org/awards/new-scholars-program/

. 
November 1, applications due: BSA Fellowships. To foster the study of books and other textual artifacts in traditional and emerging formats. See 

https://bibsocamer.org/awards/fellowships/

.
November 2, applications due: William L. Mitchell Prize for research on British serials. Supports bibliographical scholarship on 18th-century periodicals in any language within the British Isles, its colonies, former colonies, and occupied territories. See 

https://bibsocamer.org/awards/william-l-mitchell-prize/

.
Ongoing: Community Subtitling Project: The BSA provides free public programming, accessible through the 

BSA's YouTube channel.

  We offer free one year memberships to all who submit complete translations of edited English transcripts of individual videos. A guide to editing English subtitles and to adding foreign language translations can be viewed 

here

.  La guía también está disponible en español, aquí.
September 2020 (vol 114:3), The Papers of the Bibliographical Society of America:
Articles
J. Christopher Warner, "Recovered Books: On the Contents and Fate of John Fowler's Stock Left with Christopher Plantin"
Tara L. Lyons, "New Evidence for Ben Jonson's Epigrammes (ca. 1612) in Bodleian Library Records"
Bibliographical Note
Minoru Mihara, "Recycled and Reincarnated Relics of Ancient Poetry: Editorial Practice in Percy's Reliques"
Book Reviews
Proot, Goran, McKitterick, David, Nuovo, Angela, and Gehl, Paul F., eds. Lux Librorum: Essays on Books and History for Chris Coppens
Reviewed by Sandro Jung
Eggert, Paul. The Work and the Reader in Literary Studies: Scholarly Editing and Book History
Reviewed by Anna Muenchrath
Barker, Nicolas. At First, All Went Well … & Other Brief Lives
Reviewed by Daniel J. Slive
Eckhardt, Joshua. Religion Around John Donne
Reviewed by Georgina Wilson
SHERA
SHERA Publication Grant—Deadline: October 15, 2020
The Society of Historians of Eastern European, Eurasian, and Russian Art and Architecture (SHERA) is pleased to announce the SHERA Publication Grant. The $3000 grant supports the realization of publications of the highest scholarly and intellectual quality in the field of Russian, Eastern European, and Eurasian art and architecture. The grant is intended to offset the substantial production expenses associated with the publication of an art-historical monograph, edited volume, or exhibition catalogue. Book projects must have been accepted by a publisher in order to be considered. Funds may be directed toward production costs and does not fund research, writing, or editorial labor. Applicants do not need to be SHERA members to apply, but the recipient must join in order to accept the award. For more information about applying, see http://www.shera-art.org/grants/publication-grant.php.
SHERA Emerging Scholar Prize–Deadline: Oct. 15, 2020.
The SHERA Board is pleased to invite applications for the 2020 Emerging Scholar Prize. The Emerging Scholar Prize aims to recognize and encourage original and innovative scholarship in the field of East European, Eurasian, and Russian art and architectural history. Applicants must have published an English-language article in a scholarly print or online journal, or museum print or online publication within the twelve-month period preceding the application deadline. Additionally, applicants are required to have received their PhD within the last 5 years and be a member of SHERA in good standing at the time that the application is submitted. The winner will be awarded $500 and republication (where copyright allows) or citation of the article on H-SHERA. For more information about applying, see http://www.shera-art.org/grants/emerging-scholar-prize.php.
American Society of Appraisers (ASA)
The American Society of Appraisers (ASA) wishes to spotlight its Personal Property sessions and experts for the upcoming 2020 ASA International Conference to be held virtually online October 12-13. Click here to learn more.
ALAA (Association for Latin American Art)
As part of our initiative to uplift scholarship on Afro-Latin American art history, ALAA (Association for Latin American Art) is happy to share with you a compilation of
Afro-Latin American and Afro-Latinx art historical resources
for research and teaching. This document contains an array of art historical resources related to the African diaspora in Latin America, from the colonial to contemporary periods, as well as links to anti-racist pedagogical resources, digital resources, and upcoming events and opportunities. While not exhaustive, we made an effort to include as many works as possible to showcase the growing body of scholarship in this field. Whenever possible, we linked each entry to its respective PDF if available online; for other entries that are not open access or fully digitized, we included a link to Google Books for partial preview.
Please note that this is a living document; if there is a resource that you would like to see included or corrected, please follow the link above and there is a hyperlink where you can submit suggestions/changes.
Society of Architectural Historians
The Society of Architectural Historians is accepting proposals for SAH 2021 Virtual Programs to be presented after the SAH 74th Annual International Conference in Montréal on dates/times between May 3–28, 2021. These programs will complement the regular conference programming and should differ from the paper sessions in both topic and organization. Submissions that address the current conditions of research, teaching, and scholarship are encouraged. Submit a proposal by September 14, 2020.
SAH is accepting applications for Membership Grants for Emerging Professionals. These awards are intended for emerging scholars, regardless of age or employment status, who are new to the field of architectural history or its related disciplines. The award consists of a one-year digital SAH Individual membership. Emerging scholars who are adjuncts or unemployed are encouraged to apply. Apply by September 15, 2020.
The SAH Nominating Committee seeks nominations and self-nominations for two officer positions of Treasurer and Secretary. As two of five officers with full voting rights on the Executive Committee and the Board, these positions are among the most important in SAH; the other officers on the Executive Committee are the President, First Vice President and Second Vice President. In close collaboration with the SAH Board and staff, the Executive Committee governs the Society, proposes policies and programs, and provides service to the membership. Serving in these capacities offers an opportunity to shape the Society's and the profession's future. Submit a nomination by September 30, 2020.
SAH will present the webinar "Disability Studies and Architectural History" on October 29, 2020. Presenters and participants will consider key concepts in research and pedagogical methods for integrating histories of disability and efforts to pursue disability justice in architecture. The discussion highlights the importance of disability activism as it relates to design. Registration is free and open to the public.
Association of Print Scholars
The Association of Print Scholars is happy to announce that Clare Rogan, Curator of Prints and Drawings at the Detroit Institute of Arts, has been elected as the APS Director-at-Large for a three-year term. Additionally, we would like to congratulate the APS Director-at-Large Jan Howard and APS member Tatiana Reinoza, PhD on their appointments to the National Advisory Committee of Artura, a project of Brandywine Workshop and Archives. Howard is the Chief Curator and Houghton P. Metcalf Jr. Curator of Prints, Drawings and Photographs at RISD Museum. Reinoza is the Assistant Professor of Art History and Latinx Studies at University of Notre Dame.
We are still accepting individual paper proposals for our 2021 CAA panel "The Graphic Conscience," chaired by Dr. Ksenia Nouril, The Jensen Bryan Curator at The Print Center in Philadelphia. The session invites papers addressing transhistorical and transnational case studies of print as a tool for raising public consciousness.
APS is currently accepting submissions until January 31, 2021 for two awards. The first is the 2021 Schulman and Bullard Article Prize, which carries a $2,000 prize and is generously sponsored by Susan Schulman and Carolyn Bullard, both private print dealers. The second is the APS Collaboration Grant, which funds public programs and projects that foster collaboration between members of the print community and/or encourage dialogue between the print community and the general public. Further application information for the two awards can be found on the APS website. 
Finally, we are currently seeking a Project Assistant 
to support the development of two Getty Paper Project funded workshops for early career curators of prints and drawings scheduled for June 2021 and May 2022. The 
Project Assistant will work remotely
 u
nder the supervision of the President of the Association of Print Scholars and Workshop Coordinators
 and applications are due by September 30, 2020. F
urther information on requirements and eligibility can be found 
here
. 
SECAC
SECAC 2020
VCUarts is honored to host the SECAC 2020 conference as a fully virtual event beginning on November 30 and concluding on December 11, 2020. We are planning for more than 80 online sessions, round tables, and town halls at the 2020 conference. Additionally, we have exciting virtual programming for conference participants, including a keynote lecture by Valerie Cassel Oliver, Curator of Modern and Contemporary Art at the Virginia Museum of Fine Arts and a virtual Juried Members' Exhibition in collaboration with the Anderson at VCUarts. We are also excited to announce reduced registration rates for members and non-members. For more information, please visit https://secacart.org/page/Richmond. Questions regarding the conference should be directed to 2020 Conference Director Carly Phinizy, secac2020@vcu.edu.
SECAC at CAA
The SECAC affiliate session at CAA in 2021 will be chaired by William Perthes of the Barnes Foundation and Adrian Banning from Drexel University. They will oversee a selection of speakers on the subject of, "Arts and Humanities Multidisciplinary Education Collaborations."
SECAC Equity, Diversity, and Inclusion
SECAC stands in solidarity with our Black colleagues, students, and communities to affirm Black Lives Matter. SECAC must resist the legacies of racism and white supremacy in our organization and disciplines. Together, we can imagine and create a better world, united in the pursuit of justice, equity, and transformation. We invite you to share your confidential feedback by email to SECAC's Equity, Diversity, and Inclusion committee at SECACaction@gmail.com, and join in the SECAC Town Hall on Racial Justice during the 2020 virtual conference. 
To recognize the exceptional work of those who are historically underrepresented in SECAC, higher education, and arts institutions, applications for the Equity, Diversity, and Inclusion (EDI) awards, which cover the cost of conference registration plus two years of SECAC membership for five selected awardees, are due September 30. For details on the award, contact SECACaction@gmail.com or visit the SECAC Awards page. 
CATALOGUE RAISONNÉ SCHOLARS ASSOCIATION (CRSA)
https://www.catalogueraisonne.org/
The CRSA has recently added a profile interview article on the Betye Saar Catalogue Raisonné Project (https://www.catalogueraisonne.org/profiles) as well as a new installment of personal responses from the art research and publication community on how they are managing during the pandemic (https://www.catalogueraisonne.org/ellipsis).
Historians of Netherlandish Art
The open-access, peer-reviewed, semi-annual Journal of Historians of Netherlandish Art (jhna.org) encourages submissions on Netherlandish, German, and Franco-Flemish art and architecture (c. 1350-1750) and its global reach, including topics of interest surrounding colonialism, the slave trade, and the markets that supported them.
Renaissance Society of America
2021 RSA Research Fellowships
The Renaissance Society of America's Research Fellowships competition is underway and submissions are due by 15 September 2020. We are awarding fellowships of $2,000 to scholars working in the field of Renaissance studies (1300–1700). The application site and details about the application process, eligibility, residential fellowship, non-residential fellowships, and publication subventions can be found here. Please email the RSA with questions.
posted by CAA — August 27, 2020
CAA's Services to Artists Committee seeks proposals for interactive and participatory projects and/or workshops for CAA's 2021 ARTexchange.
Originally formatted as a pop-up exhibition and meet-up event for artists and curators, ARTexchange provides an opportunity for artists to share their work and build affinities with other artists, historians, curators, and cultural producers.
This year, the Museum of Arts and Design (MAD) will host ARTexchange on Saturday, February 13, 2021, for a day of interactive and participatory projects and/or workshops.
ARTexchange projects and/or workshops will take place in MAD's theater. The museum is located on Columbus Circle, just a short walk from the New York Hilton Midtown.
Safety permitting, projects will be available for in-person participants/viewers, as well as live streamed, and/or made available for online participation. Proposals that include community engagement and meaningful interaction with the CAA and New York City communities will be prioritized.
The Services to Artists Committee encourages applicants to engage issues of inclusivity and intersectional discourses in the arts. As part of the 2021 Annual Conference, CAA seeks to offer a selection of programming on the topic of Climate Crisis, including but going beyond eco-art and eco-criticism, and with climate justice and intersectional thinking as priorities. The conference content will stress a broad and inclusive conversation on climate crisis impact through the lens of age; gender; nationality; race; religion; and socioeconomic status among others. The Services to Artists Committee encourages ARTexchange proposals that respond to this call for content, though we will also consider proposals beyond its scope.
Please consider that activities may take place in a public, open, non-studio environment, and should not include toxic materials or processes.
Please email any questions to servicestoartists@gmail.com. Include "CAA ARTexchange" in the subject line.
Proposals are due by October 5, 2020.
You will be asked to provide:
Contact information

A short narrative bio (up to

 

150 words)

A short artist statement (up to 150 words)

Website url (optional)

A PDF (one file maximum 10 MB) of your proposal detailing your project, including supporting images, materials requests, technical needs, and how you will engage the community and/or consider inclusivity through the proposal. (up to 500 words)

Work samples (5–10 images and/or links to 1–2 video/audio files)

An image description list detailing the title, year completed, medium, and dimensions of each work. You may also include a short description describing how the work relates to the proposed project.

A 50 word description of your proposed project that can be used in publications

Availability: do you plan to be in NYC during the 2021 Conference, or will your project be presented in a fully virtual format
posted by CAA — August 26, 2020
A look at the changes museums are putting into practice. (artnet News)
Throughout the summer, faculty members and students have raised concerns about various aspects of colleges' reopening plans, with many of the concerns centered on the safety of returning to campus and about the adequacy of testing. (Inside Higher Ed)
Inside the struggle to train a mostly white, unpaid tour guide corps to talk about race. (Slate)
Want articles like these in your inbox? Sign up for our weekly newsletter: 
posted by CAA — August 25, 2020
August picks by the Committee on Women in the Arts include virtual exhibitions and programs, gallery exhibitions, a new podcast series, and a call for papers. This month, we recognize the US suffrage centennial, while acknowledging  the reality of continued voter suppression tactics. The Feminist Art Coalition documents an extensive list of exhibitions worldwide dedicated to women in conjunction with this anniversary. 
posted by CAA — August 21, 2020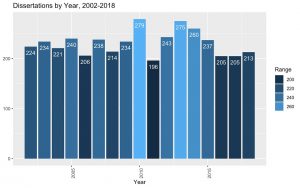 "What Do We Know about the Future of Art History?": Nancy Um mines sixty years of CAA's dissertation data to examine the field's past and potential future. Read the full essay at caa.reviews.
Cynthia Fowler reviews the traveling exhibition Hearts of Our People: Native Women Artists, curated by Jill Ahlberg Yohe and Teri Greeves. Read the full review at caa.reviews.
posted by CAA — August 12, 2020
A $5 million gift from philanthropist Adrienne Arsht will be used to pay future interns at the Metropolitan Museum of Art. (Hyperallergic)
"[W]e instead have to take on a project that is less comfortable: constantly studying our own ignorance." Dushko Petrovich offers his view on the future of art history. (ARTnews)
As part of their initiative to uplift scholarship on Afro-Latin American art history, the Association for Latin American Art has put together a bibliography of resources for research and teaching. (via Ananda Cohen-Aponte on Twitter)
"It is easy to characterize this as a huge furor over the notion of museum definitions. But that is erroneous. What it really reflects are fundamental, transformational earth-moving changes that are taking place in museums." – Rick West, president of the Autry National Center of the American West (New York Times)
The signees encouraged everyone who could safely and financially remain at home in the fall to do so, adding that they would be choosing to teach all of their classes online. (Newsweek)
Want articles like these in your inbox? Sign up for our weekly newsletter: 
posted by CAA — August 11, 2020
The following article was written in response to a call for submissions by CAA's International Committee. It is by Tenley Bick, Assistant Professor of Global Contemporary Art, Department of Art History, Florida State University, and the 2019–20 Scholar in Residence at Magazzino Italian Art Foundation, New York. A related essay, "Ghosts for the Present: Countercultural Aesthetics and Postcoloniality for Contemporary Italy," will be included in an edited volume forthcoming from Lexington Books.

June 13, Milan. The 2006 monument to Italian journalist Indro Montanelli was found covered in red paint and tagged "razzista, stupratore": racist, rapist. The intervention targeted the statue of Montanelli and the journalist's past as a colonial soldier in East Africa. In 1935, Montanelli bought a twelve-year-old Eritrean girl, Destà, to serve as his wife under the practice of madamismo. Montanelli never apologized. The intervention ignited public debate in Italy on racism and public monuments, bringing the country popularly known for apathy toward its colonial and fascist histories, pervasive associated monuments and street names into renewed transatlantic debates on these topics. Four days prior, Italian-Somali writer Igiaba Scego, writing on anti-Black racism, Black Lives Matter, and monument debates in the United States and Europe in the Italian weekly Internazionale, made a call for Italy to confront the "uncomfortable traces of our past." Citing an earlier intervention at the Montanelli monument in 2019, Scego noted the absent memorialization of Destà: "It would be nice if someone, whether a street artist or a municipality, dedicated a statue, a drawing, a memory to that distant child" (trans. Bick). Street artists and activists responded (Figs. 2–3). Cities did not. The Montanelli monument was cleaned and, by mayoral decision, remains in place.
One of the first hotspots in the COVID-19 pandemic, Italy was then emerging from a three-month lockdown. During that time, Italian museums (public and private) became leaders in innovative arts programming for a pandemic-era world. The Museo Madre launched an #iorestoacasa "call to action" campaign, publishing artists' responses to the pandemic online; the Galleria Nazionale d'Arte Moderna invited and posted videos about its permanent collection; the Fondazione Prada produced podcasts and alternative exhibition encounters through its #innerviews and #outerviews programs, using social media as a "laboratory" for "new formats and codes" (@FondazionePrada, Mar. 18). This innovation has since extended to safety technology. Florence's Museo dell'Opera del Duomo introduced wearable sensors to ensure social distancing—technology subsequently implemented by institutions of Italian art outside of Italy. Magazzino Italian Art Foundation (New York) is the first museum in the United States to use the technology, reopening with Homemade (cur. Vittorio Calabrese with Chiara Mannarino), an exhibition of work made during the pandemic by New-York-based Italian artists.
While the Montanelli debate coincided with a moment of reckoning for institutions in the United States and Western Europe, the overwhelming majority of art museums in Italy have not announced such programming, policy changes, or statements of solidarity. This inattention is not due to a lack of anti-racist social justice activism in Italy (Black Lives Matter Roma, Neri Italiani, the Stati Popolari movement, among others), nor is it due to an absence of Black Italians in Italian popular culture, especially in literature (Scego), cinema (Fred Kuwornu, Amin Nour), and music (Ghali).
A few exceptions demonstrate the potential for institutionally supported, sustained, collaborative programs to counter anti-Black racism in Italy. The Uffizi has partnered with Black Lives Matter Florence on a series of virtual programs to address "the presence of black culture in European art, told through the works of the Gallerie degli Uffizi" (https://www.uffizi.it/video-storie/black-presence). Organized by Justin Randolph Thompson, co-founder and director of Black History Month Florence (BHMF), in collaboration and partnership with the Uffizi as part of their On Being Present program, the eight-week series entitled "Black Presence" debuted July 4th with Thompson's video discussion of a Piero di Cosimo work and continues with concerts and video tours on representations of Black Africans in Renaissance art. MAXXI, one of Italy's major contemporary museums, launched a short-lived social media initiative: #MAXXIforblacklivesmatter. The campaign "aims in raising awareness and consciousness of the @blklivesmatter movement through art" (@museomaxxi). With eighteen tagged Instagram posts (most recently dated June 17), the museum posted images of BLM protests in Italy and works by African and African diaspora artists Robin Rhode, John Akomfrah, and Yinka Shonibare from MAXXI's 2018–19 exhibitions. The initiative was highlighted on June 12 by Italian-Haitian-Ghanaian cultural curator and Griot founder Johanne Affricot in an essay for Artribune as a "necessary" if late action amidst the generally delayed response from arts and culture in Italy to BLM in comparison to the global context ("Black Lives Matter ma non in Italia. Il ritardo dell'arte e della cultura nel paese," June 12). Program information is notably no longer available on MAXXI's bio.
Beyond these varied efforts, Black artists have been included in major museum and gallery exhibitions, and Black curators have curated exhibitions at prominent museums, but these figures are almost always non-Italian artists and art workers. While Italy is becoming increasingly multi-ethnic (and multi-racial), the country does not track ethno-racial statistics (Reynolds 2018, BBC; Ambrosetti and Cela 2015). Instead, citizenship and place of birth serve as "proxies" for race and ethnicity (Ambrosetti and Cela 2015). This is one of many reasons—from racial laws under fascism to renewed racism in response to cross-Mediterranean migration—why Blackness in Italy is most associated with foreign identity (with populations of African migrants, immigrants, and residents) rather than with Italian identity as well.
Two Afro-Italian artists—Jem Perucchini (b. 1995) and Luigi Christopher Veggetti Kanku (b. 1979), both based in Milan—are making inroads that might change that. Perucchini made a series of portraits of Black Italians in history for Vogue Italia during Black History Month (see Jordan Anderson, Mar. 12, 2020) (Fig. 4).
Harper'sBazaarTV followed with a "visual interview" in mid-July. When asked "What colour is your world, these days?" the Ethiopian-Italian artist responded: "Certainly my world now is black in color. I think it is the color that is most suited to represent the situation that the whole world is experiencing, in terms of sanitary, economic, social problems" (interview by Laura Taccari, trans. Bick). At the end of lockdown, Perucchini had completed a large painting of the Stele of Axum: the ancient obelisk that Italy returned to Ethiopia in 2005, nearly seventy years after stealing it as war spoils (Zoom interview with Bick, Fig. 5).
Veggetti Kanku (represented by Galleria Rubin, Milan) has confronted the institutional and cultural marginalization of Black people in Italy directly. In late June, the Congolese-Italian artist held a soft opening of a new exhibition space in Milan's center for Afro-Italian artists (Zoom interview with Bick, Jun. 29). Entitled The Office, the evenings-and-weekends-only arts space is a legal office during regular business hours. Veggetti Kanku's monumental portraits of Black women (Fig. 6), intended to bring Black figures into (white) Italian bourgeois homes (Griot, Mar. 25; Zoom interview with Bick), hang in the space, to be inaugurated this fall with his solo show SOTTOPELLE: "A show dedicated to black women, inclusive of social status, a show that destabilizes and puts up for discussion the canons of strictly Western beauty in an ever-increasing multi-ethnic Italian reality" (Veggetti Kanku, email correspondence with the author, July 16, trans. Bick).
The museum complex now perhaps most directly engaged with Italy's colonial history, the Museo delle Civiltà (home to Italy's national ethnographic museum and partial repository of Italy's colonial collection, formerly at the Museo Coloniale di Roma and various iterations that followed), has announced plans for a new museum (in development since 2017) dedicated to Italian colonialism in Africa (including postcolonial periods and an engagement with contemporary art): the Museo Italo-Africano Ilaria Alpi, to open in 2023. (See Scego, and Giulia Grechi and Viviana Gravano's interview with colonial collections' curator and cultural anthropologist Rosa Anna Di Lella in Roots–Routes). As Italy begins to address the presentness of its colonial past, the absence of Black Italian artists in Italy's museums and galleries persists. What might a Perucchini or Veggetti Kanku exhibition look like at MAXXI or the Galleria Nazionale? What might happen if the innovation of Italian arts programming and centrality of the arts to Italian identity made space for the multi-ethnicity of Italy today? It remains to be seen if and how the country's art museums and galleries—leaders in arts programming in many ways—will address racial inequity in their own collections.
posted by CAA — August 11, 2020
We were saddened to learn of the passing of longtime CAA member Dr. Richard Brettell last month at the age of 71. Dr. Brettell was a tireless advocate for the arts, a well-respected scholar, former director of the Dallas Museum of Art, and founding director of the Edith O'Donnell Institute of Art History at the University of Texas, Dallas. Read an remembrance by Jonathan D. Katz, Interim Director, Gender, Sexuality and Women's Studies and Associate Professor of Practice in the History of Art at the University of Pennsylvania, below.
In Memoriam
Richard (Rick) Brettell died July 24, 2020 in Dallas after a long battle with prostate cancer—and entirely characteristically, he was working until the very end. A tireless advocate for the arts in general, for French Impressionism in particular and for Texas artists and the local cultural scene, Brettell spanned genres, chronologies, nationalities and professions with an acrobatic grace. He was a world class scholar, a museum director and builder, and above all a connector, of people to ideas, of money to institutions, of museums in France to museums in the US, of friends to other friends. Seemingly limitless in his capacity to extend friendship and take it up again, I'm sure there are legions out there who think Rick was their best friend. A man of sure and independent judgment, Brettell was as thrilled to bring attention to an underknown or even unsung artist as he was to Gauguin, and approached both with the same profound curiosity and boosterism.
A graduate of Yale University, Brettell's dissertation on Pissarro set the pattern for the rest of his life. Once he became interested in something, he would not only write about it, he'd also work up an exhibition spotlighting it—in this case, the very first international Pissarro exhibition, curated when he was still quite young. He turned his enthusiasms into scholarship with a speed and assurance that suggested he saw no difference between the two modes. And the goal was always the same, to kindle the viewer's own enthusiasm, to seduce close looking and careful thought and make art history, art criticism, and art appreciation one and the same.
Initially hired as a professor at the University of Texas, in 1980 Brettell left Texas to become the Searle Curator of European Painting at the Art Institute of Chicago. Renovating and reinstalling the Art Institute's vast European art collection hardly impeded the string of notable international exhibitions he curated, most centrally the one that earned him the honor of being named a Chevalier (Arts et Lettres) by the French government: A Day in the Country, Impressionism and the French Landscape.  Because Brettell traveled in some of the most rarified circles in the country, his genuine friendships with some of the country's wealthiest citizens made him a rainmaker in a class by himself. When he was a curator at the Art Institute of Chicago and I was still a grad student, I remember visiting him at the museum to ask about the whereabouts of a specific Gauguin painting, the subject of a paper I was assigned. Rick reached down to the safe at his feet, opened it, pulled it out and nonchalantly asked, "this one?"
In 1988, Brettell moved to Dallas to become the McDermott Director of the Dallas Museum of Art. There he continued to develop important international exhibitions—including a new emphasis on the arts of Latin America and Africa—while also raising the funds to build a major new wing. In 1998, Brettell became the Margaret McDermott Distinguished Chair in Art and Aesthetic Studies at the University of Texas, Dallas (UTD). He would soon transform UTD, bringing in such transformational gifts as a huge endowment to build the Edith O'Donnell Institute of Art History. With the assistance of Margaret McDermott, in 2017 Brettell created a $150,000 bi-annual lifetime achievement in the arts award, The Richard Brettell Award in the Arts. The following year, he acquired the Barrett collection of Swiss art for UTD, consisting of 400 works, including a large percentage by the Swiss 19th/early 20th-century master Ferdinand Hodler. And last year, he helped UTD acquire the extensive Crow Collection of Asian Art, along with 23 million dollars to build a new museum, the second for the collection, on campus. A lifelong student of architecture, he helped to found the Dallas Architecture Forum. Many doubtless fondly remember his loud, enthusiastic, no holds barred architecture tours, where he would alternately vigorously praise and vehemently excoriate architects, and the houses and institutions they built.
Brettell was the author of numerous books and catalogs, including the editor of the forthcoming Gauguin catalogue raisonné. As a leading international specialist in French art history, he joined forces with his friend Elizabeth Rohatyn, then the wife of the Ambassador to France under Clinton, and Françoise Cachin, former Director of the French National Museums, to found an organization called  FRAME (French/Regional/American Museum Exchange). He directed this project in cultural diplomacy bringing together twelve French and twelve American museums to cooperatively share works and develop exhibitions. For this effort, he was named a  Commandeur in the French Order of Arts et Lettres. For decades, Brettell was loyally assisted by Pierrette Lacour, who shared his grand visions, but was rather more attentive to the nuts and bolts work of bringing them about. 
Immensely erudite, opinionated, and frank, Brettell would assert that fame was no barometer of quality. He loved complicated, intelligent work regardless of the artist's standing. He boosted Texas artists in general, and none more so than James Magee, an artist he frequently called the most underrated in the country. He was central to the ongoing effort to protect  Magee's extraordinary project in the desert outside of El Paso, The Hill, a hand-built mytho-poetic compound that has taken the bulk of Magee's artistic life.
A famous raconteur, fabulous cook, witty tour guide, emotional lover of beauty and gossip, Brettell was roundly adored. He leaves behind his wife Caroline, his 94 year-old mother, his assistant Pierrette, and legions on every continent who basked, however briefly, in the warmth of his attention. A celebration of his life will be held at a later date. But those who wish to remember Brettell are encouraged to make donations to the University of Texas at Dallas' Richard Robson Brettell Reading Room in the future UTD Athenaeum, which Brettell helped conceive.
Remembrance by Jonathan D. Katz.
posted by CAA — August 10, 2020
The CAA Conversations Podcast continues the vibrant discussions initiated at our Annual Conference. Listen in as educators explore arts and pedagogy, tackling everything from the day-to-day grind to the big, universal questions of the field.
CAA podcasts are on iTunes. Click here to subscribe.
In this special summer podcast, our guests discuss preparing to teach quality online art history courses.
Parme Giuntini has a PhD from UCLA. Her initial focus on 18th century through modern domestic ideology has broadened to include fashion and design history. After 20 years at Otis College of Art and Design where she was the Director of Art History and Assistant Chair of Liberal Arts and Sciences, she moved to North Carolina four years ago and has continued to teach in both asynchronous and synchronous models. She has a strong focus on pedagogy and has been a Contributing Editor to Art History Teaching Resources.org for the past seven years.
Mary Frances Zawadzki holds a PhD from The Graduate Center, City University of New York, in 19th century American Art history and visual culture. Her scholarship focuses on non-institutional methods of art and aesthetic education, specifically within the domestic interior and in the popular press. She is currently an Adjunct Assistant Professor at New York City College of Technology and was an Instructional Assistant Professor at Texas A&M University where she taught large, asynchronous online courses. She is a Contributing Editor to Art History Teaching Resources and is the Secretary and Coordinator of Social Media for the Association of Historians of Nineteenth-Century Art.
CAA News
Categories
More +
Archive